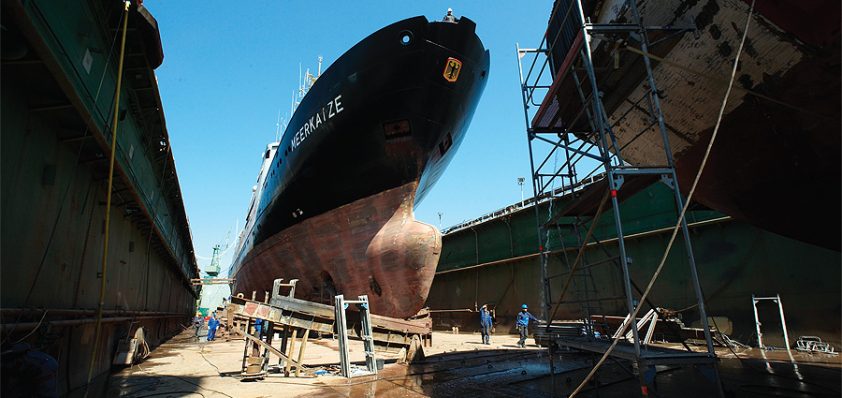 Top of the dock
Founded in 1986, with an original history dating back even further, Rickmers Lloyd is a recognised leader in quality ship and port repair.
Initially known as Rickmers Yard, a new-build yard with a repair facility, in 1986 the new-build department was declared bankrupt. However, the highly profitable repair facility was recognised as a key asset and, as such, Lloyd Werft became the main shareholder in the repair department. He set it up as a company in its own right, creating the name Rickmers Lloyd Dockbetrieb (docking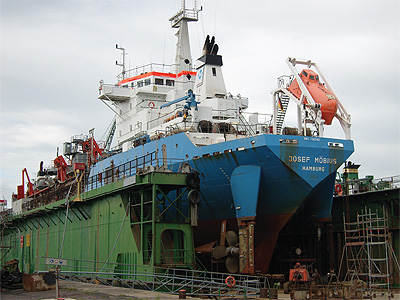 company), as it is known today.
The organisation is still based at its original headquarters in Bremerhaven, Germany, within walking distance of its parent company. Currently reporting an annual turnover of approximately 20 million euros, its small but flexible team of 55 employees is highly experienced and knowledgeable in the fields of ship repair and mechanical engineering.
Rickmers Lloyd facilities incorporate a floating dock that has a load carrying capacity of 7200 tonnes and permits the docking of ships up to 150 metres in length and 21 metres wide. It has two cranes of five and ten tonnes lifting capacity, as well as a wharf crane with a 60 tonne capacity.
Moreover, the close proximity of its parent company is highly advantageous as this provides a further two dry docks, Lloyd Kaiserdocks I and II, as well as a floating dock for the docking of larger units should the need arise. Though not a distinctly modern yard, it's functional and adaptable to clients' needs, with a focus on ship and port repair and upgrades at the lowest possible price.
Uwe Beck, managing director of Rickmers Lloyd, explains: "We are always focusing on reducing the cost to a minimum so that we can offer the market the best value for money. The small structure of our company means that we are very flexible and better equipped to help our clients meet their budget.
"Quite often our competitors will quote a cheap price and then add on further costs not stated in the specification, as and when they come across work that needs doing – this is not our philosophy. Once we provide a quote for the specification, we stick to it regardless of any further requirements not described but necessary to fulfil the scope of work. Originally our price may seem expensive compared to competitors just quoting according to the wording of the specification, but once clients realise this covers all necessary work, they come back time and again."
Over 40 per cent of the company's clients are from the local German region, with the remaining 60 per cent coming from international waters. A great deal of custom comes from the Netherlands, Norway and Sweden, while Russian research ships are a growing area for Rickmers Lloyd. Currently, three Russian ships are docked in the yard having discovered that the unique strict contract fulfilment and budget strengths they gain at Rickmers Lloyd makes for a smooth co-operation with the client. Indeed, the rare personal service the company offers has been identified as a key differentiator in the marketplace. "Our yard is like a five-star hotel in terms of the service, with prices of a three-star hotel, the quality and the smiling faces customers leave with after they come to us. Our employees enjoy working for us and hold a positive attitude when it comes to conversing with clients. If superintendents have a problem they can always locate a member of personnel or a project manager who will do their utmost to find a solution as quickly as possible. We hold frequent training meetings to ensure our staff provide the highest levels of customer service," Uwe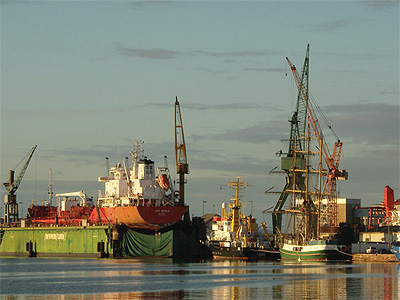 notes.
Maintaining strong relationships with key clients is essential for continued success, especially when considering the global strain of the economic crisis. Over the past year the scope of clients' requirements has decreased as they aim to save money and many have campaigned to the classification society to have regulations reduced, in order to aid budget constraints.
Rickmers Lloyd, however, has maintained its revenue partly due to the additional facilities it gains from its parent company and the value it offers to loyal customers through the continuous investment it places in tools and equipment. Moreover, the local region houses a plethora of sub-contractors with a wide range of abilities and specialist knowledge. Such connections provide the latest in advanced technology while being within only five hours of deliverance at any point in time.
With no limit on docking size, a close network of sub-contractors and a loyal workforce, Rickmers Lloyd has all the ingredients to extend its leading position and international influence. All those trading within the neighbouring regions are seen as potential custom and as such the organisation takes an individual approach to gaining trade by interacting personally and directly with technical mangers onboard local ships.
"As long as customers leave the yard pleased with the level of service they have received then we're happy. Naturally, our main aim is to increase our revenue year-on-year in order to maintain our low cost structure – as long as we are profitable at the end of the year then we have achieved what we have set out to do," Uwe concludes.
Rickmers Lloyd
Services: Ship repair and upgrades