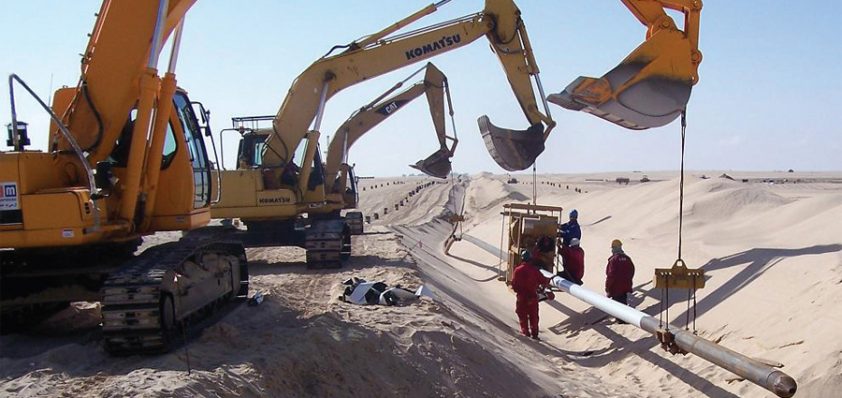 First class service
Established in the Libyan capital of Tripoli in 1993, LCM Oil & Gas provides a diverse range of tailor-made services to the oil and gas industry.
Through its London-based headquarters and its additional subsidiaries in the UAE and Algeria, it offers technical assistance to companies in the fields of drilling, production, seismic operations and pipeline projects. This global expansion has been made possible through the company's success in the Libyan market, and it today boasts an impressive client list that includes the likes of BP, ENI, Repsol and Total.
Simon Berdai, manager of LCM's Libyan branch, elaborates upon some of the company's services: "Amongst our wide range of services we provide many engineering, procurement and
construction (EPC) contracts for oil and gas facilities across Libya. We also offer maintenance and engineering support, as well as H2S emergency response services in co-ordination with our UK office."
LCM Oil & Gas runs several fully functional base camps in the north of Africa comprising of accommodation units, workshops, warehouses, medical units, fire fighting units and all other necessary equipment to carry out a variety of oil and gas contracts. One of those onshore general maintenance operations is located in Bu Atiffel in Libya, serving clients in the eastern part of the country. It is from this camp, that LCM provides H2S emergency response services including site surveys, specialist personnel, breathing and air detection systems and 24-hour onsite response.
In 2008, LCM became one of the few companies in Libya securing an offshore maintenance contract. In addition to that, the company looks back on 15 years experience in the supply of technical support to the locally operating oil and gas industry – having the capability of filling individual positions as well as complete crews for drilling and other operations.
LCM also provides overhead line maintenance for power lines in the oil and gas industry, using methods that are largely unavailable in the country. By using a reverse osmosis system, LCM can wash live overhead lines, construct and erect new towers for the lines, or replace and clean their individual parts. Simon explains: "This process allows us to decontaminate the water so it is non-conductive and therefore safe to use for cleaning with. Our engineers are also equipped with insulated bucket trucks that dissociate them from the ground, meaning they are free to touch the lines safely. This is known as the Rubber Glove Technique in this industry and we are the only company in Libya to have the adequate certification and training needed to carry it out."
Obtaining such certification is often a difficult procedure in Libya, where the many administrative complexities and changing regulations pose a constant challenge to businesses. Simon highlights: "There are always hurdles to face and we always have to be prepared for sudden changes."
Fortunately, because Simon has been based in Libya for more than 15 years himself, he has developed enough experience to deal with such unpredictable situations. He reveals how his company has succeeded, and talks about the kind of attitude required to thrive in such an environment: "We managed to enter the market early and establish ourselves over time. By remaining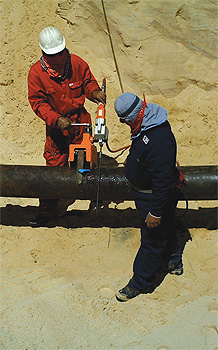 opportunistic, we managed to expand and gain new clientele – but it was not an easy process by any means. For any new company looking to set up operations in Libya, persistence is vital – you cannot simply come once and expect to gain a steady stream of business. You must be patient and resilient, but once you have secured the first few contracts, it gets easier. Newcomers are often very quickly put off and I, as a member of the British Business Group (BBG), often attend meetings to encourage British Business in Libya and speak with delegations to let them know how the system works here. A firm understanding of this unique marketplace is vital to anyone who plans on succeeding, and we have been able to do so through our resolute and faithful employees."
Indeed, LCM's success comes down to the exceptional dedication of its staff and ability to completely customise and adapt services to its client's wishes. Providing high quality standards is an important value the company constantly aims to maintain.
During the past few years, LCM has experienced a rapid growth – going from 200 staff in 2004 to 700 employees in 2009; employing 27 nationalities across its international offices. In 2009, the UK branch won the Queen's Award for Enterprise in the International Trade category.
Simon believes that the success of LCM in Libya will continue for many years to come, and remains unfazed by the current state of the global economy. He concludes: "Our company is not directly dependent on how well the economy is doing, but more specifically, oil prices. These have been steady for the last year and this is a positive indicator that normal business will resume once again."
Finally, Mehdi Rheljari, CEO of LCM Oil & Gas talks about the company's vision and future: "The LCM group is already looking for new opportunities in other countries of the GCC region. Our business development team has started discussions with potential partners there through our offices in Dubai. We are looking into offering operations and services we currently successfully provide in North Africa to the Middle East in the near future."
LCM Oil & Gas
Services: Providing high quality services to the oil and gas sector