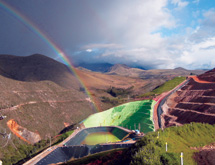 For Rio Alto Mining Ltd., the road to producing the La Arena gold/copper project in north-central Peru was not a long one. "We had our environmental permit approved in July 2010 and poured gold in May 2011, less than a year later," says Tony Hawkshaw, director and CFO of the company incorporated in 2007. "We could not have done that unless we were well-organized and had all the people and equipment lined up and ready to go."
Although Hawkshaw and Rio Alto President Alex Black drew on their more than 25 years of collective mining industry experience in Peru to guide the company toward production, Hawkshaw credits the company's staff with attaining production. "It was in small part our doing, but largely we were successful because of the people who work with us," he adds.
The company maintains a four-person office in Vancouver, with the rest of its staff based in Lima, Peru. The majority of its employees are native to Peru. "(Black and I) have lived or worked in Peru for several years, so as a result we know good people who know other good people, and we have been able to build an outstanding team," Hawkshaw says.
Rio Alto Mining acquired the 21,000-hectare (51.3-acre) property in an auction in 2007 for $49 million.
The La Arena project entered full commercial production in 2012, with Rio Alto Mining pouring more than 200,000 ounces of gold that year. The La Arena mine has 3.9 million ounces of gold and 2 billion pounds of copper in measured resources, with additional inferred resources of 2.2 million ounces gold and 2.1 billion pounds of copper, according to Rio Alto Mining.
Peruvian mining contractor Stracon built the mine and is providing a shipping fleet as well as employee training, Hawkshaw says.
Securing Backing
Although Rio Alto Mining accelerated the pace of production at La Arena, its journey was not without a few twists and turns. The global recession began shortly after Rio Alto's acquisition of the property in late 2007, leaving the company without the full financial resources it needed to bring the project to production. Rio Alto renegotiated the purchase in September 2008, allowing it more time to raise capital, the company says.
Full financing totaling $57 million was secured in February 2011. Rio Alto Mining was assisted in its financing by Peruvian investment bankers Kallpa as well as Toronto-based investment firm GMP.
With its financial future secure and production at La Arena underway, Rio Alto Mining continues to look for new opportunities in Peru. The company is now in the feasibility stage of La Arena Phase 2, a copper/gold project located adjacent to the producing La Arena mine. "We think we'll ultimately be producing 250,000 ounces of gold and 40 to 50 million pounds of copper annually by 2017," Hawkshaw says.