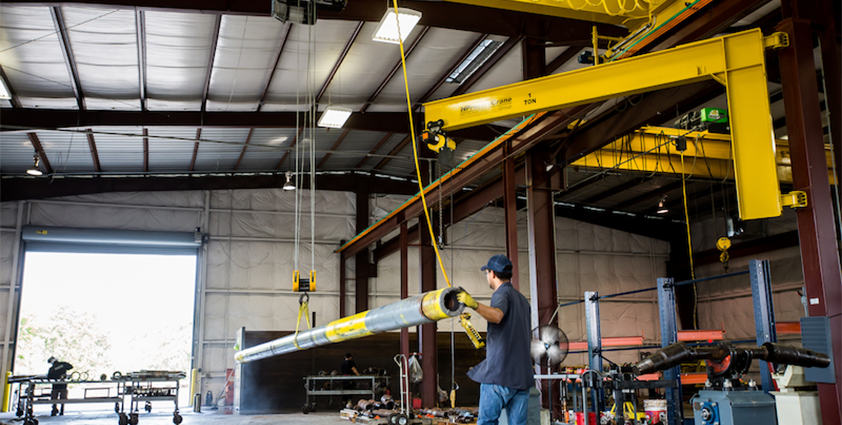 Strong operations and skilled engineering allow Rival Downhole Tools to help solve clients' complex issues.
Over the past decade, the U.S. shale revolution has delivered significant supply to the global market. This increased supply from U.S. producers has offset the efforts of OPEC to increase prices by curtailing its own supply. In today's market, U.S. producers are seeking partners that can be trusted to deliver consistent, sustainable improvements to assist in combating challenges. With the engineering skills and operational expertise Rival Downhole Tools brings to market, the company is growing quickly alongside its list of highly satisfied clients by delivering that sought-out assistance.
Rival understands the challenges its U.S. customers face today, both those driven by the global market and those specific to drilling shale wells. Rival's mission is to research, develop and deploy top-tier solutions for downhole drilling coupled with best-in-class customer service. The company is achieving this via its industry-disruptive rental offering, partnerships secured for some of the most complex needs in downhole tools, building a top-tier team, and addressing the underserved gaps in U.S. shale drilling.
"Today, we are a small tool company compared to our peer group, but we have strong operational competencies and an extensive engineering background. We also take the time to understand what our customers are facing in their business. This collectively gives Rival the ability to deliver solutions to complicated problems," CEO Neil Fletcher explains. "In addition to the technical challenges we solve with our tools, we're the company you can call upon when you're facing challenges beyond the wellsite in terms of supply, logistics or planning. Our unique profile allows us to help with these bigger challenges better than most in our peer group."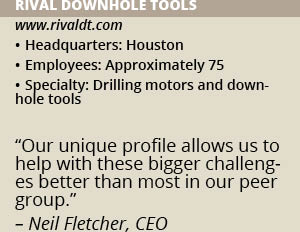 Vice President of Operations Noah Daoust agrees that Rival's skill and size allow it to be highly competitive. "We have an engineering department that is very robust, but the organization is still small enough that we can be flexible for customers. Our infrastructure is similar to that of our biggest competitors, but we are far more customer-centric."
Based in Houston, Rival strives to be regarded as the industry leader in downhole tools, through the use of reliable, premium downhole tools and unmatched customer support. The company, which has been in operation since 2002, has developed a portfolio of successful and innovative downhole drilling technologies and holds 17 patents relevant to its offering. Rival was originally founded as Ashmin, a third-party engineering firm for hire, but in 2018 established rental operations alongside its engineering footprint to directly deploy its technology into the U.S. shale market.
"We've really taken the approach of hiring the best-possible people and we've grown from 20 employees two years ago to 70 today. Most of the management team and key players have 10-plus years at larger downhole tool companies but decided to join Rival where they can have a bigger impact," Fletcher says. "Our team understands our business and our customers so we can create further value for our customers."
Industry Firsts
The industry is taking notice of all Rival can provide. In August, Rival secured a five-year collaborative supply agreement for drilling motors for U.S. land from a major oilfield services provider. Rival is utilizing its market-leading engineering and operational capabilities to support their customers' substantial and growing directional drilling business.
"This is a multi-year deal with a major integrated service company to supply all of their drilling motor demand," Fletcher says. "There is no other contract like this in scope and size in U.S. land for downhole tools. This market is almost exclusively transactional so having committed business for the years ahead is meaningful for our employees, stakeholders and all of our customers."
Rival's dedication to developing reliable and premium technology helps to attract clients on this scale. The Rival Performance Drilling Motor (Rival PDM) was the company's first rental product launched and has become a top-tier performance drilling motor, in part because it is one of the only drilling motor platforms that was developed with the sole focus of serving the U.S. land shale drilling market and the challenges it presents.
Rival recently secured another long-term contract with a large independent operator, primarily focused in the Permian region, for the direct Rival PDM assets. This contract affords Rival's customer a dedicated fleet of drilling motors to deploy throughout its operations.
This year, the company is introducing the Rival Rotary Steerable Motor (Rival RSM) and two friction-reduction technologies (Rival FRT). The patent-pending Rival RSM is an industry-first, RSS-specific platform.
Rival's goal is to develop a suite of friction-reduction technologies to enhance weight transfer and extend the reach of bottom-hole assemblies in lateral applications. The Rival FRT High Frequency is a proven, reliable technology suitable for most wellbores drilled today. The Rival FRT has a targeting frequency optimized for longer axial pulses and further shock tool engagement.
"The FRT has been in the field for the past eight months and it has shown the potential to outperform everything else on the market," Fletcher says. "The main benefit is the platform allows for further optimized tool set up more than anyone else in the industry. Applications change from well to well and become more challenging over time. It is hard for our customers to accept a 'one tool fits all' approach."
Creating Value
With a solid technology offering, Rival is focused on also developing strong relationships throughout the industry. Fletcher notes the company's agility stems from the management team's direct engagement with all customers.
Last year, Rival opened an office in Midland, Texas, to increase its operational footprint and optimize its proximity to drilling activity. The strength of that team – Operations Manager Jake Hodges explains the facility has 17 people – allowed the Midland site to start shipping motors within 30 days of opening. In August, Rival Midland shipped over 100 motors to clients in a single month.
"For what we have accomplished in such a short amount of time, it's pretty impressive," Hodges says. "All of the guys here are excited because they see the areas we're growing into. My goal is to keep developing customer relationships that the industry's bigger players tend to lack. We want our tools to be innovative and best in the market, but also provide service that matches that."