Controlled growth
Combining more than 200 years of industry experience, the RMG Group is a world leader in the design and manufacture of control, measurement and analysing solutions for the natural gas industry.
Headquartered in Germany and with subsidiaries in England, Canada and the US, RMG employs more than 1200 employees worldwide. It also has sales partners in another 80 countries, and serves more than 7000 customers across the globe. Since 2009 the RMG Group is part of Honeywell.
The RMG head office's origins date back as far as 1908, with a company called Morell'sche Fabrik für Rotationskompressoren. In 1931, the company was acquired by Rudolf Majert, who renamed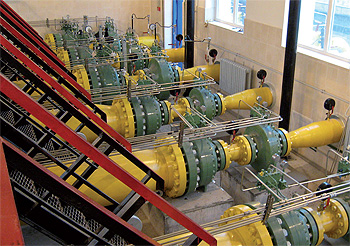 it Hessenwerk Rudolf Majert, and its primary products started to include valves for gas cylinders, gas pressure regulators, fuel gas arrangements for automobiles and regulators for Zeppelins.
By 1945, as demands in the gas industry started to increase, the company began to further expand upon its range of gas pressure regulators and safety devices. Such was the growing reputation of Hessenwerk Rudolf Majert that, in 1964, it was bought out by the IWKA Industriewerke Karlsruhe-Augsburg AG. This also saw the company being renamed again, to RMG Regel + Messtechnik GmbH.
It wasn't long after that the company made its first acquisition – WÄGA Wärme-Gastechnik GmbH. Renowned for its expertise in the design and manufacture of gas pressure regulating and metering stations, this new business added a new dimension to the company. This was followed up in 1981, when RMG acquired a company called Pintsch that dealt with gas metering and corrector systems, renamed then to RMG Messtechnik GmbH. In 1987, the company acquired Karl Wieser GmbH, an Ebersberg-based manufacturer of recording, measured value and analysing equipment near Munich.
Following the reunification of Germany in 1990, the company founded RMG Gaselan Regel + Messtechnik GmbH, a new subsidiary to further complement its growing capacity for the production of gas metering and control systems. This move also preceded the company's first period of overseas acquisitions, including what is now Bryan Donkin RMG Gas Controls Ltd in England, founded in 1803, and its Canadian subsidiary. The Polish company Gazomet Sp.z o.o became part of the RMG Group in 2002. In 2007, after having been acquired by Triton, RMG also expanded its operations to the US, where it bought out Mercury Instruments, in Cincinnati.
After having been acquired by global conglomerate Honeywell in August 2009, RMG has since been able to expand its global reach even further. The company's business manager for gas solutions, Olaf Steinbach elaborates upon the benefits it has brought his business: "Being embedded in such a large company means we have access to a large sales force with many connections to markets where we had no presence before. There has been no overlap between our operations either as Honeywell deals with the gas exploration sector, and RMG focuses on gas distribution, storage, industrial applications, CNG, biogas and the end consumer sector."
Today, as green initiatives play an important role in government legislations, RMG has been increasing its involvement in ventures that relate to the supply of compressed natural gas (CNG). As a more environmentally clean alternative to petrol, diesel or propane, this fossil fuel produces less CO2 and, due to rising gasoline prices in Europe, may even provide a cheaper option to conventional fuels. Olaf elaborates: "There is a lot of potential in this area, particularly in the world's emerging regions. Cities like Beijing, Shanghai, Delhi or Singapore are all massive pollutors, and switching over to CNG could give them the opportunity to really reduce those emissions. That is why we have been working to develop compressor technology for fuel stations whereby cars or buses can fill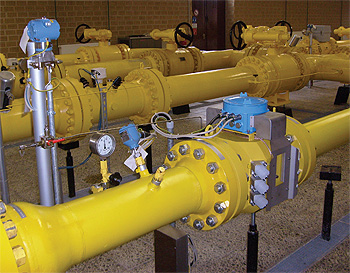 up with this product."
Turbo expanders are also a vital part of RMG's portfolio, and this is a product that allows its clients to recover the previously unused energy potential of their gas grid via gas expansion turbines. It enables the generation of energy at a higher efficiency and is therefore a crucial means of saving money for companies. Such are its benefits that it is already a staple factor in the production of green energy throughout Europe.
Another key activity of RMG at present is within the biogas sector, which is becoming increasingly prominent in Europe. This environmentally friendly fuel consists of a fermentation of slurry and other organic materials, and provides customers with a natural, renewable energy source. RMG can offer all of its customers the necessary equipment in this area, including regulating lines for gas driven combustible engines, and gas pressure regulating and metering stations. Olaf highlights why he believes this is an exciting area of future investment for the company: "There are a growing number of incentives for producing this sort of green energy and, in the years to come, I expect to see more injection of biogas into the public grid throughout Europe."
As such green initiatives gain increasing prominence, RMG will begin to focus its efforts further into this area. Olaf reveals: "Companies want more independence from the existing gas lines. The storage of gas and the layout of pipelines is becoming a very important issue across the continent and we are working on various metering systems that will help meet the needs for accurate billing between the gas partners – one example being our new metering station on the North stream pipeline. As a first step into this important area, the station will help us monitor the gas coming into the German grid."
With so much of the company's operations geared towards the future, Olaf is confident that RMG will continue to prosper for many years to come: "Our intentions are to expand on a truly global scale, largely thanks to our perfect fit with Honeywell. The international market is becoming more and more accessible to us and our target is to play a part in the client network of Honeywell and take full advantage of the technical support that our parent company can offer, whilst offering a visible advantage to our customers. As natural gas gains credence as a viable alternative, I feel confident that RMG is in the perfect position to take this opportunity to support and deliver the gas industry with our natural gas products, solutions and services."
RMG Group
Products and solutions: Gas measurement and control equipment, plant engineering