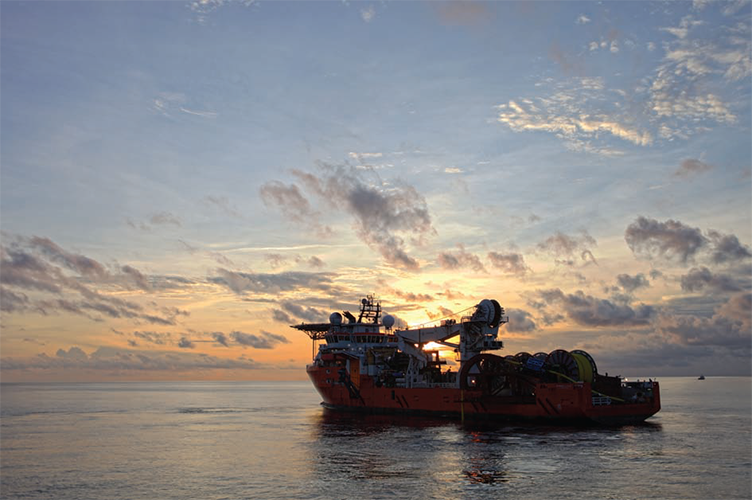 Proven provider
SapuraKencana Australia is a fully owned Australian subsidiary of the Malaysian listed group SapuraKencana Petroleum Berhad, one of the world's largest integrated oil and gas services and solutions providers.
SapuraKencana Petroleum Berhad's principal business includes providing end-to-end EPCI solutions and services to the upstream petroleum industry, and covers activities such as installation of offshore pipelines and structures, fabrication of offshore structures, accommodation and support vessels, drilling vessels, hook-up and commissioning, topside maintenance services, underwater services including saturation diving and offshore geotechnical and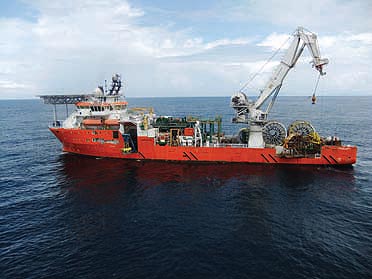 geophysical services.
Additionally the business has recently added a development and operating arm of oilfield production facilities. The group's global presence can be seen in over 20 countries ranging from Malaysia and China to Australia, Middle East, America, Brazil and beyond.
SapuraKencana Australia (formerly known as SapuraClough Offshore) is the result of the acquisition in 2011 by SapuraCrest Petroleum Berhad (which later became SapuraKencana Petroleum Berhad after merging with Kencana Petroleum Berhad) of the marine construction division of Clough (an engineering and project services contractor servicing the resource markets in Oceania).
SapuraKencana Australia's success is based on over three decades of delivering safe, innovative and cost effective SURF, platform, pipeline and well services solutions to clients throughout the Asia Pacific region. "We offer a range of offshore services and support our clients from concept and budget studies through to detailed design, fabrication, installation, commissioning and decommissioning," begins Guido Bressani, CEO. "Our fleet of leading edge marine assets and the state-of-the-art fully owned SapuraKencana Constructor, together with our world class project management systems, infrastructure, capability and execution experience has seen us build an enviable track record in delivering EPCI and T&I projects to the oil and gas community," he adds.
In past two years alone, the company has worked in Australia, Russia, Malaysia, Thailand and China with a suite of clients including Chevron, BHPB, PTTEP, Apache and Origin.
As Guido highlighted, the business owns and operates the SapuraKencana Constructor, a Norwegian built diving support and subsea construction vessel equipped with a 250 metric tonne, offshore rated, heave compensated crane, capable of deploying subsea structures in up to 2500 metres water depth. Outfitted with two 150 hp, 3000 metre water depth rated work class ROVs and a saturation dive support system, the 117m long vessel additionally has a helideck, moon pool and accommodation for 120 personnel.
"This is a versatile and state-of-the-art vessel with extremely good station keeping capabilities in all weather conditions which can be utilised for diver-less subsea construction and intervention activities, divers assisted installation works, light construction, inspection repair and maintenance works and light well intervention activities. The vessel has an approved Australian safety case covering subsea installation, accommodation/hook-up and commissioning and light well intervention activities," explains Guido.
In 2010 SapuraKencana Australia was awarded, in joint venture with Seatrucks, the domestic-gas component of the Chevron-operated Gorgon project off the north-west coast of Western Australia. The project, which is approaching completion, entails the transportation and installation of a 90 kilometre pipeline connecting Barrow Island LNG facilities to the mainland tie-in point with the Dampier to Bunbury pipeline.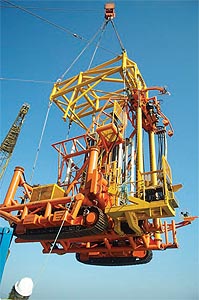 Of equal significance in its portfolio of work was the subsea installation contract for the Origin Otway Phase 3 development, completed in March 2013. Awarded the contract by Origin Energy Resource Ltd the scope of work involved the project management, installation engineering, procurement, fabrication, transportation, installation and pre-commissioning associated with the development of the Geographe discovery, located approximately 55 kilometres offshore Port Campbell, Victoria, in 90 metres of water depth.
The development entailed subsea architecture that included three structures, one tee protection frame, four sets of rock bolts, two diving spools, three diver-less spools, two umbilical, one flexible flowline, four hydraulic flying leads, 13 electrical flying leads and two pipeline corrosion monitoring cables.
In April 2013 SapuraKencana Australia was contracted by BHP Billiton for the subsea installation of the Pyrenees Expansion Project. The Pyrenees development is located in the BHP Billiton operated Permit Area WA-42-L off the coast of Western Australia. "The scope of work consisted of load out, transportation, installation and pre-commissioning of subsea structures for the Upper Pyrenees and Moondyne tiebacks to the Pyrenees FPSO in 215 metres of water depth and included all the associated project management, procurement and engineering activities," Guido highlights. The SapuraKencana Constructor was the main vessel utilised for both projects.
Reviewing the market, Guido says: "Whilst the Asia Pacific region is still predicting an increase in offshore oil and gas capital expenditure by operators for new developments, with a move towards deeper water, Australia is seeing a decline in activities compared to the unprecedented volumes generated by the concurrent development of three major conventional LNG projects, namely Gorgon, Wheatstone and Ichthys. Additionally resource projects in Australia are estimated to be 40 per cent more expensive than in the US with wages for some trades in the industry that have doubled in the past six years. These labour costs combined with low productivity are some of the challenges facing the industry at present and preventing further big mega project type investment in offshore oil and gas in Australia moving forwards."
As the business moves into the latter quarters of 2014 it looks towards future geographical expansion in China, Sakhalin, Indonesia and in Malaysia leveraging on the position of its parent company SapuraKencana Petroleum Berhad. "In addition we are considering a diversification toward the Opex sector as opposed to Capex, a market with a lower risk profile and which requires remarkably higher volumes to return same profitability compared to the higher risk and reward of delivering lump sum Capex jobs," says Guido. Over the last few years Australia has significantly increased its subsea infrastructure assets, which will require maintenance and will cause a significant increase in Opex expenditure from all the major Australian operators.
As an additional element of diversification, the business has formed a joint venture with its sister company TMT, trading as SapuraKencana Well Services (SKWS), which provides light well intervention (LWI) services for the subsea oil and gas industry. "SKWS can cover the full life cycle of the field, from FEED study to installation, maintenance, abandonment and full decommissioning of subsea production facilities. We can perform riserless light well intervention (RLWI) and subsea well abandonment with the RLWI technology which enables work to be performed on subsea wells from smaller vessels, without the use of a conventional and more expensive drill rig," explains Guido
SapuraKencana Australia
Services: Engineering, procurement, construction, installation and commissioning