Ship to shore
Beginning life in 2000 with just one platform supply vessel, SBS Marine has quickly expanded its capabilities through two new build programmes in 2003 and 2007, and today boasts a six vessel strong fleet. In 2006 SBS Marine became a subsidiary of Norwegian company Viking Supply Ships AS, which in turn is wholly owned by investment firm Kistefos AS.
The SBS Cirrus, SBS Marine's first vessel, is a medium PSV of UT705 design, whereas the other five subsequent vessels – SBS Nimbus, SBS Stratus, SBS Tempest, SBS Typhoon, and SBS Torrent – are all medium sized VS470 MKII design PSV's. Based on the basic VS470 design by Vik-Sandvik of Norway, the MKII incorporates a number of features designed by SBS Marine for enhanced safety and utilisation for charterers.
Although the original vessel first began operating in the North Sea close to SBS Marine's Aberdeen location, SBS Nimbus and SBS Stratus have been operating in India since they were first built in 2003. Following completion of the vessels' initial contract with Transocean supporting its drilling activities on the Indian east coast, this contract was renewed and is currently due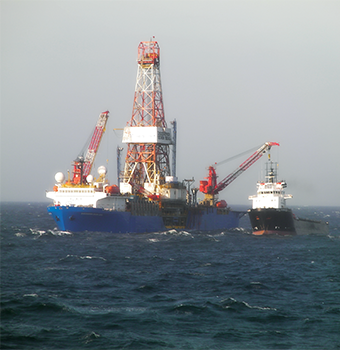 to expire in July this year. In 2007 Transocean contracted three other SBS Marine vessels – SBS Cirrus, SBS Typhoon, and SBS Torrent – to work on the West Coast of India on a three-year contract, which expired in early 2010.
With the company achieving such high levels of activity with just a single customer, SBS Marine's managing director Nigel Taylor, gives his thoughts on the reasons driving this: "In terms of the initial two contracts, the SBS Nimbus and SBS Stratus were brand new vessels at that time and the VS470 MKII design was very sophisticated compared to anything else on the market. They were immediately snapped up by Transocean to operate with the Discoverer Sevens Seas drill ship, and have been there ever since. On the back of the reputation we have built up from these contracts, Transocean then chose to contract three other SBS Marine vessels for other work in the region." Once this three-vessel contract had expired SBS Marine brought the vessels back to the UK, where SBS Cirrus began a contract with BP and the SBS Torrent and Typhoon undertook several short-term charters based on the UK spot market.
One of the more unique aspects of SBS Marine's approach is its self-managed model for vessel operation. In this sense each vessel is treated as a stand-alone business, with the officers and crew having control over a substantial part of the operating budget. "This includes crew travel, crew changes, repairs and maintenance, food, and consumer purchases, amongst other things, where the crew have direct control over the budget," explains Nigel. "Additionally attached to that model is a bonus scheme, which is based on performance against that budget. This system provides the crew with a much greater stake in the business and input into how the vessel operates, with technical and training support from the company itself."
Having spent the last few years consolidating its position in the market, SBS Marine is now looking into investing in its capabilities once again. As part of this SBS Marine is exercising a purchase option on the SBS Tempest, one of three vessels the company operates on a bareboat charter, which will become a wholly owned part of the fleet in June. Looking to the longer-term SBS Marine is also investigating the potential of purchasing the other two vessels as the opportunity arises.
"Currently we are upgrading two of our vessels – the SBS Typhoon and the SBS Torrent – from DP1 to DP2, which will be completed by the summer. Last year we also upgraded our oldest vessel, the SBS Cirrus, to DP1. Additionally we are busy working on a design for a fleet of new vessels, which we hope to have finalised in the next few months. At the moment we have authorisation for one vessel, and hope to gain approval for multiple vessels, as part of a new build programme which if instigated this year will be delivered by the end of 2012," highlights Nigel.
SBS Marine is also keen to develop new talent and currently has thirteen marine and engineering cadets on its payroll. "Many young people are concerned about their future careers," says Nigel. "There are now more opportunities to pursue a career in the merchant navy than for a number of years. At SBS Marine, we see the development of new talent to be crucial to the safe manning of our fleet going forwards."
Despite the risks of operating on the spot market, this move proved relatively lucrative for SBS Marine as the company achieved a high utilisation of over 85 per cent last year. The company's strategy remains based on the securing of longer-term contracts, and with higher levels of term charter tenders appearing in the oil market the activity levels for 2011 look set to increase. "In terms of PSVs there is still some uncertainty surrounding the market, as oil companies remain reluctant to commit to too much expenditure. However in 2012 we expect to see a much greater increase in investment from the major and medium-sized oil operators, which results in more offshore work and in turn more business for platform supply vessels. This is why we are looking into a new build programme this year for delivery in 2012 to ensure we are well placed to meet this demand," concludes Nigel.
SBS Marine Ltd
Services: Offshore support vessels