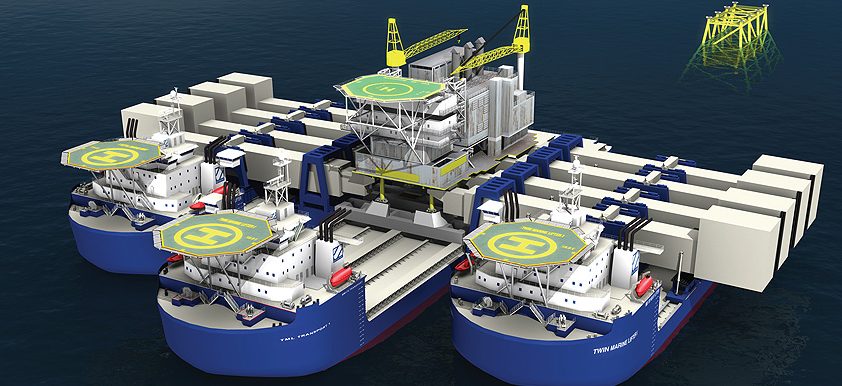 Raising expectations
SeaMetric International AS focuses on cost effective and safe marine services and operations in the offshore oil and gas industry.
Based in Stavanger, Norway, it has developed the innovative Twin Marine Lifter (TML) Heavy Lift system for the installation and removal of extremely heavy objects such as platform topside and jackets with weights up to 20,000 tonnes. Its areas of technical expertise include the installation and removal of marine structures, and marine transportation of heavy objects. This in-depth knowledge enables SeaMetric to offer substantial know-how throughout the lifetime of offshore oil and gas reserves.
Once the innovation is put into action in 2009, SeaMetric aims to become a key international player in the offshore heavy lift and transportation markets through owning and managing its TML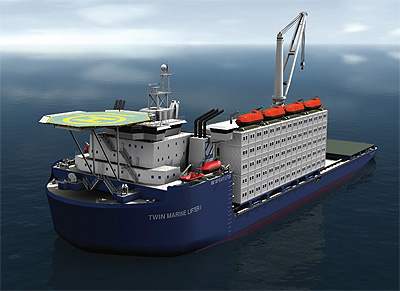 System and participating in 'best-in-class' constellations of reliable operational partners and contractors for the execution of marine projects worldwide. SeaMetric is also developing heavy transport vessels to support the TML System marine operations.
Formed in 2000 for the express purpose of developing a cost-effective and ecologically sound marine heavy lift system, the company's TML System is designed for both removing and installing platform topsides, jackets, subsea installations and salvage of boats or similar objects in North Sea conditions. It is based on a new combination of existing proven technologies and due to its simplicity and low manning requirements, the TML System is significantly more cost effective, safer and environmentally friendly than any other existing or planned systems.
It offers reduced energy consumption and emissions, improved safety level (low manned requirement and quick operation), reduced cost due to shorter preparation and operation time, low CAPEX compared to existing technologies, flexibility regarding weight, dimensions and configuration, and great functionality and versatility. The first TML System, with 20,000 tonnes capacity, is currently under construction in China by Petro China's Offshore Engineering Company (OEC) shipyard (the former Liaohe shipyard). Steel cutting commenced in April 2008 and the OEC shipyard is committed to delivering the vessels by the third quarter of 2009.
Commercial director Bob Browning says that the TML System, which will operate in wave heights of up to 4.5 metres with low dynamic loads, offers operational flexibility. "Technically it's pretty simple, which means that it's efficient and relatively inexpensive to build compared to existing methods," he explains. "It offers our customers, the oil companies, the ability to install or remove offshore platforms at a significantly lower cost than what they've been paying up till now.
"We're very heavily focused on delivering the first system at the moment – we have to get it built on time, tested and commissioned to demonstrate that it works. We know that it's going to work but our potential customers are fairly cautious so the company's other focus is on promoting the advantages and benefits of the TML System."
Continuing, Bob elaborates: "A system consists of two vessels operating side-by-side so they're 140 metres long, 40 metres wide, semi submersible (to 20 metres) and have dynamic positioning (DP Class 3) which means they're self propelled. We're involved in the production of transport vessels – each system of two vessels is supported by a similarly designed transport vessel, which is a bit longer at 180 metres, in order to make sure we have the available transport capacity to move the platform components to the offshore location. These components, i.e. a platform topside, travel out on the transport vessel and then we lift them off and install them on the sub-structure in the sea."
A number of model tests, analyses and technical studies have been performed to confirm the TML System's feasibility and to identify the system's revolutionary technical merits. The results have proven the functionality and versatility of the TML System and revealed benefits that have never previously existed with other heavy lift systems. Evaluations performed by third parties on the concept principle, operation execution and environmental aspects, have also been very positive and assuring. The system is based on simple principles and proven technologies, but combined in a uniquely new arrangement, and it is robust in the face of harsh weather.
Development of the TML System has been a major undertaking and, in addition to the shareholders, the sponsors during its creation have included the Norwegian Government, the EU, the
Norwegian Research Counsel, Total E&P Norge AS (formally TotalFinaElf), BP UK, Shell, Kerr McGee, SND/Innovation Norway and ConocoPhillips. Approximately $10 million has been invested in the development, which has been given a positive reception by regulatory bodies including the UK Department of Trade & Industry, the US Minerals Management Service and the Norwegian OED and NPD.
Although this new innovation has garnered a great deal of support and provides countless benefits, Bob admits that it will be a challenge to persuade the large oil companies SeaMetric serves to change their methods: "The first challenge we're facing is that the oil companies, as I previously mentioned, prefer what they're used to. We have to convince them that our system is more effective than what they're currently using. The secondary challenge is simply ensuring we then deliver the system on time – fully tested and commissioned."
In terms of promoting the system, SeaMetric has a strategy for success that involves an initial specific focus, as Bob explains: "We've decided to focus on Asia and Latin America to begin with because those areas have got the big state-owned oil companies where we stand a good chance of getting long-term contracts. After that, it could be that we have a system based in the North Sea." SeaMetric is entering a prosperous market that offers plenty of opportunities for growth. This year the company has already signed a Memorandum of Understanding (MoU) with Fairfield Energy Ltd for the removal and disposal of Fairfield's present and future assets using the TML System. This agreement is in addition to those signed in 2007 with Blue Marine and COOEC covering utilisation of the TML System in Latin America and North East Asia respectively. Under the MoU, SeaMetric and Fairfield will enter into a contract whereby they will work together to identify and mitigate risks and develop a methodology for removal of their assets, including the Dunlin A facilities which Fairfield is acquiring from Shell, at the end of their productive lives. The MoU also includes any future installation work for Fairfield, who may also participate in initiatives to secure financing of the TML System. In addition to executing the work using the TML System, SeaMetric will contribute throughout the remaining platform life with specialist engineering expertise to continually monitor and update the estimated cost of platform removal.
When asked about the current state of the market and how it will affect the company, Bob comments: "With the oil price at the level it is now, the market potential is very good. Our main aim is to build several TML Systems, strategically place them around the world and find, in those areas, competent local partners that can help us market and operate the systems. We want to either work with engineering construction companies or companies that operate vessels. Our vision is to be the largest marine heavy lift contractor in the world by 2011 in terms of total lifting capacity with at least two 20,000 tonnes capacity TML Systems in the market."
For the oil and gas industry, the TML System will significantly increase competition and heavylift capacity, secure lower cost and safer operations and increase predictability with regards to costs, availability and capacity. It can install or remove a wide range of structures and represents the long awaited alternative to the existing fleet of conventional lift vessels. Considering this, it looks likely that the TML System will be the tool that allows SeaMetric to become the market leader in a very profitable business.
SeaMetric International AS
Services: Heavy lifting and transportation