The terminal of the future
Located on Florida's east coast, some 60 miles away from Orlando the state-of-the- art terminal of Seaport Canaveral has been responsible for an important boost to Florida's economy.
The total cost of development of the terminal was valued at around $150 million and today it delivers an independent supply of petroleum products including gasoline, diesel, biodiesel, jet fuel and fuel oil. The facility boasts a storage capacity of just under three million barrels of refined products in 24 tanks across 36 acres and employs transport infrastructure for the loading of barges, seagoing vessels and trucks. Its two jetties have a maximum draft of 12 metres to accommodate larger import vessels and a network of dedicated pipelines compliments these, serving cruise ships calling at Port Canaveral.
The completion of Seaport Canaveral was announced in February 2010 by independent global terminal operator VTTI, creating as many as 300 direct and indirect jobs in transportation, shipping, maintenance and service, with a permanent terminal team that today comprises of 23 employees. The terminal's contribution to the economy of Florida is valued at around $30 million annually, with an additional yearly boost of approximately $5 million for Port Canaveral.
Juriaan Steenland, current general manager of Seaport Canaveral has an extensive background in VTTI, operating as business development manager within the group until 2009 and as deputy general manager of Seaport Canaveral LLC until 2011 when he took his current position managing the busy terminal. Since taking over the position of general manager, Juriaan has guided the terminal as it transitions into an efficient, lean and mean organisation, and has overseen its development to include a $2.5 million project to bring bio-fuel to the facility in 2012. Commenting on the decision to increase the breadth of products that the terminal is able to handle in a press release confirming the opening of the facility, Juriaan said: "We see a clear market for bio fuel, with federal mandates and the incentive to earn tradable 'energy credits' both driving a move in this direction. And this may intensify from 2015 with possible new regulations requiring cruise ships to switch from heavy bunker fuel to the friendlier diesel-grade oil. We're ready for them."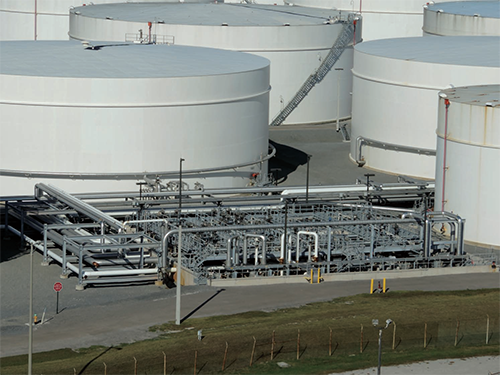 Today, the terminal is able to handle bio-fuels as part of its standard product portfolio, increasing its potential market and preparing it for future trends in renewable energy sources. Bio-fuel is a relatively new product within the US in comparison to petroleum and brings its own challenges. Unlike blending ethanol into gasoline, bio-fuel thickens when the temperature drops. This makes biofuels more difficult to blend, requiring heated storage to maintain the product. This is a feature that Seaport Canaveral has chosen to retrofit into one of its storage tanks. "We currently deal with bio-diesel and we are able to load mixes from one to 99 per cent, which is fairly new in the US and has also been unique for us," says Juriaan. "We have invested heavily in making sure that the integration of bio-fuel has been done safely and is carried out in an environmentally friendly way. We also worked with a local contractor. Local contracting is something we are keen to do, to support the local community. The work was completed under budget and on time so that the discharge from the first vessel was entirely successful. Overall, it has been a very good project.
"At the core of the terminal's success has been its focus on effective and efficient operation through the entrepreneurial spirit of the team. Although we are part of a global company we are still very lean and mean, of course that is meant in a nice way," Juriaan begins. "I think that with the people that come to this company, there is more entrepreneurial spirit that is allowed to come to the surface. Running a terminal of this size with only 23 people, 12 of whom are outside of the office is amazing. We have already won a number of awards within our three and a half year existence and we have been recognised for the unique way we run the terminal."
Key to the operation of the terminal is the importance that is placed on the role of the individual in the company in the day to day running and guidance of the business. At the beginning of each working day, the terminal team meets in an informal way to discuss any issues that might arise or simply just share a recent experience. "Whoever is in that day will attend and everybody contributes and joins in," says Juriaan. "Sometimes people will just want to say that their son won last night's soccer match and on another occasion they may have an observation on how we can improve on safety. It is a way to inspire people and make them feel part of a team and as a manager, it's great for me to see all these faces and know what is going on in the organisation."
This informal management style has enabled Seaport Canaveral to develop new management and operational practices that have increased the efficiency of the company without the sacrifice of having to compromise on quality, safety or the satisfaction of customers and employees alike, as Juriaan elaborates: "Starting a company like this is a challenge in itself, but it is also about how you move people from their previous jobs, experiences and practices to their new positions. Obviously everybody has done it in their own way, so we have to focus on how to do this as a team and looking at how to be more efficient. It's not about cutting the free coffee machine and putting in a quarter machine, it's truly about asking the whole team how we can do things more efficiently. In 2012, We were able to save a million dollars of expenditure through this way of working that we could cut away without hurting employee satisfaction. For example, we have changed things like the coveralls we use and actually improved product quality of the personal protective equipment (PPE) we use, and still save money. So I can say that I am very proud of the guys and what we have done. And let's be clear, that was $1 million in 2012, half a million in 2013, which is $1.5 million less organisational fat going forward.
The dedication of the team at Seaport Canaveral extends from its management team through to its operation and maintenance personnel. Although the terminal is operated by a relatively small contingent of core staff, the majority of the day-to-day operational maintenance of the facility is carried out in-house. "Normally it would be 70 to 80 people running a terminal of 2.8 million barrels of oil at full storage capacity," Juriaan confirms. "We are able to do this with a lean group with most of the work we undertake carried out in-house. The magic word 'outsourcing' is not something we use, so if there is an emergency call in the middle of the night and something needs to be fixed, we don't have a contractor that we call, our own maintenance teams will go out and make the repairs."
Seaport Canaveral extends its focus on developing a collaborative team spirit to the wider local community by reaching out to offer support to its neighbors. Juriaan believes that the role of the company is to not simply benefit itself, but also support the local community that it serves. "We want to work with the local community," he says. "But we do not want to intrude and have a say in how they run the schools or community organisations. We donate money directly to those organisations we know are dedicated to running positive programmes and spend it well. What we want to see there are rolled up sleeves, not fancy presentations or slide shows. I think overall in the community it is seen as a positive thing and it is from the heart. I know that a lot of my team members are involved in voluntary work in their own time to give something back."
As Seaport Canaveral heads into 2014 it is ready to meet the challenges of a changing market. As environmentally friendly fuels are increasingly adopted in a range of applications, the terminal is well positioned to develop further facilities to enhance its capabilities incompressed natural gas. As a newer terminal, Seaport Canaveral has greater scope to adapt to meet market conditions and its future looks very bright indeed, as Juriaan concludes: "I do feel that all of the terminals in the State of Florida will have a hard time going forward, with a declining fuel consumption, but I think as a new state of the art terminal with a deep draft we can actually take advantage of that and be more competitive than our competition.
"I think that as long as you accept change andare willing to reinvent yourself time after time, you can be very strong. I am grateful to have a greatteam who believe in this way of looking at things and are willing to follow me in this vision."
Seaport Canaveral VTTI
Services: Petroleum delivery, storage and loading