Lift up and prosper
An innovation company at its core, SPOC Automation believes that world-changing ideas can come from anywhere. It is a sentiment reflected in the firm's intelligent range of automation technology for upstream and midstream markets in the oil and gas industry. Specializing in controlling processes and equipment that rotates, SPOC has more than 20 years of experience in manufacturing intuitive products that increase the efficiency of their customers, saving both time and money.
"It all started with the rod pump controller, our Ironhorse product," SPOC's CEO and President Bobby Mason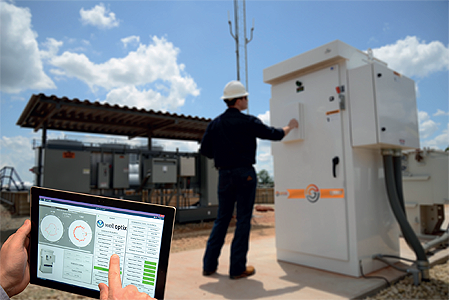 explains. "SPOC is actually an acronym for Sensorless Pump Off Control. The name comes from the pump off controller we developed that is inside our variable frequency drive to help maximize production and reduce energy consumption.
"We can apply a variable frequency drive and automation on any rotating equipment with an electric motor. A drive acts a lot like a rheostat on a light switch. The rheostat changes the voltage supply to your light, which changes the intensity of the light. We do that with an electric motor. We can change the speed of that motor electrically and maintain 100 percent torque across the speed range, so that you can speed up or slow down your process based on your requirements. Not only does it prevent wasted energy, but it also saves money and reduces mechanical wear and tear on your equipment."
As well as selling directly to user markets such as the Saltwater Disposal sector, a significant portion of SPOC products go to market through original equipment manufacturers (OEMs) and multi-national oilfield service companies who brand and comdistribute the product as their own. Over the years, SPOC has developed software and automation solutions for all artificial lift and compression applications, and its products continue to dominate a number of markets – none more so than the electrical submersible pump (ESP) sector, where SPOC holds more than 20 percent of the market.
"We do a tremendous amount of business in the ESP market," Mason confirms. "I think our success in that sector comes because our product is robust, its feature sets, and the fact that, as a company, we are very scalable and can handle high volumes. If a client has a project and needs 2000 drives over the next 24 months, we are able to do that and a lot of other companies are not. Since we specialize in this technology, we know the applications and our customer support is incredible. One thing is for sure, if you ask any of our customers, they'll tell you that their support is unmatched. High quality products and unbeatable support are two things that really help to set us apart and, like everything we do, it all comes back to our core values and our belief in the Lift Up culture."
Five core values
According to Mason, Lift Up is not simply another corporate initiative but a culture; an integral philosophy ingrained in the business and shared by all who work there. Every day, SPOC challenges its employees to embody the culture by living out their five core values: committed, caring, passionate, solutions focused, and gratifying.
"I am a firm believer in positive recognition and Lift Up allows that," Mason says. "For example, we had custom coins made up – each one about the size of a silver dollar – and each coin has one of our five core values on it, along with the Lift Up logo. We have established a system whereby, if your peers see you living out one of our values, they can nominate you to receive one of our coins with that particular core value on it.
"At SPOC, we value recognition and so we hand out accolades and rewards. At the end of each year, we have what we call the Lift Up Award, which recognizes the person who has most represented our values throughout that year. I like to think of the Lift Up Award winner as somebody who, if they were deployed to Mars, without being able to speak
Martian, would be able to communicate exactly who SPOC Automation is and what we stand for simply through their actions and their deeds. Not only is that person honored in front of the entire company, but there is also a monetary reward and special Lift Up coin to go with it. It just goes to show how important we believe those core values to be. As a business, we try to Lift Up the individual, we try to Lift Up our company, we try to Lift Up our customers, and we try to Lift Up the industry."
SPOC's Lift Up culture is evident in all facets of the business, from its people to its products. Most recently, it played a role in the development of DriveShield, the industry's most comprehensive extended warranty. Offering up to ten years of coverage, DriveShield is both a reflection of SPOC's commitment to customer support, as well as evidence of the confidence the company has in its products.
"We always want to try to help people," Mason states. "DriveShield allows our customers to deploy drive automation equipment for six- to ten-years with a safety net; an unprecedented level of cover that even includes lightning strikes and voltage anomalies. There is nothing like that in the industry, and especially over these next rebuild years, DriveShield is a tremendous way to help protect our clients even from unnecessary expenses caused by an act of God.
"It also speaks to the way we manufacture our products," he adds. "We wouldn't be able to offer up to ten years of warranty protection on a product going into some of the harshest environments on the planet if it was not built with extreme quality and robustness. After deploying more than 65,000 units, we've learned a great deal about how to protect our equipment correctly; DriveShield offers our customers even more peace of mind."
Innovation remains at the center of everything SPOC does, and this will not change in the future. Later this year, the company hopes to release a next-generation product that will incorporate more than a dozen new sensors, as well as a more modern, more intuitive interface. SPOC hopes it will be the first of many industry-defining innovations that the firm will pioneer in the years ahead.
"We're really excited about the next few years," Mason remarks. "I think the energy space is going to rebound quicker than a lot of the naysayers and pundits might think. Energy is vital for a quality, thriving life, and for developing nations to be able to move up that economic ladder.
"The electrification of the world is increasing too. There is a large percentage of growth in that space and you can use variable frequency drives in conjunction with battery and super cap technology that will allow you to bridge the gap between diesel power and full electric.
"Our drive technology continues to advance, and we think that actually, over the next three to five years, there is going to be a huge transition to variable frequency drives because it saves so much energy and reduces harmful emissions. On average, we save our customers anywhere from 20 to 40 percent on their electric consumption by deploying variable frequency technology. As you can imagine, that leaves us bullish about the future."
SPOC Automation
www.spocautomation.com
Products: Automation technology manufacturer