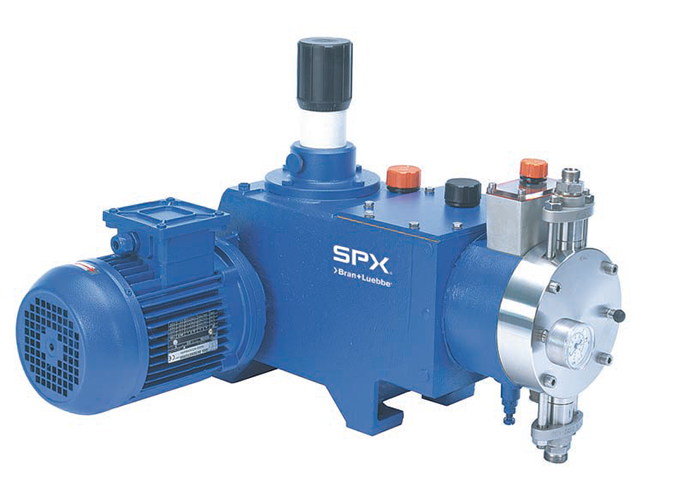 Respected brands
SPX products designed for reliability and compactness SPX has many well-known brands that serve the oil and gas industry with products that are widely utilised and well respected.
The resulting decades of experience in understanding applications, technology needs and project requirements for the industry has led to product designs that deliver reliability and safety in increasingly compact solutions. The SPX brands, including ClydeUnion Pumps, Johnson Pump, GD Engineering, Dollinger, Plenty, Waukesha Cherry-Burrell and APV, have built their reputations based on innovative, efficient solutions, reliability, expert engineering and in-depth understanding of processes.
Safe and reliable pumping solutions
Safety and reliability are absolutely critical in oil and gas processes, especially in an offshore environment, and SPX has a keen focus on these requirements. The Hydraulic Submersible Pump (HSP) from ClydeUnion Pumps, for example, was designed without using electrical power systems based upon the knowledge that this significantly reduced the opportunity for equipment failure. Additional design features, such as the removal of rubbing bearings and seals, a single shaft design combining pump andturbine, and the use of power fluid supplied from the surface to bring longevity to thecritical balance and bearing systems, add to the reliability of this device.
The E~Z Lift Neptune Seawater Lift Reel System, also from the ClydeUnion Pumps brand, is another example of safety and reliability being designed into technology. The system is specifically engineered for the safe overboard deployment of seawater pumps and incorporates features such as an expanded metal safety shield on the reel to increase operator safety, a wire rope inside each hose to support the entire weight of the pumps and a sealed internal cooling system for increased reliability.
From the SPX Johnson Pump brand comes a range of centrifugal pumps designed for high reliability in numerous offshore utility applications. The CombiSump and CombiSumpMag are vertical long shaft pumps designed for use with thin liquids. Excellent reliability is assured with highly effective silicon carbide axial and radial bearings that are permanently lubricated by the pumped liquids. The CombiSumpMag has a magnetic coupling to eliminate leaks with a hermetic seal, and both models can be used for varied pump depths using multiple shafts to meet specific application needs. Also within this range is the CombiPro horizontal centreline supported centrifugal pumps. Ideal for hydrocarbon duties, these pumps offer sealing options to fit all API 682seal configurations or the option of a seal-lessdesign using a magnetic coupling in accordance with API 685.
SPX Plenty screw and vane pumps offerreliable service for the pumping of heavy viscous liquids. The Plenty Triro range of triple screw pumps provide vibration-free operation, which simplifies installation, minimises noise pollution and stops any detrimental effect on downstream equipment. They offer better efficiency than centrifugal pumps for viscous products, provide a compact solution and deliver good, stable flow of fluid.
A leading name in safety and reliability for high-pressure closures
The Bandlock™ 2 quick-opening closure from the SPX GD engineering product range is synonymous in the oil and gas industry with reliability, safety and integrity. Its safe yet easy to use design, which ensures pressure cannot open the closure but enables opening in under one minute without the need for special tools, is probably the most widely accepted in the industry. The technology has an impeccable performance and safety record and has been well proven with a vast installed base.
A full range of filtrationand separation solutions
The brands of Airpel, Dollinger, Plenty and Vokes also form the SPX Filtration and Separation Technology (FaST) product range, delivering proven, reliable solutions to the oil and gas industry. This brings a complete range of filtration solutions from single basket filters through coalescers, separators and self-cleaning filters to large fully packaged, skidded solutions, all expertly designed and engineered to exact customer requirements.
Working to reduce size and weight for offshore installations
The size and weight of equipment are other important considerations for offshore installations. Here SPX has developed two innovative diaphragm pumps within its Bran+Luebbe brand that offer significant footprint, weight and cost reduction to equivalent, alternate technologies. The Novados metering pump has a single double-acting head, which provides the capacity of equivalent duplex pumps but with reduced footprint and weight by typically around 20 per cent. The Novaplex Vector is a triple diaphragm process pump, which cleverly arranges the pump heads in three dimensions to reduce the footprint for installation.
Diaphragm pumps are widely used in the oil and gas industry across much of the supply chain for pumping fluids and injecting chemicals. These Bran+Luebbe pumps are appealing because not only do they save on space and weight but they also provide precise injection of chemicals and can handle aggressive and harmful fluids safely. They use hermetic seals to provide leak-free operation in a simple configuration while delivering the advantages and accuracy of reciprocating plunger pump technology.
Increasing efficiency, saving energy
Energy consumption accounts for a significant part of oil and gas production costs. More efficient process heat recovery reduces energy consumption and can bring significant cost savings. From its APV brand, SPX provides a wide range of plate-type heat exchanger technologies for oil and gas production in offshore locations that can help increase heat process efficiency and contribute to lower energy cost. Low-weight and highly efficient heat transfer surfaces combine with robust and compact designs to deliver reliable performance and maximum heat efficiency in demanding process conditions across a wide range of oil and gas processes including crude oil stabilisation, gas dehydration, gas sweetening, regasification and utility cooling.
In particular the APV Hybrid series of welded plate heat exchangers stands out for its use in high-temperature/high-pressure applications where gasket exposure needs to be avoided. The high thermal efficiency of the APV Hybrid heat exchangers reduces external energy input demand, while its design flexibility enables achievement of very low-pressure drops without compromising performance. The range of APV semi-welded heat exchangers with the ground-breaking APV Paramine™ gasket solution provides a superior plate-and-gasket combination specifically designed to handle high concentrations of sour gas.
Brilliant engineering to meet exact needs
SPX has a specific focus on the oil and gas industry with continuous development programmes to deliver long-lasting reliability, efficiency and low maintenance with innovative designs across all of its ranges. The combined knowledge of processes and wide range of technology across its brands gives it an enviable position of being able to expertly custom engineer solutions and complete packages to exact application and installation requirements, complemented by professional project management services with a real understanding of documentation and specification requirements for the oil and gas industry.
SPX
Services: Flow technology and energy infrastructure