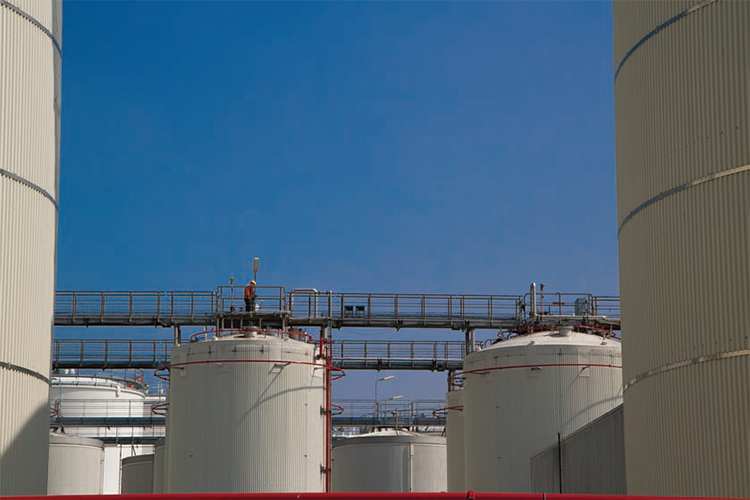 A unique service
Operating as part of the Stolt-Nielsen group, Stolthaven Moerdijk is a vital provider of services for Europe's oil and gas sector.
The terminal is strategically located between Antwerp and Rotterdam and benefits from ease of access through congestion and lock-free inland waterways, highways and rail links. The terminal offers a host of services including tank storage for bulk liquids, drumming and an IBC filling station. It also features a multimodal tank container terminal, weigh bridge, jetty and services for repacking, tolling, blending and the heating and cooling of bulk liquids. These features make the terminal an attractive prospect for Europe's bulk operators, as terminal manager Krien van Beek elaborates: "We are in chemicals and it is something that you could say is in our DNA. With our combined experience in terminals, tank containers and parcel tankers, we have a deep understanding of the bulk liquid sector and we can offer clients the services that they need. We are strong financially and make a good partner for our customers."
The facility at Moerdijk is part of Stolt-Nielsen's Stolthaven terminals division and this represents one of Stolthaven Moerdijk's main strengths. Stolt-Nielsen currently operates six divisions covering a broad range of services. At present the group consists of Stolt Tankers, Stolthaven Terminals, Stolt Tank Containers, Stolt-Nielsen Gas, Stolt Bitumen Services and Stolt Sea Farm. This diverse portfolio of businesses gives Stolthaven Moerdijk access to a wealth of experience, while the strength of the Stolt-Nielsen brand provides the terminal with solid financial support for investment and expansion. The group has a rich history dating back to 1959 when the first company that would go on to form the group was founded. Parcel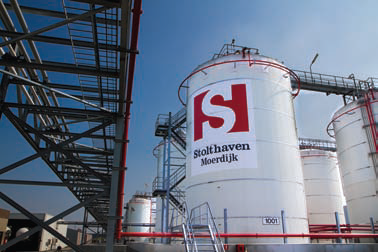 Tankers Inc. operated with the chartered ship Stolt Avance, beginning the company's steady pattern of growth throughout the years. By 1980 the company, under the Stolt-Nielsen brand, had earned $100 million profit.
Stolthaven Terminals acquired the bulk-liquid storage terminal in the port of Moerdijk during 2012. The new facility provided the group with additional support to its intra-European coastal tanker and inland barging services. At present the terminal boasts 37 bulk storage tanks totaling 31,720 CBM, with tank sizes of 340 CBM, 500 CBM, 900 CMB and 2000 CBM. The facility also includes warehousing for dangerous packed goods. Three PGS-15 warehouses provide a total storage capacity of approximately 13,000 pallet places, with an additional 1600m2 warehouse for the storage of non-hazardous chemicals. Access to the terminal can be made via jetty, road and rail. Its jetty is ideally suited for loading and unloading barges and seagoing vessels with a maximum draft of 8.4m and an overall maximum length of 175m. Other jetty features include vapour return and nitrogen blanketing systems and a pigging system for all jetty lines. Drumming facilities include a sheltered filling station with two filling lines connected to a transport rack. Each of the terminal's filling lines is suited for filling steel drums from 190 to 250 litres, while one of the lines is suited for filling IBC's of 1000 to 2500 litres, with the added possibility to pre-dose nitrogen (blanketing). These capabilities can be used to load and unload containers, trucks and vessels. The site also features a multimodal container terminal, with a container crane with a hydraulic spreader of up to 40 tons, and storage for up to 125 tank containers from 20ft.
The Moerdijk facility includes a large plot of undeveloped land, which Stolt has worked to container terminal is planned for the site, which will bring the Stolt Tank Containers division to the Moerdijk facility and an office building, rail and truck loading station and additional tank pits are all recent and ongoing developments that have taken place since 2012. The completion of the new tank container terminal with a tank cleaning station and tank repair shop will result in Stolthaven Moerdijk serving as home to two Stolt-Nielsen divisions and will greatly increase the already diverse range of services the facility can offer. As Krien explains: "Sometimes we expand based on contract, but sometimes we also build opportunistically. It depends how we see the market and where we feel we can grow. In this part of the market we see a lot of companies offering a single solution but valuable added services are not offered. Other facilities may be based inland away from ports, or have drumming facilities but no connection to open water or warehousing.
"We see a lot of new capacity that is being built but we don't see this capacity as being similar to what we are doing; we are an inland terminal with open water access without the hindrance of locks or bridges. We are six hours from Europort and that also gives us some advantages. So while we see the market as being busy over the coming years we don't see that we are offering more of the same, we are offering something unique."
During 2012 Stolthaven also acquired a liquid bulk facility in Dagenham, UK, raising the number of terminals in Stolthaven's global network to 20. Formerly the terminal was owned by TDG, which was acquired by French logistics group Norbert Dentressangle SA. The facility has given the company a foothold in the UK market place and as the site is developed it will further drive Stolthaven's growth, as Krien concludes: "We will continue to develop both sites and we will continue to do so in partnership with our customers. We select the customers that fit into our strategy best, which is important for establishing beneficial, long-term relationships between Stolthaven and its clients.
Stolthaven Moerdijk
Services: Terminal and bulk liquid storage