Surerus Murphy Joint Venture
Pipe Masters
Based in Calgary, Surerus Murphy Joint Venture (SMJV) brings together two leading, family-owned construction companies, Surerus Pipeline Inc. of Canada and J. Murphy & Sons Ltd. of the United Kingdom. As SMJV's President, Mick Fitzpatrick explained when EOG spoke to him in 2018, the company is relatively young – having been formed in 2015 – and it came together to the
advantage of a number of LNG projects that were proposed in Canada at that time. "We continued as a joint venture, and we were able to identify a lot of other opportunities outside the LNG sector," he stated.
In the four short years since its creation SMJV has already worked on a number of significant projects, including the High Pine Project that saw the addition of two loop segments of 42-inch pipeline to the existing natural gas transmission system in northeast British Columbia; and the UPR (Urban Pipeline Replacement) Programme, which included the replacement of existing pipelines in Calgary.
While it may offer its services in a range of areas, it is clear that large diameter pipelines are at the core of SMJV operations, which hails back to the heritage of the two founding companies, who combined can draw on over 100 years of pipeline construction tradition. Backed by this solid pedigree, SMJV offers a variety of pipeline services that are unparalleled in the oil and gas industry. It is experienced in the construction of small, mid-inch and large diameter pipelines including mainline crosscountry construction using mechanised or manual welding methods in semi-urban, agricultural and forested areas.
The joint venture also has accrued extensive experience in the construction of complex urban pipelines both within the UK and Canada with a number of successful projects delivered with diameters up to 48". This was demonstrated through the delivery of the enabling works on Crossrail, and HS2 – some of Europe's largest and most congested projects.
Great benefits
While its focus remains on large diameter pipelines, SMJV also has growing strengths in integrity programmes, early engagement project development and facilities. On the integrity works side, the business specialises in performing integrity digs, maintenance and repairs, acting as a turnkey provider which can offer multiple services to ensure continued optimal performance of the pipeline while minimising potential downtime.
When it comes to Early Contractor Engagement, SMJV recognises the great benefit this brings to Front End Planning (FEP), and the value it creates in the delivery of an efficient design. By forming a unique collaborative approach with clients, designers and key stakeholders, SMJV is able to ensure a 'right the first time' delivery and eliminate the potential for constantly evolving designs that require multiple stakeholders, consultations and regulatory revisions that can negatively impact the project schedule and cost.
Facility construction and fabrication is another area where SMJV has significant global experience and is developing a footprint within the Canadian market. To this end, this development is supported by its 30,000-square foot fabrication facility, strategically-located in Gibbons, Alberta. A highly-customised facility with over 30 acres of yard space, this location allows for flexibility in completing almost any fabrication project, with pipe fabrication, structural steel and skid members, risers and block valves, stairs and platforms, test heads, construction and rentals all currently supported.
All of these skills and capabilities will be required in 2019 and beyond as SMJV gears up to work on some of its most challenging projects to date. In 2018 Mick referred to the Coastal GasLink project, which at that time, saw SMJV working closely with the owner planning the first 140km of the proposed 48-inch gas line. The overall scale of this project is vast – Coastal GasLink is a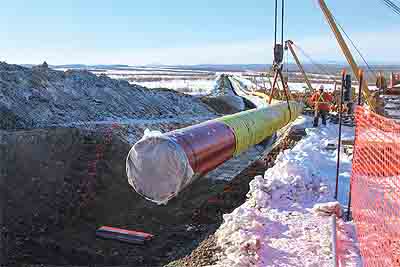 670km pipeline designed to transport natural gas from the Montney gas-producing region near Dawson Creek, B.C. to the LNG Canada facility in Kitimat. The pipeline will have an initial capacity of approximately 2.1 billion cubic feet per day (Bcf/day) with the potential for expansion of up to approximately five Bcf/day.
Preliminary project construction is now progressing, with site preparations, clearing and upgrading access roads all underway.
Coastal GasLink is considered a 'mega' development but it's actually not the longest pipeline plan underway in Canada – this honour goes to the $7.4bn Trans Mountain Expansion Project. The original Trans Mountain Pipeline was built in 1953 and continues to operate safely today. The expansion is essentially twinning this existing 1150km pipeline between Strathcona County (near Edmonton), Alberta and Burnaby, BC. It will create a pipeline system with the nominal capacity of the system going from 300,000 barrels per day to 890,000 barrels per day.
While bringing a multitude of benefits including the creation of thousands of jobs, the Trans Mountain Expansion Project will also help make sure Canada gets full value for its oil. Oil producers will earn more revenue for their product, the Government will collect more tax revenue from oil, and these revenues will contribute to services that benefit all Canadians.
The entire project will see approximately 980km of new pipeline, with SMJV being contracted to perform work on Spread 5A, which is from Black Pines, BC (approximately 40km north of Kamloops) to the Coquihalla toll booth. The new pipeline construction includes the installation of approximately 180km of 36-inch pipeline and 18 valve assembly installations, and represents the largest project SMJV will have ever delivered.
As well as significant in size, this project represents challenging terrain and complex requirements, with Spread 5A being built in close proximity to existing infrastructure such as telecoms, water, sewer and other pipelines.
The spread has a significant amount of rock requiring ripping, rock saw work and blasting where more conventional excavation methods would be ineffective. To overcome and minimise disruption and impacts to the environment and to transportation networks, SMJV intends to utilise trenchless construction methods — safely crossing underneath railways, highways and major roads. In addition, the work includes horizontal directional drill for underground crossings of the Thompson River, Coldwater River and Nicola River. Overall, SMJV will draw on its considerable resources of engineering and environmental solutions to execute and overcome these construction challenges.
When Brian Surerus and John Murphy recognised the potential that forming a joint venture could bring, they showed enormous foresight and confidence in their teams. Over the last 48 months this has been rewarded, with the company signing two of the largest pipeline contracts in Canada, as well as delivering other significant projects such as APPL C-TUC, Hythe Lateral Loop No. 2 (HLL2); all completed in 2018.
Other significant ongoing projects include the North Montney Mainline Project (NMML), which includes the installation of 52km of NPS 42 pipeline and related facilities in North East BC and is scheduled to complete in last quarter of 2019, and the third phase of the APPL Project connecting to Calgary airport due for completion summer 2019.
While the pipeline lengths, terrains and requirements of each location may differ, what unites the operations of SMJV on all of its sites is an unrivalled commitment to the delivery of exceptional performance in quality, health and safety and the environment. As a fully integrated joint venture, SMJV continues to benefit from the alignment of the respective company values, and thanks to this solid belief that quality, trust and assured delivery in a safe environment reflects the success of the entire organisation. In combination with its trio of ISO certifications (ISO 9001, ISO 14001 and ISO 18001) SMJV has been able to work over one million man hours (as of Autumn 2018) without a lost time injury.
Over its short history, SMJV has successfully installed more than 80,000m of pipeline, with some of the largest owners in the oil and gas sector of North America, and its achievements in quality and safety will continue to be a differentiator in the delivery and award of projects going forward.
Surerus Murphy Joint Venture (SMJV)
Services: A fully integrated joint venture that is focused on delivering complex pipeline construction projects