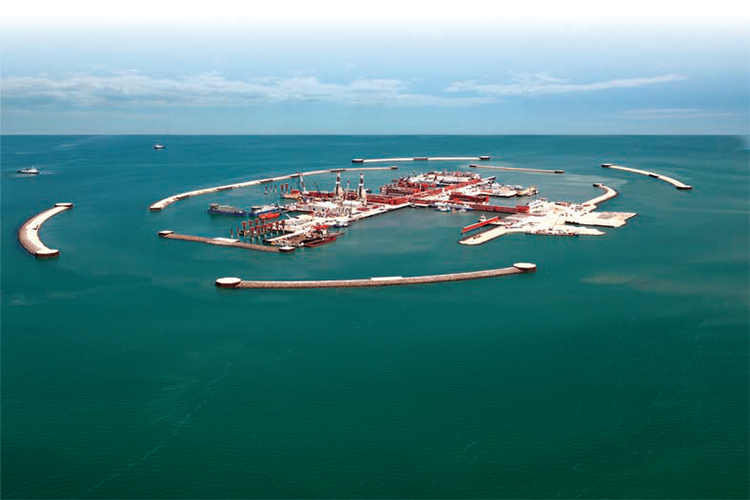 Three decades of surveillance expertise
2015 represents an important milestone for global surveillance business Synectics – the company's COEX brand of cameras have been protecting assets related to oil and gas, marine and critical infrastructure projects for three decades.
Energy, Oil and Gas Magazine talks to Synectics' CEO Paul Webb and engineering director, Darren Alder about the business and to find out how the company's COEX brand has evolved to become one of the most recognisable names in oil and gas surveillance.
"The COEX brand first launched in 1985 and became part of the Synectics portfolio in 2004. The range's reliability, flexibility, and ability to perform in extreme conditions, has been pivotal to the brand's success, as has our commitment to ongoing product development in order to meet evolving customer needs," Paul explains. Indeed, the inclusion of the COEX brand within the Synectics product portfolio has enabled the company to diversify and increase its market share.
Today Synectic Systems operates regional hubs within the UK, North America, Europe, UAE and Singapore with some 250 employees and a yearly turnover that has increased from around £4 million to around £40 million. Its COEX camera stations are presently deployed on numerous key oil and gas projects including Kashagan, Shell Pearl GTL and Gorgon and during the past ten years alone, over 10,000 Synectics COEX camera stations have been delivered to customers across the globe to protect and safeguard vital industrial operations.
The business has always focused on robust design and on pushing the boundaries of what has traditionally been possible within the surveillance industry, as Darren elaborates: "Our cameras are deployed in highly demanding environments that include very high and very low temperatures, strong vibration, extreme weather conditions, corrosive materials and impact potential.
"Our cameras are compliant to international standards including ATEX, IECEx, CSAus and EAC-TR CU, which allow us to provide clients with reassurance of product quality and safety. As well as the certification procedures we are also diligent about our own, in-house testing – we submit our products to a rigorous test regime that includes pressure, functional and systems testing. Attention to detail like this gives our customers full peace of mind that our cameras can and will perform in the harshest of conditions."
Synectics recently launched a new breed of rugged High Definition IP COEX C3000 camera stations, which include on-board compression technology that delivers IP output directly from the station, removing the requirement of separate encoder units.
These units are designed to operate at temperatures of as high as 70ºC and as low as -55ºC, as Darren reveals: "These camera stations do not just power on and start recording – they actually have a pre-heat mode which allows them to mitigate the cold environment before they go into operation. We've provided COEX cameras to a client operating in Kazakhstan where the temperature can be as low as -45°C and as high as 60°C. We've spent a great deal of time developing solutions that can cope with such extreme change in temperature."
With three decades of proven industry performance, and the HD IP camera station continuing to raise the bar of what is possible, demand for Synectics' innovation is higher than ever, and not just for its camera technology.
The need for reliable surveillance solutions in demanding and often critical environments is a challenge that Synectics readily embraces. Drawing on expertise gleaned from a broad base of industries the company is able to develop tailored turnkey solutions that meet clients' unique requirements. Synectics camera systems are based on the same proprietary software and are supported by the company's advanced Synergy 3 command and control platform, a flexible, open architecture platform designed to provide operators with the ability to control and manage integrated safety and security edge devices (visual, audio and data) from a single unified platform.
"The core technology of Synectics is softwarebased security management systems – which started off as video recording, playback and review, and has grown into a broader capability in command and control.
"As the market moves more and more towards integration, the company's capability and its in-house group development allows us to provide a product that integrates into other systems and meets the needs of the customer," Paul elaborates. "We are able to tailor systems to the requirements of the customer's operation because we deeply understand what they do – we deliver more than just a software platform, we provide turnkey integrated systems."
Synectics solutions, with COEX camera stations, can be integrated with several technologies including radar, allowing for the tracking of vessels and ongoing works, and thermal imaging, which can be used in equipment monitoring or even to locate personnel who have fallen overboard.
Within the oil and gas market, Synectics is able to draw on its proven success in other areas to offer a technology that is already well established, as Paul reveals: "We are able to adapt to different industries at different points in their life cycle. In gaming for example, we developed high definition video very early on, but within the oil and gas industry adoption has been at a slower rate. Now that interest is building in high definition our oil and gas clients benefit from our experience in other markets – they avoid the challenges that can be associated with the implementation of a new technology as we have already deployed and proven it elsewhere."
As Synectics continues to innovate and reach new milestones in technology and operation, it will seek to further develop its solutions for this market to deliver advantages its clients may not have previously thought possible, as Paul concludes: "Around the world we have seen a desire to get more integration into subsystems and we are working with end-users and consulting engineers to demonstrate that the software platform behind the COEX camera stations has evolved to such a point that this integration is entirely possible. The fact that it is on IP-based systems means that integration aspirations can be fully realised."
Synectics
Services: End to end surveillance solutions
Issue 122 July 2015