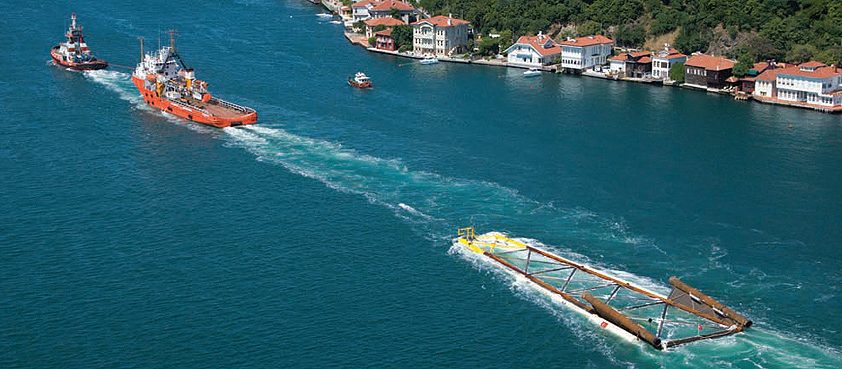 Gaining momentum
An Irish-registered company founded in 1983, The Momentum Group, from its headquarters in Dubai and offices in Azerbaijan, Turkey and the UK, specialises in marketing well drilling and programme engineering services, while also providing total drilling operations management for jack-up, land drilling and pipeline projects.
With its business evolving over the last three decades on the back of the individual and collective performance innovations introduced by its employees, the open management style of The
Momentum Group really helps bring out the best in its people, translating their constructive ideas into better on-the-job performance. Each of these employees views each project as an opportunity to find new ways to provide the company's clients with added value.
Prior to 1993, before its formal expansion into the global arena, the company's operational focus further encompassed the ownership and management of several oilfield service companies whose own operations were principally dedicated to countries in the Gulf States region. In turn these service companies were selectively consolidated into The Momentum Group's newly expanded operations, or alternatively sold on to third parties in accordance with its corporate policy of focusing on its core businesses.
Widely recognised for employing seasoned, highly trained personnel with years of experience, the company's project supervisors and other senior managers average more than 25 years of experience working in the Arabian Gulf, Caspian Sea, Bangladesh, Indonesia, Singapore, Thailand, Azerbaijan and Turkey. The Momentum Group's in-depth knowledge and experience, much of it in difficult, harsh, and remote environments, means that its customers are able to benefit from both its project expertise and its know-how in costeffective procurement and logistics.
"With the likes of ConocoPhillips, Petronas, PetroVietnam and Turkish Petroleum making up just a select few of its many clients, the focus of The Momentum Group can today be found spread across three key disciplines, those being engineering, drilling and port management," explains managing director James Larsen. "From an engineering side this entails carrying out tasks on offshore installations, platforms and pipelines, the installation of said platforms and undertaking rig refurbishment projects. Further to this, from a drilling perspective, the company owns and operates both onshore and offshore rigs, as well as managing several ports found across the Middle East."
A small, yet diverse business that boasts a highly experienced and knowledgably workforce, there is little doubt in James' mind as to just what has contributed to The Momentum Group's success: "Some of the core characteristics that define the company include its drive to innovate, to embrace said innovation and partner this with its unique flexibility. To use one example, while most of the time larger companies will use a large barge or crane to install structures onto an offshore installation. What The Momentum Group would perhaps do is use a float out barge or a similar float out technique, which in itself would be a much more cost-effective solution.
"The company's ability to leverage its skill set from one area of operations to capitalise on opportunities in other fields is equally as important and was a major contributing factor in its decision to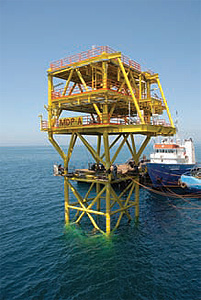 diversify further into port management. The move into this field was really more of a horizontal integration as port management was an area that was already being utilised substantially, be it through the use of quayside space, logistics or a port's supply base. Seeing as that the company had reached a point where it already operated on and leased a great deal of quay side land space for construction, engineering and refurbishment, the ability to actually manage a complete port eventually became something of a natural expansion. This now provides the company with much more of a competitive advantage in that it no longer has to rely on a third party to supply it work port areas when they are required."
Over the years the business has been responsible for undertaking the refurbishment and modernisation of several jack-up rigs as part of its drilling management contracts. Each of its past refit projects have been successfully completed in the UAE, on time and within budget, and many of these rigs can to this day be found actively drilling at their respective locations. The company's offshore work was recognised most recently in December 2011, when it was awarded the trophy for Offshore Project of the Year at the 2011 Oil and Gas Middle East awards for the installation of an offshore DANA Light Weight Structure using a jack-up drilling rig. Weighing 300 tonnes at load out, the company received particular commendation for its innovative installation methods, its technical capabilities and its ability to achieve 150,000 man-hours on the project without suffering a single lost-time incident.
Owning and managing its own onshore and offshore drilling rigs, as well as its own ware-barge the GULFDRILL 9, also provides The Momentum Group with several benefits that may not be possessed by its competitors. Nevertheless, the need to overcome significant challenges on a near daily basis is something that James is all too aware of: "The biggest challenges when it comes to offshore work are undoubtedly the logistics involved and the need to ensure that a company has the best people are in place to handle the job. In today's oil and gas market, arguably more than at any time in the past, there is a great deal of emphasis on working in harsher, deep-water environments. This benefits those companies that, like The Momentum Group with its 25-plus years of experience, have a long track record of working in such conditions, providing them with all new opportunities for work."
As the global demand for oil continues to grow, increasing the price per barrel to ever greater heights, so too will the scope for opportunities for multi-disciplined companies like The Momentum Group: "With the medium to long-term prospects for the oil and gas industry looking increasingly positive, and by ensuring that the qualities of innovation and efficiency remain at the forefront of everything it does, the company has no reason not to anticipate substantial year-on-year growth for the foreseeable future," James states. "As new challenges continue to present themselves, The Momentum Group will be on hand to answer to the needs of its clients, and for that reason alone there is every chance that this could be a company that will have doubled in size and scope by the end of the decade."
The Momentum Group
Services: Drilling contractor