A nacelle from GE Renewable Energy's Haliade-X 12MW offshore wind turbine has arrived at the Offshore Renewable Energy (ORE) Catapult's testing facility in Blyth, Northumberland, ahead of a rigorous testing programme designed to prepare it for years of operation at sea.
This nacelle, comparable in size to six double-decker London buses, will undergo full indoor testing as part of an advanced technology programme, replicating real-world operational conditions.
John Lavelle, President & CEO of GE's Offshore Wind business, said: "GE's Haliade-X technology will have an important role to play in helping the UK to achieve its Offshore Wind Sector Deal goals of 30GW by 2030, and UK Government's ambition to work for greenhouse emission reduction to 'net-zero' by 2050. Our Haliade-X global testing program will allow us to put different components under controlled and extreme conditions in a faster way, to adapt our technology in a shortened time while introducing new features to meet customers' demands, and reduce the validation time before starting serial production in 2021."
GE Renewable Energy is investing close to £15 million in testing and research and development activities on the Haliade-X in the UK. In addition to the nacelle and blade testing programme, GE and ORE Catapult are also developing the 'Stay Ashore!' programme, which aims to reduce the time people spend at sea, increasing safety and contributing to energy cost reduction by focusing on developing technology in robotics, digital and remote operations.
Alternative solution

i-Tech 7, Subsea 7's Life of Field business unit, has successfully completed an underwater inspection in lieu of dry-docking (UWILD) project for Borr Drilling in the North Sea. Borr Drilling required a hull inspection for its Paragon MSS-1 mid-water semi-submersible, to meet ABS intermediate survey certification requirements. In place of conventional methods using divers, i-Tech 7 presented a solution using an ROV to reduce cost, risk, and allow drilling operations to continue without interruption.
i-Tech 7 mobilised an observation class ROV and supporting UWILD equipment to be installed on the Paragon MSS-1, along with two ROV personnel and one inspector to complete the operations.
i-Tech 7's innovative portfolio of vessel based UWILD solutions can carry out inspections on mobile drilling units (MODUs) and floating production, storage and offloading units (FPSOs), using cutting-edge ROV machine-vision technology combined with fast acquisition, processing and reporting of data.
Bjoern Ritter, rig manager at Borr Drilling, said: "i-Tech 7 presented a service at an attractive cost, with less risk and minimal disruption to operations. We were thoroughly impressed by the i-Tech 7 team who completed the hull survey in less than two weeks, despite some very testing weather conditions."
Cable installation contract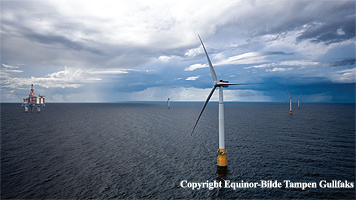 Seaway 7, Subsea 7's Renewables and Heavy Lifting business unit, has been awarded a contract from Equinor Energy AS for the installation of 11 inner array and two export cables on the Hywind Tampen floating offshore wind farm project, offshore Norway.
Commenting on the deal, Steph McNeill, SVP Subsea 7 Renewables & Heavy Lifting, said: "We look forward to continuing our long-standing, collaborative working relationship with Equinor and supporting them on their energy transition journey, with the development of their pioneering floating offshore wind farm."
The Hywind Tampen project is an 88 MW offshore wind farm comprising 11 wind turbines, each being supported by a floating foundation structure. The field is located between the Snorre (PL089) and Gullfaks (PL050) licenses, to which the windfarm will provide electricity.
Hywind Tampen wind farm contracts are subject to final approval of the plan for development and operation (PDO) by Norwegian authorities. The wind farm is scheduled to start production at the end of 2022.
Scottish success

Costain has secured some £4m worth of design, engineering and consultancy contracts for the energy market, which will see the Group shaping the future for sustainable operations and improved efficiencies at several UK onshore gas terminals.
Sean Close, Costain's director based in Aberdeen noted that these wins are testament to the broad range of capability in its Aberdeen team and underline the city's status as a hub of engineering provision. He added: "Oil and gas remains a key focus area as we help the UK transition to a low carbon economy by continuing to apply our 60 years of hydrocarbons experience in other energy markets such as nuclear, hydrogen and carbon capture. In particular, we are leveraging our expertise in gas processing to help make hydrogen a reality for the UK's power, transport and heating sectors."
The contract awards being delivered by the Aberdeen team also include topside modification projects for several subsea tie-backs in the North Sea, both at front-end engineering design (FEED) and pre-FEED phases as well as providing subsea engineering support to nuclear sector projects. Other work secured involves the pre-FEED for a carbon capture usage and storage project that includes the onshore and offshore dimensions.
Versatile system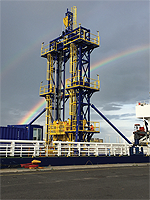 Horizon Geosciences Limited has recently mobilised an additional offshore geotechnical site investigation spread. The rig has been mobilised to DP2 vessel Kommandor Susan owned and operated by its long-term partner Hays Ships. It is currently performing its first project offshore Poland.
Horizon's K3 geotechnical drilling system has been designed based upon over 15 years of conducting offshore geotechnical investigations and is the fourth offshore heave compensated rig to be brought into service in that time. It incorporates a number of state-of-the-art features such as mechanical drill pipe handling, which removes all manual handling requirements from running and pulling drill string and electronic recording of drilling parameters to provide additional ground data and operational feedback during drilling. The rig has the ability to switch to a nested coring system and also has the ability to deploy conventional downhole CPT, sampling and wireline coring, plus seismic CPT, geophysical borehole logging, pressure meter testing and other downhole tools.
The rig can be used for deep boreholes as well as to deploy Horizon's 200kN seabed CPT unit for acquisition of deep push cone penetration data also in combination with seismic CPT as required. A fully equipped soil laboratory capable of undertaking a wide range of testing offshore completes the spread, making it a very versatile system for all ground investigation applications.
In Brief
Hungary plant overhaul
The Dunamenti Power Plant in Százhalombatta, Hungary, is the largest gas-fired power plant in the country with a capacity of 794 megawatts (MW), making it a major source of reliable electricity in Hungary. Recently, in collaboration with the customer and plant owner, MET Asset Management AG, and within the scope of an overhaul project, Siemens Gas and Power replaced the entire rotor of the plant's SGT5-2000E gas turbine and installed a new, state-of-the-art SPPA-T3000 control system.
The rotor exchange for the SGT5- 2000E at the Dunamenti Power Plant led to an increase in output from 148 MW to 155 MW and increased the unit's efficiency by approximately 0.8 per cent.
Savings from solar
Pressure vessel manufacturer Portobello-RMF has achieved an incredible reduction in its carbon footprint thanks to a solar panel installation.
Managing Director Graham Avill, said: "Solar panels provide us with a renewable energy source with zero greenhouse gas emissions or other pollutants. The panels provide our company with clean power from the sun and are just another step towards improving the climate and environment in general."
The new solar panels have had a positive impact company-wide. In addition to significantly lower energy usage, the company has also made considerable savings. The team is now looking forward to re-investing these savings into other areas, such as materials and tools for forthcoming projects.
In total, the panels offer a capacity of almost 100kW. This exceeds the business' power output, which will result in large savings and considerably fewer emissions in the long-term.