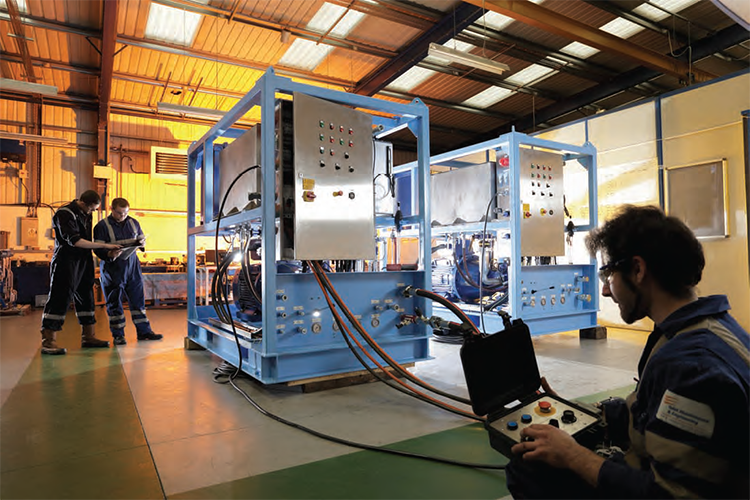 New direction
The MKW Group subscribes to the view that there are no problems in engineering; only challenges and solutions.
This is due to the fact that since 1976, the group has maintained an across-the-board engineering capability including design, manufacture, testing, installation, and maintenance and project management.
Formed in 1995, Total Maintenance & Engineering Ltd (TME) started life as a mechanical maintenance company providing fitters and technicians for site work and outages. In 2009, managing director Jerome Dardillac sparked a shift in focus to hydraulics, which led the company to adopt a new working name of TME Hydraulics.
Hydraulics is a discipline that Jerome has been passionate about since his apprenticeship working on mobile systems. However, it is the utilisation of hydraulic power for power equipment aboard offshore work vessels and the emerging niche of subsea equipment for which TME Hydraulics is focussing its development as a technically strong hydraulic partner.
"Once this had been identified as the correct direction for the company there was then a need to train and recruit hydraulic specialists, and to make ourselves known to the target customer base," he explains. "This was helped by the involvement of MKW in the fabrication of subsea equipment, and the association allowed TME Hydraulics to propose a complete hydraulic package.
"In addition to the large equipment projects driven by the oil and gas market we have also hydraulic service package where we provide routine service support, source spare parts and also offer improvement advice to reduce energy consumption and upgrade equipment. Much of this work has a short turn-around time, and we rely on our suppliers, as well as our own technicians, to be able to provide quality service in responsive timescales."
As well as the in-depth knowledge of its employees, TME also has the ability to design bespoke systems in-house, utilising 3D CAD and simulation software to calculate hydraulic performance data. "We take an innovative approach to systems design and problem solving, always willing to look for a new way of achieving the performance requirements. As a systems designer and assembler we have a willingness to engage with component manufacturers and to utilise new products in our designs. This allows us to reduce the size and weight of our systems, and to achieve greater functionality and performance reliability," explains Jerome.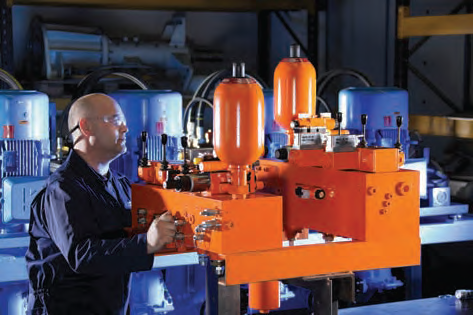 TME makes use of a 1000-square metre workshop, which is divided into a strip-down and assembly area. Other equipment includes a flushing system for hydraulic hoses and pipes, pressure test facilities, and data recorders for component efficiency testing, which together give the company the ability to test and assemble hydraulic systems and power units. Likewise TME is able to access the fabrication, machining and paint capabilities of MKW Engineering to assist with short lead times or certain project requirements.
One of TME's previous contracts was for the design and build of a bespoke hydraulic solution for a wind turbine access system. "This project came along at a time when we were developing our design capability and it was a great technical challenge for us to engage with," highlights Jerome. "The system was a unique concept and specialist hydraulic expertise was required to ensure it was able to integrate with the complex control system and operate in the desired way without earlier prototypes to compare against.
"More recently we have completed two projects for large hydraulic power units for the oil and gas industry. The first was for the supply of two 132-kilowatt power units for use as offshore deck equipment, primarily in winch control. This is an application we hope to expand in, particularly with respect to closed loop systems, which offer greater control for operators. The advantages of a bespoke closed loop system for this application are particularly beneficial when operating large winches offshore. Closed loop systems are more compact and offer greater control of the torque, speed and load from a single pump and motor without the need to oversize or have high power consumption.
"The second project was a modular system with a total 180-kilowatt power output using four 45-kilowatt sections. The pumps can be run both individually or together to give maximum flexibility in operation," he adds.
TME is excited about some of the current projects that are in the pipeline as these will enable the company to develop its know-how in areas such as active heave compensation. Much of the company's focus though is on developing TME as a hydraulic partner to its customers, and creating a structure with dedicated resources for both new build and service. This will enable TME to offer development opportunities to its Staff and respond even better to its customers' distinct needs.
In the area of staff development, TME already operates an apprentice training programme, which currently has two full-time participants. "For us it is important that they gain a good general mechanical standard, which is supported by their formal programme," notes Jerome. "For hydraulic training we have found that this type of engineering is not promoted in the UK and this is reflected in the shortage of suitably skilled hydraulic technicians. We therefore provide an additional hydraulic training programme for the apprentices and other members of our team."
For several years TME has been a supporter of the French Compagnons system, where young engineers travel outside of France to develop their skills and improve their level in a foreign language. This is beneficial for TME as these young engineers bring a high level of enthusiasm for hard work and learning, as well as a fresh skill set. Furthermore, as well as apprentices the company has university students joining it over the summer to learn about design and 3D modelling.
"Over the coming years we hope to have established TME as a technically respected hydraulic design company and to have repeat business with all our customers. We see oil and gas, and subsea equipment being a large percentage of our business going forward as the pressures to improve performance, reduce weight and keep cost and lead time low drive operators to look for technically innovative solutions. For the service side we hope to become recognised across the northeast as a provider of high quality service. Longer term we have plans to look at opening a satellite facility elsewhere in the UK, close to our customers' deployment locations, to service the original equipment we are supplying," concludes Jerome.
TME Hydraulics
Services: Hydraulic engineering