Serve and protect
Trelleborg's offshore operation has launched its brand new Mobile Production Unit (MPU) – a portable coating facility that will enable onsite coating of thermal insulation, passive fire and corrosion protection, anywhere in the world.
The unit can be mobilised in a short time frame and sent straight to site to apply coatings such as Trelleborg Offshore's thermal insulation – Vikotherm™ R2 and Firestop, a jetfire resistant material. This increases project flexibility and reduces the costs and lead times.
"We've been working hard to establish the concept of the Mobile Production Unit (MPU), enabling us to serve customers on a global scale," explains Business Group Director, Ben Erik Jansen. "Trelleborg Offshore's MPU is our mobile coating concept that allows onsite coating of corrosion protection, thermal insulation and passive fire protection (PFP). The MPU performs at every level as it can be mobilised in a short time frame, worldwide and also meets the requirements for local content as we intend to use local labour during production."
The revolutionary unit has the capability of increasing project flexibility and reduces costs and lead times associated with transporting parts to a specialised coating facility. The MPU is capable of coating up to 20 metre pipes in a robust and easy application process and includes a side extrusion of straight pipes up to 12 metres and production of profiles for the coating of complex geometries, such as bends, valves and flanges. In addition to this there are a number of vulcanisation containers for up to 20 metre pipes or structures. Trelleborg Offshore's Vikotherm R2 material can easily be vulcanized at any site anywhere by using heat. This material technology is quite unique.
Trelleborg Offshore's ability to develop and innovate continuously within the market is not only down to its extensive depth of engineering expertise and experience but also to its ability to listen to the market. "The main competitive edge for Trelleborg Offshore is that we are spending a lot of resources on research and development and have our own developed material technology," highlights Ben. "We are always in direct dialogue with our end users to meet the specific requirements in the market place." Ben also points out that the company is currently developing new materials and products for improved PFP systems.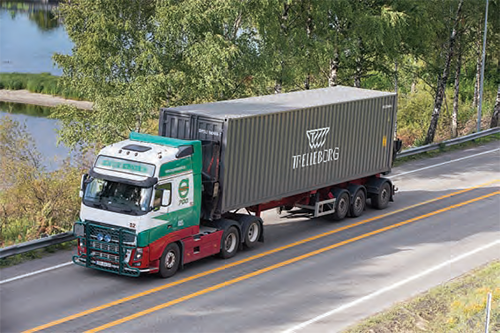 With the current market conditions proving tough for all those involved in the oil and gas industry, Trelleborg Offshore is no exception. "We do feel the changes in the marketplace," says Ben. "The planned new builds are going ahead more or less as planned, yet for maintenance and drilling we are seeing a downturn at the moment." Despite this, the company's current and near-future activities paint a positive picture. "We are currently involved in several projects," he continues. "We have had a breakthrough into Mexico, and we are currently involved in projects like Bonga, Hebron, Ichsys and Julimar amongst others. Several other interesting projects are also in the pipeline."
Continuing its tradition of bringing innovation and development to the industry demands is going to be critical to the future success of Trelleborg Offshore. "There are a lot of new projects coming up but they will be harder to get," notes Ben. "Over the next 12 months we will be working hard on efficiency and cost reductions to meet our customer's expectations for the future and to create competitiveness that is necessary to win future contracts."
Ben remains aware that the market will continue to get tough and more competitive in the future and therefore the company must work hard to maintain its high performance and continue its success. "Over the next three to five years we will continue to have a strong focus on the customers and listen carefully to the market," he concludes. "We will also be focusing on cost optimisation to create competitiveness and we will continue to develop new material solutions in line with the market requirements. Ultimately, as a group we will seek to expand our business both within and outside of the oil and gas market."
Trelleborg Offshore, which specialises in the development and production of polymers and syntactic foam for all levels of the offshore industry, continues to bring innovative products to the market. With a history spanning over 100 years, it's parent company the Trelleborg Group provides engineered polymer solutions that seal, damp and protect critical applications in demanding environments driven by a commitment to innovation and development within its markets. Whilst operating within a number of industrial sectors across the world, the offshore oil and gas sector can throw up some of the most challenging locations in the world and with that comes the need to protect a variety of assets. Having been involved in the oil and gas industry since 1972, Trelleborg Offshore has built up a focused organisation with experienced and skilled people that work hard to serve the market in the best way possible, as well as a dedication to innovation.
Trelleborg Offshore
Services: World leader in engineered polymer solutions
Issue 122 July 2015