Grand designs
A world market leader in the design of large, complex offshore construction vessels, the Netherlands based Ulstein Sea of Solutions (USOS) has gained a strong reputation for finding innovative offshore ship designs within the oil and gas industry since its inception in 2001.
Boasting a unique understanding of its client's needs, the company strives to provide operators, contractors and ship owners with new technological concepts and forward-thinking designs that are highly beneficial to upcoming market trends. Originally operating under the name Sea of Solutions, the Dutch company was incorporated under the Ulstein Group's umbrella in 2008; since then it has taken on its parent company's name and continued to grow through increased availability of expertise and technology.
Previously featured in European Oil and Gas Magazine in July 2012, Edwin van Leeuwen, general manager of Ulstein Sea of Solutions discusses the company's developments over the last 22 months: "There has been a great deal of activity as a number of our vessel designs that were previously under construction have now been delivered. These include a.o. two derrick lay vessels for SapuraKencana, recently delivered by COSCO shipyard, and two customised versions of the ULSTEIN SOC 5000 design: the deepwater construction vessel (DCV) Aegir for Heerema Marine Contractors and the pipelay heavy lift vessel 'Seven Borealis' for Subsea 7. A third, even larger, customised version of this ukdesign we developed for Petrofac; the Petrofac JSD 6000. The yard contract was signed in February 2014 with ZPMC shipyard in China."
Heerema Marine Contractors was awarded the KNVR Shipping Award in 2013 for the Aegir vessel, as it combined Heerema's operational expertise with USOS' design capabilities to create a state-of-the-art vessel that can operate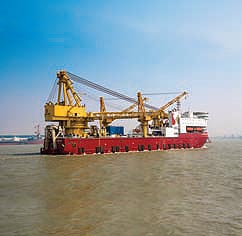 worldwide on complex infrastructure and pipeline projects. Despite being built for deepwater operations, the vessel has the lifting capacity to also install fixed platforms in shallow waters. Following the Ship of the Year award nominated Seven Borealis, the first Ulstein SOC 5000 design to be developed and put into operation, the success of the Aegir led to recognition from the high end market and a contract with Petrofac for the JSD 6000 deepwater derrick lay vessel; a unique design that features J-Lay, S-Lay and heavy lift capabilities.
Having developed a solid reputation for its ability to turn visions into reality for customers, Ulstein Sea of Solutions' strategic move into the Ulstein Group has enabled it to access a wider range of technology and therefore offer its customers a broader portfolio of vessel designs, technology and knowledge.
"Last year also saw our first design with an ULSTEIN® X-BOW® being contracted for construction; a customised version of the ULSTEIN Deepwater Enabler for Sealion Shipping/Toisa Ltd at Hyundai Heavy Industries.The merging of our knowledge with Ulstein's technology like the X-BOW has resulted in our first successful project in this specific part of the subsea construction vessel market," highlights Nick Wessels, marketing and sales manager at Ulstein Sea of Solutions.
Designed to deliver optimum efficiency and cost effectiveness, Toisa's multi-purpose offshore construction vessel (MOCV) will be able to operate globally on projects including ultra-deepwater installation, and construction and flex lay and topside construction support. Furthermore, it features heavy lift capabilities via an active heave compensated offshore crane rated at 900 tonnes SWL, up to 50 t/m2 deck strength, two moonpools and an ULSTEIN® X-BOW®. "It is a very capable vessel and the biggest X-BOW built so far. But we anticipate a few more similar vessel designs to follow from our office," says Edwin.
By employing a Ph.D. researcher the company has taken a critical look on ship design processes, resulting in a new design methodology, already applied to a number of projects. It is not only proving to be a more efficient way of working with clients, but is also offering clients an improved insight into decisions within ship design. This development has naturally led to an increase in complex and niche projects, such as the development of an Arctic drillship concept. Other projects are currently ongoing, but not yet made public.
Introduced to the market almost ten years ago, the revolutionary patented ULSTEIN® X-BOW® design immediately caught the attention of shipowners around the world; with a bow shape that minimises pitch/heave accelerations and speed loss, the design thus boosts fuel efficiency and reduces harmful emissions. Furthermore, it eradicates slamming and bow impact, which in turn lowers noise and vibration issues for crew onboard and increases safety through a soft entry in waves. "It is a nice design that has been recognised as trendsetting in the market and appreciated by clients for increased operability windows", says Edwin. "And of course this key feature is highly appreciated by the crew operating X-BOW vessels as well."
Having developed a strong reputation in the market for its high quality designs, Nick elaborates on the three key drivers of the company's success: "Creativity, flexibility and openness to innovation are our major strengths. Our best projects stem from close relationships with our client; if we get a contract we develop a design in close collaboration with our customer and offer flexibility towards their requirements. For example we could bring in technology partners on areas we feel additional knowledge is needed. Clients appreciate the freedom of choice they have when working with Ulstein Sea of Solutions when it comes to selection of their preferred mission and marine equipment, and where to build the vessel."
Looking ahead, the company's core values will hold it in good stead as it continues to move into new markets and take on niche projects, as Edwin concludes: "We have a number of projects that will be very interesting to the market, but we cannot discuss these right now. However, we have recently been awarded a design contract from Casco Offshore for a customised Ulstein Deepwater Enabler design; it is an accommodation vessel for 800 people using a mono-hull vessel instead of a semi-submersible solution offering cost attractiveness and increased levels of comfort. Our whole way of working is about finding new ways to optimise a ship's layout and design; by working together with our clients and technology partners, we can find these benefits and deliver them to the market."
Ulstein Sea of Solutions
Services: Designs complex offshore vessels