Dreams of grandeur
After the struggles the oil and gas industry has faced in recent years, it takes great bravery and incredible confidence in a product to attempt to establish a new business in such uncertain times.
Founded in April 2010 and based in Kristiansand, Norway, Varada Marine clearly possesses that confidence and has put into place an aggressive growth strategy that aims to make it a leading offshore support vessel owner and operator within the next ten years. Focusing on the market sector of anchor handling tug supply vessels (AHTS) and platform supply vessels (PSV), it aims to maintain a mixed profile of long and short-term chartering.
Explaining Varada Marine's goals for the future, chief executive officer Mikael Lindholm says: "Our mission is to develop the skills and knowledge to make the Varada group a globally recognised name. The reason we have set ourselves up in Norway is because, in our opinion, its people have the best experience of operating in the offshore market. They operate, and have long developed, oil exploration operations in harsh conditions and we feel it is the perfect place for us to establish the company and get the knowledge that we will be required to have."
Over the next 18 months, Varada Marine a fleet of 20 new vessels due for delivery from India where an extensive new building programme is underway at ABG Shipyard Ltd. All built to very high specifications, particular attention is being paid to adhering to future environmental legislation changes. Explaining the decision to take this aggressive stance towards its first years of business, Mikael explains: "We are capitalising right now on the fact that the market has been pretty slow over the last three to four years and now everybody in the industry anticipates improvement, signs of which we can already see. We have seen a big boom in rig ordering and expect most of them to hit the water around 2012. People are increasingly looking at clean designs and we have decided that this is the right time to build new, modern tonnage that will appeal to the right segment of the industry."
Looking to focus on medium sized PSVs and smaller and medium sized AHTS' ranging from around 80-200 tonnes bollard pull, not larger, super-sized vessels, Varada feels this is where the biggest and best window of opportunity lies. The requested specifications the company has asked for its ships to be built to are particularly important to its future plans. Just in the last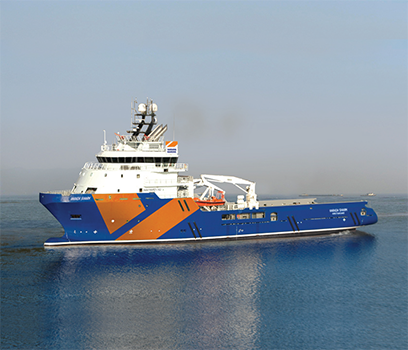 couple of months the company signed a contract with Ship Equip to install SEVSAT systems to its entire fleet of offshore supply vessels. As Mikael tells us: "We are specifying the vessels for the future to meet the demands that are coming in the years ahead. We have a strategy of keeping these vessels for a foreseeable time but if the opportunity comes we can sell them on. These vessels will be one of our big strengths, modern tonnage, high spec vessels built at a competitive price."
Varada Marine keenly stresses that it wants to focus on safe, environmentally friendly operations whilst providing a high standard of performance. The company states that it is built on a series of values, integrity, credibility and care, which sum up what it stands for. Integrity refers to the principle-centric approach it has, adhering to a code of ethics in whatever it does, credibility refers to the trust stakeholders have in the company while care covers the role it plays in embracing global concerns about health, safety and the environment.
While Varada Marine's hopes to be a global name in a short space of time may seem overly ambitious, moves are already underway to make this goal a reality. Mikael continues: "We already have the first vessel on its way to West Africa right now and the second vessel is commencing sea trails and should be on its way to its contractor in Brazil shortly. The market type we are targeting is very well suited to places like West Africa, South East Asia, the Persian Gulf, Australia and South America. Brazil is of course a place where there is a lot of activity right now and there is going to be a lot of demand in West Africa too which we will focus on. We have looked and seen that the ships working out there and in South East Asia are old, so as activities increase there will also be a demand for newer vessels that meet the new requirements, such as DP 2. Those will be areas of key focus for us over the next few years."
Looking towards the future, Varada Marine expects its business plans to bring it success in the short term with big growth predicted in the years between 2012 and 2014. Mikael adds: "We are definitely going to focus on the medium sized range of vessels, in particular platform support vessels, then look to go up the value chain to even more sophisticated vessels. Right now we are focusing on those that we have on order, getting them well built and putting them out there into the market."
Varada Marine
Products: Offshore support vessels