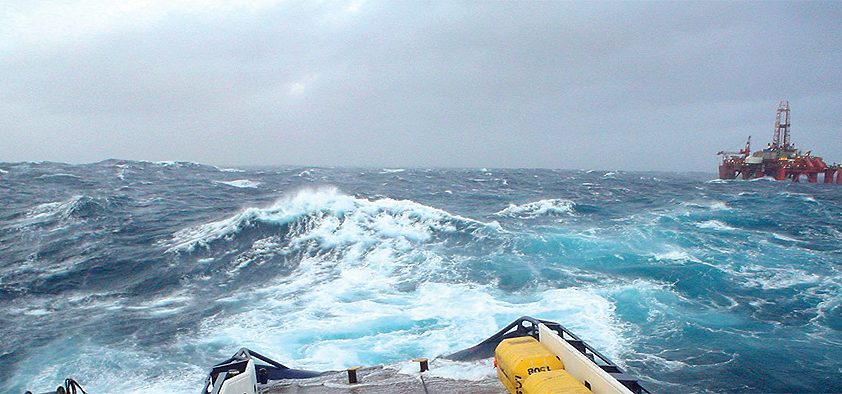 Plain sailing
Aberdeen based Viking Offshore Services, a subsidiary of Viking Supply Ships AS, is a registered Scottish company, which owns and operates a fleet of more than 30 state-of-theart rescue and recovery vessels.
The company, which was renamed Viking Offshore Services in June 2005, provides a leading emergency response, rescue and recovery service to both fixed and mobile oil and gas installations, predominantly in the UK sector. This year, the company received the Viking Discovery, the first of nine planned new vessels.
Viking Offshore Services' history dates back to September 2002, when a joint venture between Viking Standby Ltd and BUE North Sea Ltd created BUE Viking Ltd, which at the time owned and operated over 50 vessels. Viking acquired the shares of BUE North Sea in 2004, meaning BUE Viking became a wholly owned subsidiary of Viking Supply Ships, and in 2005 BUE Viking changed its name to Viking Offshore Services.
Today, Viking Offshore Services operates as a wholly owned subsidiary of Viking Supply Ships AS, an organisation that provides high-quality vessels and barges to a number of sectors in the global offshore industry. Viking Supply Ships was originally formed in August 1946 in Kristiansand, under the name Excelsior. In latter years the company developed rapidly, operating as both a tanker operator and a marketing organisation during the 1970s.
In 1989 the business was renamed Viking Supply Ships, and through acquisitions of new and second-hand vessels, its fleet expanded considerably during the 1990s. More recently, the company
has entered a number of joint ventures, and acquired SBS Aberdeen, the parent company of SBS Marine Ltd. Today, Viking Supply Ships is a wholly owned subsidiary of Kistefos AS.
As a forward thinking, innovative business, and to maintain its high standards, Viking Offshore regularly looks to update its vessels and associated equipment. In March 2007 the company took delivery of the first of nine new vessels that are to enter its fleet. The Viking Discovery, which will set new standards for vessel design and the provision of added value to Viking's clients, features a range of enhanced rescue and recovery systems, and will ensure that the company remains a leader in the sector.
Designed by IMT Marine Consultants and constructed at the Astilleros Zamakona shipyard in Spain, the 55 metre Viking Discovery is capable of serving multiple installations, and has the ability to carry out offshore warehousing, delivery of essential supplies and in-field cargo activities. Additionally, the ship will feature the latest crew facilities, including conference facilities. 15 single en-suite cabins and 22 berths, a sauna, and a well-equipped gymnasium. Certified to operate in UK, Norwegian, Danish and Dutch waters, Viking Discovery's initial contract is with BP.
The boat is part of a nine-vessel £55 million investment deal, which is the largest ever single order for emergency response and rescue vessels (ERRVs). The contract creates a stable growth platform for Viking Offshore, and represents the company's long-term commitment to providing an extensive range of field support services for the North Sea energy sector.
The company's dedication to providing the highest standards of service and safety, and the ongoing improvement of the emergency response and rescue sector is demonstrated by its full membership of the Emergency Response and Rescue Vessel Association (EERVA). Originally established to co-ordinate the common interest of companies in the energy sector, EERVA is responsible for promoting the safety and development of standby response, rescue and recovery services, whilst ensuring the future development of the sector.
Viking Offshore's continuing commitment to expand its fleet, and the scope of services it can offer, reflects a general upturn in the emergency response and rescue vessel sector in the North Sea. In 2006 operators invested a total of more than £140 million in modernisation programmes, reinforcing the belief that emergency response and rescue vessels will play a central role in North Sea safety culture for many years.
Furthermore, the continued development of manned installations means that there will be a demand for such vessels for years to come. With the current market in a buoyant condition it is clear that Viking Offshore's new vessels, due to be delivered in the coming years, will easily integrate into regular operations and remain busy for many years. Combined with this, the company's continued focus on improving its services and reaching the highest standards in emergency response, rescue and recovery operations will ensure that the future is plain sailing for Viking Offshore Services.
Viking Offshore Services
www.vikingoffshore.co.uk