Terminal velocity
Vopak E.O.S. Ltd., the largest independent tank terminal operator in the Baltic States, provides a wide range of services in the areas of handling, terminaling, throughput and storage of oil products.
Vopak E.O.S. operates three modern terminals, with a total tank farm capacity of 951.00 cbm, and a full range of refined oil products. Crude oil is also handled. The total throughput capacity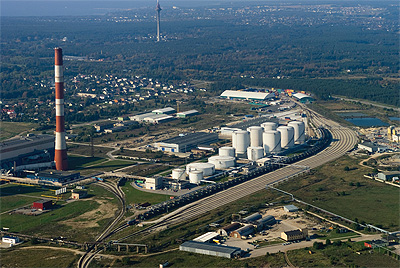 amounts to 25mln cbm a year. The company has a capacity to load and unload vessels of any size, supply blending to required specifications and provide ship-to-ship operations in the port with the use of own berths' infrastructure.
Operating three terminals in one system provides more advantages, such as reliability and space for manoeuvre. The terminals are situated in a geographically favourable location that's easily accessible – the ice-free Port of Muuga within the Port of Tallinn on the southern shore of the Gulf of Finland. The proximity to Russia and the Port of Muuga's infrastructure enable Vopak E.O.S. to offer excellent opportunities for sea transportation of liquid fuels from Eastern Europe to Western Europe, the US and Southeast Asia. The terminals have a direct connection to the Estonian railways and Russian railways.
Royal Vopak (Vopak) and N-Trans, owner of Pakterminal and Estonian Oil Service (E.O.S.) respectively, established Vopak E.O.S. in 2008 as a joint venture. They joined forces to make more efficient use of combined available terminal assets in the region. The combined terminal facilities of 75 tanks create storage for light and heavy oil products combined with excellent rail connections and deep-water berths facilitating all vessel sizes. Arnout Lugtmeijer, chairman of the management board of Vopak E.O.S. commented at the time of the launch: "I'm very excited about the merger of E.O.S., Estonia's largest oil transit company, with Pakterminal owned by Vopak, the world's largest independent tank terminal operator. The alignment of our facilities and services will add value for our customers, who will benefit from this major development in Estonia and from Vopak's terminal network. I'm looking forward to working with staff at the terminals to further develop our services with a global mindset."
The combination of Pakterminal and E.O.S. provides an unmatched scale of both railway unloading capacity (346 unloading positions) and railway logistics services in combination with one of the largest available storage facilities for both light (180,000 cbm) and heavy oil products (771,000 cbm) connected to the deepest berths available in the region.
Importantly, Vopak E.O.S. is an excellent one stop shop for customers, who can pick any service from the offered variety and have it all in one place, making good use of market opportunities. Vopak E.O.S. provides customers with added value. With such a wide range of services and constant market fluctuations, the most effective decisions can be made at the right moment.
Today Vopak E.O.S. plays a significant role in the chain of oil products transhipment from Russia and the CIS to various destinations worldwide. Committed to continuous improvement in operational performance, it stays alert to market changes and develops new or extends existing services in anticipation of customers' requirements. Such has been the success of Vopak E.O.S. that barely a year after its construction, it commissioned 200,000 cbm of new storage and a new fire fighting station, installed at its Termoil terminal facility in Tallinn.
"We're very pleased with the tremendous work delivered by all the contractors, our terminal management and our staff in delivering these new tanks within such a short time frame," says Arnout. "There's high demand for storage of oil products and we were able to satisfy our customers' requirements with perfect timing. Through this expansion we provide our customers with the most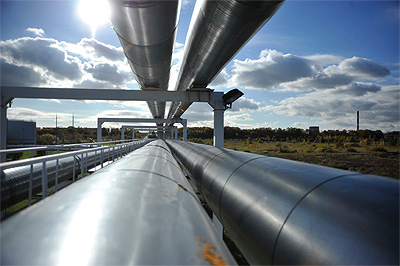 optimal and efficient service solutions for terminaling their oil products."
The new capacity creates more flexibility for Vopak E.O.S.' customers in loading vessels. It also allows customers to deliver specific grades into the terminal facilities by ship, which can than be reloaded onto larger tankers on later occasions. "We've diversified services in Muuga Port as we're also receiving cargo by vessel nowadays," explains Arnout. "Accumulation of product at our terminals takes place mainly through railway deliveries from refineries, but we see a growing contribution in ship deliveries from adjacent ports with fewer marketing opportunities."
As Arnout mentioned, the company enjoys close contact with railway companies and established its own rail subsidiary in 2008 to ensure it offers a full service; ERS Ltd extends the range of Vopak E.O.S. services to include railway transportation services in Estonia and railway shunting services in and around the terminal facilities. Additionally, ERS secures a smooth flow of rail tank car deliveries through its control over railway logistics.
Vopak E.O.S. specialises in the handling of heavy oil products. By reason of its specifications, some products like fuel and oil simply cannot be transported by pipe, as certain types solidify with room temperature. Consequently, transportation by rail of these products from inland refineries is inevitable and Vopak E.O.S. stands out with its highly developed railway infrastructure and unloading capacities. Product quality and quantity is monitored and confirmed by reputable international inspectors throughout each stage of cargo handling operations.
Vopak E.O.S. is incorporated in the network of Royal Vopak, the global market leader in independent storage and handling of liquid and gaseous chemicals and oil products. Being part of this ensures the provision of consistent high quality services. As per its interest in safety, being part of the Royal Vopak terminal network offers many benefits, as it boasts world-class standards in proven technology safety issues. Royal Vopak consistently applies and enforces strict safety, health, environmental and quality standards, as well as rules, codes and procedures. The combination of services provided by Vopak E.O.S. and ERS, plus its highly professional staff, allows Vopak E.O.S. to offer to its customers the best solutions for terminaling oil products.
Vopak E.O.S.
Services: Tank terminal operator