Get the tube
Nikopol Pivennotrubniy Zavod was founded in 1935 when a small tube-rolling mill began operating; it soon became the biggest industrial enterprise in Europe and by 1955 its tube shop Number five (TESC-5) was the USSR's core producer of seamless cold-worked tubes from titanium and titanium alloys.
Following a number of acquisitions throughout 2000 – 2009, OJSC VSMPO-AVISMA registered the company as VSMPO Titan Ukraine Ltd in August 2008. Today the subsidiary produces seamless titanium pipes for industries such as power generation, oil and gas, shipbuilding and chemical processing.
In 2011, VSMPO Titan Ukraine's chief executive officer Kostyantin Antonov, spoke to European Oil and Gas on the company's services: "Our titanium tubes and pipes are used in the oil and gas industry; we have been involved in several projects under Pemex, Qatar Gas, Maersk Qatar and Exxon Neftegas over the last five years,"
Demand for industrial CP titanium after the boom in 2010 lowered and was average in 2011-2012, and this tendency is anticipated to continue through 2013 and 2014. Some ramp up is expected in the aerospace industry, which parent company VSMPO-AVISMA is focusing on. Nevertheless, investments are extensively made within the corporation to remain at technologically and commercially high levels.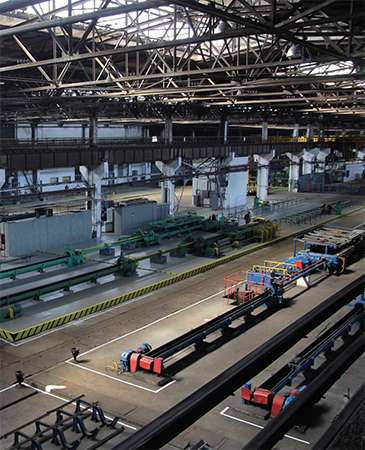 "In November 2012 VSMPO-AVISMA decided to create a high technology site for manufacturing welded tubes for titanium alloys at VSMPO Titan Ukraine, and in December 2012 we received complex equipment of tube welding lines, which were produced by the Italian firm Olimpia 80 SRL, for fabricating welded titanium tubes with an outside diameter of 12.0 to 60.3 mm with a wide range of wall thickness," highlighted Kostyantin. "Implementation of this project will allow the manufacturing of especially thin-walled welded tubes from titanium alloys at a length of up to 26 metres, which will be offered to the market in 2014."
To further enhance its competitive offering on the market, the subsidiary was included in the list of approved suppliers according to NORSOK M-650, Rev. 4, qualification of special material manufacturers, after participating in Statoil's qualification programme. According to Statoil, VSMPO Titan Ukraine is the first manufacturer of seamless titanium tubes to be entered into this list of subcontractors; the approval includes seamless titanium tubes according to ASTM B338 and pipes according to ASTM B861. "NORSOK qualification gives the subsidiary opportunities to take on engineering and building projects in the oil and gas industry, such as shelf developments and construction of static and floating oil and gas extracting platforms," enthuses Kostyantin.
Proud to offer products of the highest quality to its customers, VSMPO Titan Ukraine complies with world standards for production and is approved with a multitude of certificates, such as the TUV Nord certificate for compliance of quality management system, with requirements for international standard ISO 9001. It is also SAE AS 9100 and ISO 14001 approved. Annual shipment volume of seamless tubular products is more than 300 tonnes at VSMPO Titan Ukraine's enterprise area, which consists of a manufacturing building, plant office buildingand auxiliary buildings and premises. The total area of the territory is an impressive 1504 hectares, of which the manufacturing building takes up 54,000 square metres. It is the largest of its kind in the country and the company's development and investments programme, approved to run into 2015, will lead to further improvements in the facilities, equipment, tools and products.
With markets in 25 countries around the world, including the US, Asia, Europe and Russia, VSMPO Titan Ukraine anticipates a production increase over the next few years. Its current range of manufactured tubular products includes ASTM B 338, ASTM B 861, AMS 4943, AMS 4944, AMS 4945, AMS 4946 and DIN 17861. In July 2012 VSMPO Titan Scandinavia AB, a wholly owned subsidiary of VSMPO-AVISMA and an official selling agent of titanium tube products of VSMPO Titan Ukraine, signed a distribution agreement with US based Uniti Titanium to represent the firm in Scandinavian countries. Since 2012 this has allowed VSMPO Titan Scandinavia AB to sell the whole range of mill products including plate, sheet, coil, bar, seamless tube/pipe, and welded tube/pipe.
Despite economic crises, VSMPO Titan Ukraine was quite stable in its sales over the last few years and Kostyantin believes there is ample opportunity to thrive in the current market. "Titanium is a sustainable solution for corrosion problems across a wide range of industries, which is why we have expectations for continued expansion in the market. We want to continue increasing brand recognition and to participate in many large projects," he told European Oil and Gas in 2011. To prepare for the influx of potential future projects, the company has expanded its workforce and is developing new products in its state-of-the-art facilities. "Our in-house technology and metallurgical expertise, along with the exclusiveness of our materials, gives us the opportunity to offer a wide production range and meet any of our customers' demands," concluded Kostyantin. Through preparation, investment and innovation the Ukrainian facilities, together with its parent company and distribution offices, are true titans in tubular and other titanium products.
VSMPO Titan Ukraine Ltd
Services: Manufacture and production of titanium tubes and pipes