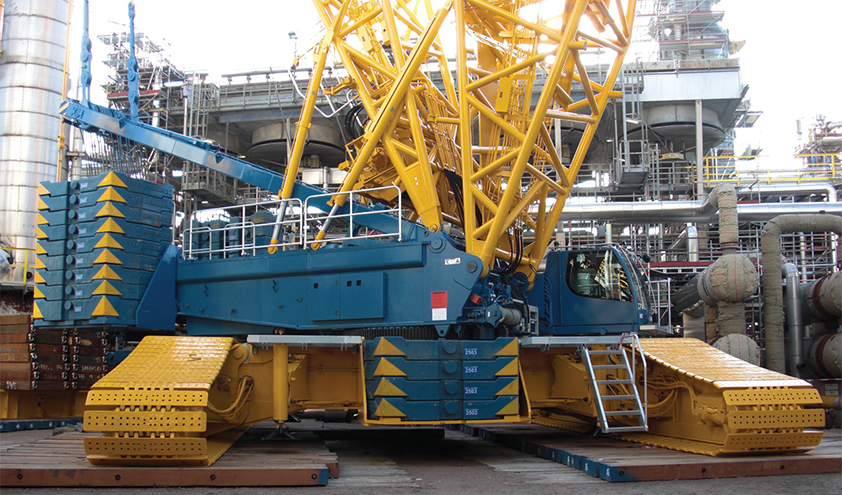 Going to the mat
Welex manufactures crane mats for lifting and construction companies across the world.
It is one of the oldest and largest businesses of its kind with a history stretching back almost 100 years, and today offers a huge variety of industry-renowned crane mats. Having already been successful in Western Europe, Welex is about to open its site near Berlin to better service its east European market.
Welex was founded in 1920 as Westerhout BV and began selling railway sleepers; however by 1968 the company began selling its first crane mats. Managing director Rob Koolmees explains more about the company: "We started making mats out of soft wood with iron frames, but over the last 20 to 25 years we have been making mats out of hardwood because it is stronger and better quality. We buy wood from African countries such as Gabon, Ivory Coast and Cameroon, as well as from British Guiana in South America. We transport the wooden beams to our headquarters in Lexmond, the Netherlands, where the mats are manufactured. We are something of a family business also, as my two sons work for the company – Sebastiaan is the manager of the rental fleet, and therefore in charge of the renting business in Europe, and Paul is the manager of the selling department. Furthermore, my third son Emiel is presently studying, but in around four years he will also join the business."
To produce its mats, the company has a unique automatic production machine that can create mats at high speeds of anywhere between 35,000 and 50,000 mats per year. These mats can be made to any specification required by the customer, from three to 12 metres in length and seven to 30 centimetres in thickness, and come in two different qualities: complete hardwood that is more durable but more expensive, and a softer wood sandwiched between hardwood that is less expensive but not as hardwearing. Not only does it sell mats, the company allows for companies to use the products on a rental basis too.
As well as it's factory in Lexmond, Welex has established itself in other countries. In 2009 Welex Rental was set up in Penkridge, Staffordshire, as a rental services branch to serve the UK market, whilst Welex Vermietung was established near Soest, Germany, to serve the rental market for Germany and surrounding regions. Recently, the company also bought land near Berlin to set up another production facility.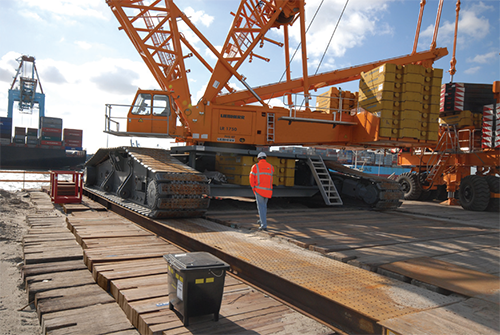 Rob discusses this in greater depth: "We purchased 12,500 square metres of ground in the neighbourhood of Berlin to serve the regions of Germany, Poland and the Czech Republic. It will have a large office and a complete production line, including the second of our automatic production machines. We expect it to be opened in March and it will help us reliably deliver the speeds that is renowned for to new areas of Europe."
It is speed of service that has made Welex an outstanding company. Big names such as Murphy and Mammoet, as well as many smaller companies, recognise Welex as being able to deliver even large volumes of mats with a very quick turnaround time. This is helped by the inventory available at Lexmond, where the company keeps at least 10,000 cubic metres of wood in stock at all times so that producing 2000 mats, for example, presents little challenge.
Its speed of service, manufacturing flexibility and wide range of available products have all contributed to Welex's outstanding success over the last few years. "We have been growing every year," Rob says. "Even in 2010 we have seen better figures than in 2009, and we have been working very hard to maintain this growth. We have faced troubles with prices of course but at the same time we've seen the market model shifting away from sales and toward rentals. On the other hand, when the economy is good, sales are a lot more common than rentals. In this respect, because we are able to provide both, we always have an income from one avenue or another. We are growing not only in our efforts, but with our employees, our customers and the countries that we work in and are very proud that we can manage this in times like these."
Excellent results particularly throughout Europe have seen growing amounts of enquiries from new markets such as the Middle East, Saudi Arabia and Pakistan. Opportunities in these areas are growing but, as Rob highlights, the company is being realistic about them: "We could expand into the Middle East or China, but when the companies in these countries become more interested and start demanding 10,000 mats, for example, then we will have production problems. So we have to look first at the state of the market and at what we can handle before taking that next step of expansion. If we run too fast, it can turn against us."
Nonetheless, there is plenty of scope for further growth within Europe. Rob concludes with his hopes for Welex over the next few years: "With our offices in Germany, in Soest, Nuremburg and Berlin, we can better cover Germany, Poland, the Czech Republic, Austria, Italy and Switzerland; with our Dutch offices we are delivering to the Netherlands, Belgium and the north of France. This way, we have covered the entire middle of Europe. That is my first goal for the next three to four years, and it is large enough for now."
Welex BV
Products: Crane mats