Dedicated to innovation
Amarinth, a leading manufacturer of pumps for general industrial, chemical and petrochemical applications, was formed to utilise the skills, creativity and passion of people who have worked in the pump industry for many years.
The business, which provides clients with made-to-order, customised solutions, can boast more than 300 years' combined experience among its employees, making it the pump provider of choice for a broad range of industries.
The company was formed in 2002 following the closure of Girdlestone Pumps, itself a well-recognised and highly experienced pump manufacturer. Continuing the quality work and retaining the knowledge of its employees, Amarinth was able to develop quickly. In fact, after initially concentrating on building its reputation in the UK the company quickly and successfully expanded overseas, where it now exports more than 80 per cent of its products.
Today Amarinth offers a large range of pumps and associated solutions, all of which are engineered-to-order and tailored to meet the exact requirements of the individual client according to the highest international standards and cutting-edge technology. It does this through a dedication to customer-oriented service, placing the highest possible emphasis on customer satisfaction delivered through exceptional manufacturing capabilities and an unwavering focus on innovation.
While its products are custom made for a specific client, Amarinth's solutions fall into a number of categories: process pumps, seal support systems, packages and modules, and spares and service. Its process pumps have a number of applications, such as oil and gas, chemical and industrial process, but for the former market the company offers its API 610 process pumps in OH2 Horizontal and VS4 Vertical series. Now in its eleventh edition, the API 610 standard, which is the specification for centrifugal pumps, is specifically designed and developed to provide technical standards for the pumps supplied in oil and gas related markets such as production, power plants and refinery operations.
Illustrating the innovative and high quality approach of Amarinth, its API 610 pumps have been designed to the latest standards using up to date software as a heavy duty, minimal wear, long-life pump that, due to its modular design, provides clients with a number of options to ensure it meets the most demanding operational requirements.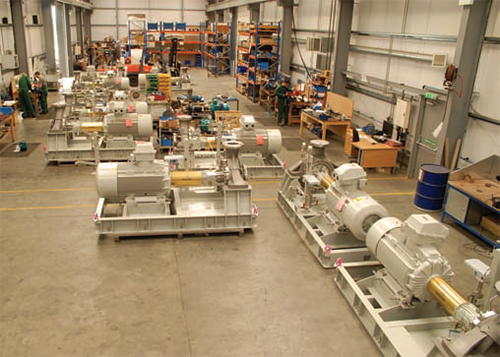 This particular Amarinth product is widely used across the oil and gas industry by many of the leading companies. In 2008 for example, Amarinth delivered an API 610 pumping solution for a major FPSO project by Aker Floating Production. Aker had a number of specific requirements for this particular project, which due to its short lead-time and lack of final specifications for the pump, required a flexible and responsive supplier able to provide high quality pumping solutions at short notice. Throughout the project the specifications of the pump changed rapidly yet Amarinth was able to apply its experience and knowledge to successfully navigate the process, meeting the short deadline and providing solutions that met specified performance and DNV witness tests.
More recently Amarinth was involved in a three-way consultation project to develop a small footprint pump and seal support system for the Quad 204 FPSO, which is to be located west of the Shetland Isles upon completion. For this project Amarinth was selected to supply pumps for the produced water treatment and reservoir pressure maintenance re-injection package to be used on the FPSO. However, a number of design challenges predominantly around the space available on board made achieving a final solution particularly challenging.
Using a collaborative approach to the project Amarinth carried out the design work with John Crane and BP engineers to develop an integrated pump and seal support system package that sat on a bespoke baseplate, effectively wrapping the seal support system through 90 degrees around the pumps whilst still maintaining its interoperability and meeting the footprint limitations imposed by BP. Success in this design meant Amarinth was suggested by BP to Hyundai Heavy Industries (HHI) for a second challenging project on the same FPSO. This particularly complex requirement had seen little interest from Amarinth's competitors due to its difficult nature, yet Amarinth was able to successfully meet the technical specifications of HHI in just 28 weeks, again demonstrating its ability as a flexible, agile pump manufacturer capable of engineering the most difficult innovations.
Of course, these examples highlight just one area of Amarinth's expertise, but the business is continually developing across its product range in order to maintain its leading position in the market. Every three to five years it looks at its future product developments, using its expertise and experience to understand what the changing market requirements will be and thus, how to develop the business moving forwards.
Such a dedicated focus on staying ahead of the field has always been a cornerstone of Amarinth's strategy. Throughout its lifetime the company has relied on its skill and expertise to consistently deliver on its promises by exceeding its customer's expectations. For a relatively young business this approach has paid handsomely, making its shared objective of being a leader in its field a reality.
Amarinth Ltd
Services: Pump manufacturer