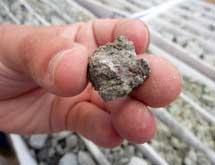 When miners talk about getting back to the grass roots, they mean it literally. However, in the arid regions of Chile – the largest copper-producing country – grass roots are hard to find. "I know mostly Chile and Peru, and from what I see, people are starting to now go after grass roots properties," Director and CFO Stephanie Ashton reports.
"It's very hard to find a property that has information on it that you can acquire and develop."
She notes no money was spent on copper exploration between 1998 and 2003 because copper prices were low. After prices rose between 2003 and the economic crash of 2008, prices once again have dropped.
"The world is going to be faced with higher copper prices and gold prices for the future, because the cost of finding and developing mines has gone up, and the grades of mines have gone down, so you have to process more material to get the same amount of copper," she says. "We think we're in a super cycle of commodities, and for the next 30 years, commodities will be good investments."
Plenty of Projects
The Zafranal project being explored by AQM Copper Inc. is located in a desert climate but is not at a high altitude. The known strike is 3.3 kilometers by 600 meters. "There is an enriched copper blanket between 50 and 150 meters thick and the mineralization which includes the primary goes down to at least 500 meters thick," Ashton says.
The project was discovered by Teck Resources Ltd. – which is in a joint venture with AQM Copper – in 2003. Teck drilled 32 reverse circulation holes and four diamond drill holes before offering Zafranal in a tender process. AQM completed in 2010 drilling of more than 68,000 meters at Zafranal, located in Peru's southern copper belt. AQM Copper – which has a right of first refusal or offer on the project if Teck wants to sell it – could partner with another company to buy Teck's portion and even could mine it.
A second project AQM Copper is developing this year – its fifth anniversary – is the Antakena joint venture between AQM Copper and Minera S.A., which is the joint venture operator. Located in what AQM Copper calls the most prolific copper district in the world – the Antofagasta region in northern Chile – the project is developing a near-surface, leachable copper oxide deposit called "Elenita." Ashton says the joint venture plans to sell the copper in solution or as cathodes. AQM Copper currently owns 30 percent of that project.
Do the Right Thing
Ashton notes that she expects the dollar to continue declining and the price of copper to stay strong.
"Asia currently is facing a deficit of copper concentrate, so they're pretty desperate for it, and we happen to have a project that is going to produce copper concentrate," Ashton points out.
Among the stakeholders AQM Copper works with on its exploration projects is the local community. "The typical stereotype is that every mining company has millions of dollars, and the honest truth is that mining is extremely high-risk," Ashton emphasizes. "It's a very capital-intensive, high-risk activity, especially in the exploration stages. It takes time and is an educational process to get people to understand that."