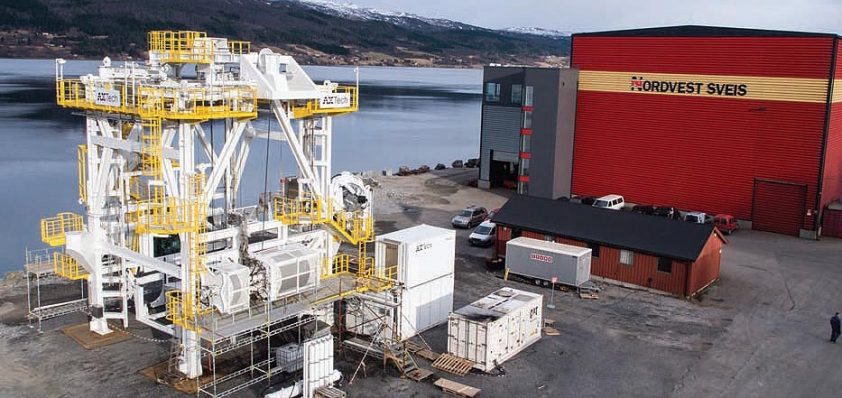 Under control
AXTech is an engineering and service company, and supplier of heavy-duty lifting and material handling equipment in a capacity range of 25 to 1000 tonnes and more.
It develops, designs, delivers, tests, commissions and carries out service on heavy lifting and material handling equipment for use in harsh and corrosive marine environments.
In 2013 AXTech appeared in European Oil and Gas Magazine, and Richard Myhre, MD noted then that a new project with Technip Norge had caused a lot of worldwide attention. The company is supplying a special handling system (SHS) of 400t capacity to be used during the installation and intervention of Statoil's Asgard Subsea Compression system, and this project is still a main topic of focus. "That project is still growing and it still takes most of our capacity," confirmed Richard. "On top of that in January we completed the delivery of a big inspection, maintenance and repair (IMR) tower for DOF Subsea, which is also quite an achievement because it was built very quickly and it was of a very large size.
"Interestingly we are now also involved in the second ship-shaped FPSO in the Gulf of Mexico, in which we are supplying the pulling system. This features a big winch with compensated heave for the buoy pull in." AXTech also supplied the large 850 tonne pull-in winch system for Petrobras Americas' Cascade Chinook field, which was the very first time an FPSO-type vessel platform (ship-shape) was used in this region.
When it comes to module handling and lifting systems for IMR operations, AXTech delivers various products for handling subsea equipment between vessel and seabed. Richard explained that its SHS (special handling system) is a huge step up in IMR of subsea structures because it allows the safe positioning of modules of up to 400 tonnes.
"The challenge is that these modules need to be repaired and handled in any sea condition," he said. "If the sea states are bad then it requires special attention and a deep understanding of the dynamic properties of the module, with areas to consider including weight, vessel performance and equipment performance.
"Even a large subsea construction vessel such as the North Sea Giant heaves around nine meters vertically, and a regular crane cannot cope with a 400 tonne module in such conditions – the module may start to swing dangerously. Our whole concept has been developed to handle an object safely and in a very controlled way from the ship to the seabed and vice versa."
As demand increases for structures to be put onto the seabed, AXTech foresees that there will be further need for even better solutions for the IMR market, with safety always being key. "To handle modules up to 70-80 tonnes in significant wave heights over five metres is a task we are generally interested in," added Richard. "There is always a demand for operating more safely and being able to operate in conditions where people cannot be on deck – this requires more automatic functions and the creation of a safe way of using equipment on deck. The old way of thinking – regular crane handling – is not really an option anymore. You need to have a controlled way of handling this equipment without people and without free suspension. You need to develop methods that keep the valuable loads safe in any condition, as well as keeping people safe."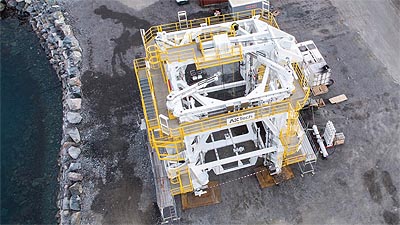 These handling systems are not the only area of interest for AXTech: "The other area where we are focusing is combining heavy pulling solutions and dynamics to give better performance," said Richard. "There is a need in the market for a higher performance on such winch systems."
Richard is keen for AXTech to be able to meet the demand it sees in the future: "We are still quite ambitious and we are increasing our capability on taking onboard larger projects because we still see a big demand to deliver those," he said. "There seems to be steady market demand for FPSO systems, and for the IMR market we see an increase in the North Sea, probably due to the weather conditions. We also see a lot of interest for those kinds of projects in different areas, such as Brazil.
"To meet these demands, we have plans to expand our workforce by around 15 per cent, but it is not easy to find the right staff. Human resources are our key assets. This company is based on competence and knowhow and to develop that is a critical factor for success. We also have high expectations of our staff, as we like to see initiative and the ability to be innovative. Our industry is somewhat different from putting a traditional product to the market, and we believe a proper engineered solution will be far better for the operator as it is designed to perform the task with more efficient equipment and in a safer way."
Recruiting the right staff is a top priority for the company in 2014, as is increasing its expertise. "I think we will develop our capacity through competence, which means our ability to perform even better for the client," concluded Richard. "Basically our projects are decided on trust. The client knows they will get what they want and we are known for being able deliver reliably on notable projects, but we have to maintain this confidence and build our capacity to be able to meet the demand."
AXTech AS
Services: Design, manufacture, delivery and installation of heavy lift equipment