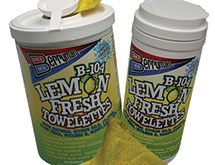 Although Berryman Products' offerings have been well-known to automotive consumers for nearly 100 years, the rise of the oil and gas industry in the company's home state of Texas, as well as in Oklahoma, in recent years has given the company a large new market to service.
"We started pushing our products through the distribution network serving the oil and the gas industry when the influx of that activity increased here a few years back," says Maurice Blankenship, president of the Arlington, Texas-headquartered company. "We've found that many of the oilfield sites use our carburetor and brake spray cleaner products for any number of jobs because they are excellent metal-cleaning products."
Berryman's cleaning and degreasing products are designed to quickly dissolve gum, varnish and other materials from car engine, motors, brakes, and many other metal parts. "If you have any type of equipment with oil or grease residuals that you need to clean, our product works well for that application," Blankenship says. "Oil and gas operators are using our products to clean their vehicles, equipment and machinery." Several oilfield product distributors began carrying the company's offerings eight or so years ago in response to the needs of oil and gas operators who were looking for "the fastest, most effective way to clean their equipment out in the field," Blankenship says.
Another advantage of Berryman's products is their affordability. "Much of our competition used in the oilfield industry is purchased from industrial chemical providers and not automotive chemical providers," he adds. "The pricing of automotive chemicals is more competitive, so for a company, buying an automotive product to do what an industrial product can do may save you a lot of money."
'A Turnkey Operation'
Oilfield operators and automotive professionals make up roughly 40 percent of the company's total business, with the consumer market making up the majority of its customer base. Berryman Products is a national leader in several of the product types it manufactures.
The company's newest products include a new formulation of EZ Doz-It, a penetrating oil and lubricant that is commonly used on corroded and rusty parts to free locked up nuts and bolts. Berryman Products also recently introduced B-104 Lemon Fresh Towelletes, a treated towel product with two sides: one of which is strong enough to clean rust from metal, and the other being smooth. They are treated with lemon-scented cleaner plus other active ingredients and are soft on hands. The towellette product has already proven popular with Berryman's automotive consumer base, but can also be applied to equipment and parts used in the oil and gas production market, Blankenship says.
The company manufactures all of its products in Arlington. "We are a turnkey operation," Blankenship says. "We do everything from formulating the products we make to blending, packaging and package design to warehousing and sales. We really do it all; not many of our competitors can say that."
Many of the chemicals used in Berryman Products' offerings are extracted from crude oil. "A lot of our chemistry comes from the oilfield," Blankenship says. "We're buying these materials from the same customers we're ultimately selling to."
Steady Growth
Blankenship's father, R.H. Blankenship, purchased the company from the founding Berryman family in 1970. Maurice Blankenship has been there for 36 years. In 1986, he and his siblings purchased it from his father.
The company is now entering its third generation of leadership by the Blankenship family, with the fourth not far behind. Its immediate growth plans include pursuing more international customers in the commercial automotive products market, as well as expanding into new domestic markets. "Our goal is to continue to grow steadily while remaining as profitable as possible," Maurice Blankenship adds.