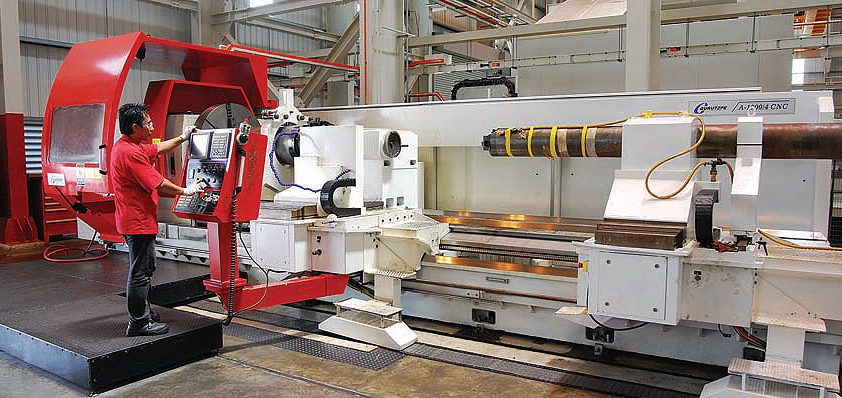 Ahead of the pack
Since the early days of subsea production, Cameron has maintained a leading position in the design, manufacture, installation and maintenance of technologically advanced subsea equipment for field developments around the world.
This commitment to leadership has been advanced by the establishment of Cameron's newest subsea manufacturing facility in Johor, Malaysia, built to expand Cameron's ability to provide complete subsea systems solutions to customers worldwide.
The Johor facility was created as part of an overall investment to increase capacity to meet the projected growth in the subsea market. The facility is an 182,000-sq-ft (16,908-sq-m) world-class subsea manufacturing site, designed to supply marine wellheads, gate valves, block valves, subsea connection systems and subsea trees for the Asia Pacific region.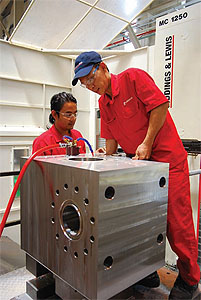 The subsequent ramp-up in activity and the excellent performance of the facility has enabled it to expand its capability to supply equipment for projects globally. As such, subsea trees and other subcomponents have been shipped to locations around the world such as the North Sea, Africa, the Mediterranean Sea, the Gulf of Mexico and Brazil.
"The facility was built as a greenfield project in 2006 and was operational by May 2007," said Jeff Daniels, senior plant manager at Johor
"By December 2007, it had assembled and shipped a subsea tree and wellhead. A month later, our first 100 per cent locally manufactured subsea tree was shipped. In 2009, phase two of the facility's expansion plan materialised. This represented a total of $100 million of capital investment on the facility."
Today, Cameron's Johor manufacturing facility boasts an estimated built-up area measuring 319,065 sq ft (29,642 sq m), including a factory building with several factory bays, a system integration test facility and other support facilities on a 47.92-acre site. The site is within 2625 ft (800 m) of the quayside to facilitate load-out. It also is supported by good logistical infrastructures, providing easy access by road, rail and air. Cameron has demonstrated its commitment to this global strategy and to the local economy by executing its lease for the Johor facility through 2055.
Johor complements Cameron's existing Malaysia facilities in Subang, Labuan, Kemaman, Miri and Kuala Lumpur, which have been operating for many years and have accumulated successful track records. On a wider level, the Johor facility is part of Cameron's Subsea Systems division's network of world-class manufacturing facilities, which includes the UK, Ireland, Brazil, Louisiana in the US, Angola and Germany. Even more so, the plant has been identified by Cameron as a center of excellence for subsea wellheads. Having always supported its Malaysian presence, the establishment of the Johor facility has firmly positioned Cameron among the premier wellhead, valve and tree suppliers in the subsea industry, not only in the local region, but worldwide.
Johor has gone from strength to strength since its conception. "The excellent performance of the plant comes from its original blueprint," Daniels said, "which was designed by combining all the best practices from other Cameron plants, as well as our 'lean manufacturing' process. As an example, the wellhead manufacturing line is fully automated, with pipe and housing being handled by an automated trolley. This brings huge benefits in terms of reducing safety risks when handling components."
All of the machinery and equipment found within the plant have been customised and purchased specifically to provide cost-effective, high-quality production of subsea wellheads, subsea
connection systems and subsea trees. According to Daniels, this is just one of a number of characteristics that help define Johor as one of the most technologically advanced subsea manufacturing facilities in the world.
"First and foremost," he said, "the build from ground zero offered the opportunity to layout the production floor for optimum work flow and production efficiency. The factory layout is characterised by cellular layouts where machines and equipment are grouped according to families of parts produced.
"The plant's manufacturing equipment and facilities consist of technology in CNC machining, computerised cladding systems, stress relief equipment, assembly and high-pressure testing, shot blast and paint, and full scope of NDE testing services, which includes a gauge calibration lab to support quality control requirement," Daniels explained. "Furthermore, the plant's innovative pipe transfer and storage system was developed, customised and built as part of its Phase 2 expansion in 2009. The semi-automatic system improves production throughput and leads to HSE benefits, as there is a reduction of risk associated with handling long casing by the conventional means. All transferring processes are PLC-programmed and controlled through touch screen and control panels."
In addition to these features, the facility's warehouse is equipped with a radio frequency bar coding system and an industrial automatic storage and retrieval system. These computerised controlled carousel systems optimise the use of floor space, reduce cycle time, reduce material handling and provide a more controlled environment for small and medium-sized components.
In terms of success, Johor began with the manufacture of subsea trees for the Apache Van Gogh field in Australia, which was followed by a number of other key projects, including the supply of subsea trees to the BHP Pyrenees project, also in Australia. Since then, the company has been involved in delivering wellheads to BP Angola and Total Akpo in Nigeria, as well as subsea trees for BP Taurt in Egypt, Noble in Equatorial Guinea and the Mediterranean region, and Shell Malampaya in the Philippines.
It is the Johor location's role in the Husky Liwan project – one of the deepest subsea projects in the region– that is among the facility's biggest accomplishments to date. The Husky Liwan project marks the first subsea gas field development for Husky Oil China Limited (HOCL) in the South China Sea. Likewise, it is Cameron's first ever subsea project in China. Cameron has a long-standing relationship with Husky Oil in Canada through various phases of the White Rose project offshore Newfoundland.
Cameron has provided support for the Husky Liwan project since November 2010 from its modern offices in Kuala Lumpur, alongside a team from HOCL. This allows for seamless communication between both parties to promote the chances that the project's scope is delivered on time without compromising the safety and quality aspects. The scope of supply of the Husky Liwan project has been split into 37 work packages, including 17 tree systems, two manifolds, connectors, a pipeline end manifold, and a subsea distribution hub, among others, which have been manufactured in other locations around the world.
Following the first delivery of trees in December 2011, by February 2012 six subsea trees were installed, and given the complexity of the system, set a new record in Cameron's ability to deliver high-quality products in record time. The next area of focus is ensuring the structure's fabrication and testing is completed in time to meet the load-out dates for installation contractor Saipem. By the end of 2012, all current scope of supply items are expected to have been delivered, with the commissioning of topsides equipment and field startup scheduled for the summer of 2013. At this point, Cameron will begin a life of field maintenance and operational support contract.
Cameron's Subsea Systems Division's manufacturing facility in Johor, Malaysia
Products: Subsea Production Systems