Strong base for success
Coast Centre Base (CCB), which is situated at Agotnes in Norway, is a service and supply base for the offshore and maritime industries, offering a complete package to suit the most demanding offshore operations
CCB provides service and supplies for the offshore oil and gas sector in the North Sea, inspection, repair and maintenance (IRM) of vessels and rigs, and harbour facilities. Additionally, CCB houses the largest cluster of key subsea players in the North Sea area, and the subsea-cluster in Hordaland County was last year designated a Norwegian National Centre of Expertise for Subsea.
Kurt Andreassen, managing director at CCB, tells European Oil and Gas Magazine more about the subsea role of the base, and elaborates on CCB's other operations: "One of the key strengths of CCB, and what differentiates it from other such bases, is that it is an internationally recognised major hub for the subsea industry, housing an environment that is stronger than any in the world.
For example, in our local region alone there are around 80 companies operating in the subsea sector, making us a vital part of the local infrastructure.
"Over the years we have custom-built the base to ideally suit our subsea clients, who have now established their own facilities on or around CCB," Kurt continues. "Many of the main players in the industry operate here, including Aker Kvaerner Subsea, FMC Technologies, Statoil, Expro-, and Bennex. Importantly, for the future of the local industry, most of these companies have established their facilities here at CCB on a long-term basis. For example, FMC and Aker Kvaerner Subsea cover around 60 per cent of the total subsea market, and all of FMC's services and installations are managed from CCB for all worldwide projects."
The subsea centre at CCB houses a range of services and equipment, including an extensive cluster of subsea producers, tailor-made facilities for maintenance of subsea equipment, a fullscale subsea test well, and mobilisation and demobilisation of equipment and tools. This includes Norway's first full scale, shore-based subsea test well. This is a 25 metre deep full scale replica of a subsea well, is based at 50 metres water depth, and allows a number of parameters to be varied to simulate a broad range of subsea well environments.
In recent years CCB has contributed to creating a prosperous industrial environment at the base, where new technology is at the forefront of development. This dedication to innovation, combined with the creative, efficient subsea environment that CCB has created in the region led to it achieving the status of Norwegian Centre of Expertise, with the Expert Centre headquartered at CCB. To ensure that this trend continues Bergen University College has established educational facilities close to Agotnes, which specialises in theoretical and practical education programmes using the subsea facilities on-site.
Kurt elaborates: "In Norway we currently have nine National Centres of Expertise, and NCE-Subsea is the only one dedicated to the subsea industry. The Subsea-cluster in the Hordaland County achieved the status last year in recognition of the 'total' environment of around 80 companies – many of them established at CCB. It is a real advantage for us in attracting new customers to CCB, and it gives a very good platform to implement a number of common projects and operations."
Together with being one of the world's leading subsea centres, CCB carries out a number of other important roles: "In addition CCB is a major service and supply base, which supports a number of major fields in the North Sea, including Stratfjord, Gullfaks, Veslefrikk, Troll, Huldra and Kvitebjorn. In this area, together with service and supply operations, we take care of all of the warehousing onshore, and material movements."
As a leading supply base, CCB provides customers with a flexible and efficient terminal complete with a full range of services, and is manned by personnel disciplined in a range of logistical operations. The site features 800 metres of deepwater quays, vast project facilities and a terminal with a Ro-Ro quay for conventional vessels. The broad range of modern transport and handling equipment available on site means that CCB can handle most types of goods, and can store materials both indoors and outdoors. Furthermore, the base can offer ship- and customs clearance, and forwarding and transporting of goods.
In the supply role CCB supplies a number of fields in the North Sea, offering harbour services, technical services, environmental services, bulk supplies, mechanical and welding operations, and emergency preparedness and security services. At the harbour, CCB's highly skilled technical team carry out mobilisation and demobilisation, maintenance and preservation of subsea equipment,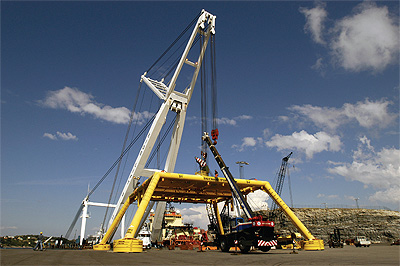 pressure testing and certification, and high pressurised cleaning up to 2000 bar.
For clients using the vast harbour facilities, CCB provides loading and unloading of vessels, ships clearance services, and deliveries of bunkers, LNG, water and electricity. Furthermore, the base operates a seamless logistics chain, providing internal transport around the harbour, on-site customs and forwarding services, storage and preservation of equipment, warehousing, and personnel and materials procurement.
Kurt comments on CCB's capacity as a service and maintenance base for the offshore industry: "In recent years we have heavily developed the base to become a major centre for the maritime industry, offering a broad range of inspection, repair and maintenance (IRM) services. This includes IRM services for oil rigs, which has become an enormous business area for us in recent years, making us one of the leaders in the field. Furthermore, we undertake IRM of various kinds of offshore and subsea equipment that regularly comes into the base."
Kurt believes that CCB's IRM services distinguishes it from many other similar bases: "The difference between CCB and most bases is that they generally serve the industry by taking care of all of the cargo handling between quays, all of the material management, and storage of materials, and other standard jobs for a supply base. However, we have extended our services incredibly so that we are a true maintenance hub for the maritime industry. There are very few, if any, bases that can carry out the full maintenance of a drilling rig, which means that we can compete with the large yards for business."
The unique maintenance harbour at CCB is capable of handling vessels up to 220,000 dwt, together with being ideal for the latest generation of semi-submersible drilling rigs. It specialises in periodic surveys and the maintenance of vessels and rigs at the site, and its broad catalogue of services includes projects management, engineering services, mechanical work, scaffolding and abseiling, chain inspections, hydraulic work, surface treatment, waste management and the mobilisation and demobilisation of subsea equipment. In September this year the drilling rig 'Transocean Leader' arrived at CCB for the one of the largest maintenance operations yet to take place at the base.
Operating within such a thriving industry sector means that it is necessary for CCB to continually expand, and introduce new equipment. "We expand continuously, and have been doing so at a steady pace for the last 20 or 30 years," says Kurt. "Recently we delivered a brand new building facility for FMC, and we are working on similar new projects all the time. We are still expanding and will continue to do so for many years to come, particularly looking at development of new technical areas, buildings and other base facilities."
Most recently building has commenced on new workshop facilities. The proposed site, which is planned for completion within the second quarter of 2008, will comprise 1780 square metres of workshops, offices, storage, cleaning facilities and rooms for technical installations. The building will be an important addition to the already impressive workshop capacity at CCB, and will primarily be used for maintenance of risers and additional subsea related maintenance tasks.
The intensity of activity at CCB, combined with the multitude of heavy, complex equipment in daily use means that providing a safe environment is essential. Focus on health, safety and environment is given the highest priority at CCB, with its five core HSE targets being no personnel injuries, no work related injuries, no pollution, no material damages, and no fires. Accordingly, CCB provides offshore clients with a number of environmental services, including stationary cleaning of transportation containers and other equipment, mobile cleaning of ships tanks and tank systems, gas metering, inspection and filling of helifuel tanks, chemical consultation services, storage and deposit of hazardous waste, and de-scaling of LSA.
At the base the HSE division is organised as a separate unit, which is tasked with advising and assisting the CCB organisation and the lessees at the base. In addition, the base has a separate civil defence unit that comprises of 40 members operating a fire brigade, a first aid and rescue unit, an a civil and pollution defence force.
Looking to the future, Kurt is confident that CCB will remain a vital centre of expertise and knowledge for the offshore and maritime industries: "The market looks very good at the moment in terms of moving forwards. We believe that the oil and gas sector, particularly subsea operations, will remain strong for many years and that the amount of new rigs coming into operation will ensure IRM work will continue at a good pace.
"Importantly, a large majority of the companies at CCB are here on long-term contracts – very often up to ten years – meaning that we have a very promising future. We will continue to expand the base, by improving our existing clients' facilities and building new infrastructure. I am confident that the need for a high-quality supply base and a market-leading subsea centre will remain, and in five years time I hope that CCB will be bigger than ever," Kurt concludes.
Coast Centre Base
Services: Maritime supply base