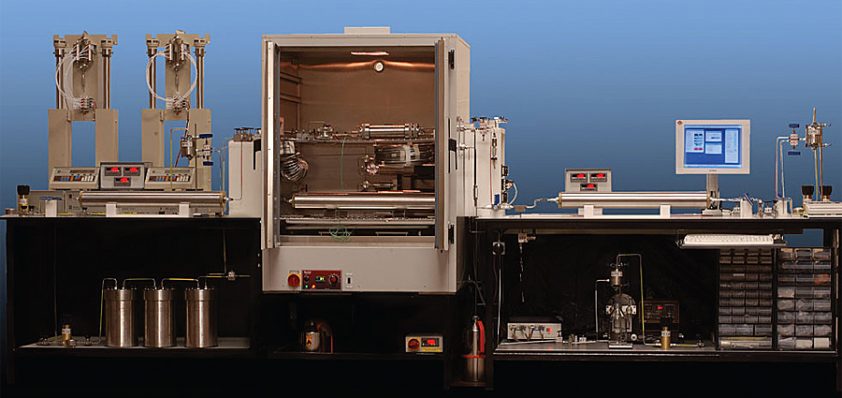 Getting to the core
Having been present in the UK since the 1970s following the boom in the North Sea oil and gas industries, Corex UK provides specialist services in the core analysis of geological samples taken from oil and gas reservoirs.
Alongside this routine core analysis work, the company expanded into special core analysis, which incorporates petrophysical testing, reservoir geology and sedimentology to look at the applying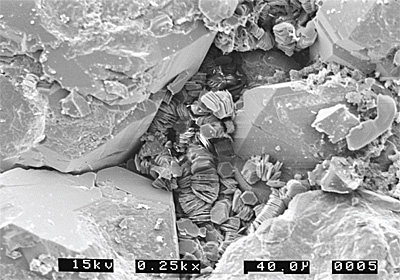 sample data to the overall field and geological modelling. Corex also offers pressure, volume and temperature (PVT) analysis of fluids from the site, such as oil and water samples.
Another key sector that Corex is engaged in is formation damage, which is a reduction in the permeability around a well due to drilling, injection or production activities. Justin Green, formation damage consultant, expands upon this aspect of the business: "Formation damage is a high-tech advanced form of core analysis, which addresses the contractor's specific questions. When they are drilling, completing or producing in the reservoir, these activities can interact with the site and cause a reduction in oil or gas productivity or water injection. We take samples from the core and put them under reservoir conditions in the laboratory to establish any potential issues, or what has gone wrong, to inform operators on how to avoid these issues without spending millions of pounds in the field."
Although the company began its activities in the North Sea, which at the time was a leading market in technological advances, today it provides its services on a global basis. Corex still retains a strong position in the North Sea sector, with the majority of UK operators using the company for their testing purposes, as well as operators in the Norwegian, Dutch and German sectors of the market. In order to support its international activities, Corex has established laboratories in Egypt, Libya, Abu Dhabi, Kazakhstan and Venezuela, as well as associative relationships with other laboratories around the globe. "We have ongoing contracts for core analysis and formation damage services with BP, Shell, Nexen, Statoil and Talisman, where we act as their independent laboratory for this kind of testing. Recently we have also been working with Saudi Aramco and Petrobras, although we are present within any substantial market in the industry such as Brazil, India, the Middle East and Saudi Arabia," describes Justin.
Certainly Corex's expertise is well reputed, with the company maintaining a leading position at the forefront of the sector. Reflecting on the strengths behind the business, Justin comments: "We have the largest independent formation damage laboratory in the world, staffed by a highly knowledgeable team, with many years of experience in this specific type of testing. Because of this experience and equipment we have a huge database of past tests, so many of our clients view us more as a consultant than just a laboratory due to the added value we bring to the results. Particularly in this current economic climate operators are looking to spend as little as they can, whilst maintaining high levels of return, so we undertake a lot of interpretation on the results as well to provide them with a clear idea of what these mean to them."
Economic pressure is not the only challenge within the market though. Environmental responsibilities and the trend towards deeper drilling are increasingly being incorporated by operators. In line with this Justin highlights how Corex has adapted its service portfolio to meet these new demands: "Our approach means that we are testing what's happening in the world at present, so that as the market develops so do our methods of testing. This can mean designing completely new test or equipment, or adapting our existing processes to fit the current environment. At present we are increasingly seeing a move into high pressure, high temperature tests in normal condition reservoirs. In terms of tests we cannot simply conduct the same procedure at a higher temperature, we essentially have to redesign or extrapolate the test to meet these different conditions. Recently we developed new techniques specifically tailored to high rate flow gas reservoirs, which are becoming increasingly important in areas like the Middle East and Australia. Currently we believe this is the only equipment in the world for testing these reservoirs through core samples, which specifically face issues with depletion and flow damage."
Once Corex has gathered and processed the data from these core samples, it then works alongside the operator to define the options available for avoiding or removing the specific issue. As an independent company, Corex doesn't sell treatments, fluids or systems, and therefore offers its clients unbiased cost-effective solutions. Prior to the chosen solution being implemented, the company will then define a new test to ensure that it works as predicted, preventing unnecessary and ineffective client investment.
Alongside its extensive scope of tests, Corex purchases and incorporates specialist peripheral items of equipment as part of our systems from the experts all over the world, an approach that is a key benefit to the business. Corex consults with the experts in equipment design and manufacture to ensure the highest quality and specification of the key components. Only the best quality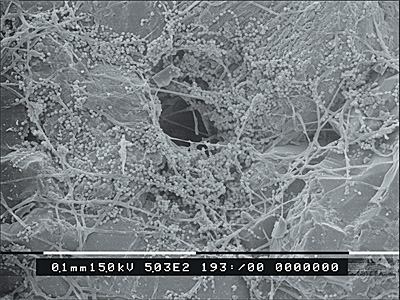 equipment is incorporated into the systems Corex uses in its custom builds, and Corex co-operates wherever possible with the equipment suppliers to further develop improvements whenever appropriate. "Our systems are fairly unique, because although they incorporate off-the-shelf components, they are manufactured to our own designs, which are developed in house. Although there are kits available to buy off-the-shelf these do not meet the same specifications. Often these kits have a wide scope but little specific focus and we have found that the equipment and techniques used in the test process can cause a large variation in the test results. We have spent a lot of time and money researching what can cause these variations and eliminating them from our own systems. Certainly we believe that our systems are a little ahead of other equipment, as we are the people that use them on a day-to-day basis and therefore know what we require from them," says Justin.
Although the marketplace has faced challenges in terms of operators putting developments on hold or minimising outlay due to the economic downturn, Corex has maintained a secure position due to the value its services offer in risk reduction. Looking at the current potential of the business within the market, Justin concludes: "Our philosophy is that it's cheaper to do testing in a laboratory than it is in the field. Increasingly operators are realising that if they understand the potential risks then there is a huge benefit to be gained long term. In a typical field removing just one to two per cent of formation damage can potentially save tens of millions of pounds down the line from lost or deferred production. Moving forwards we would like to see a greater take up in high-tech lab testing in the key emerging markets such as Brazil, India, China and Australia. In line with this our aim is to continue to offer cutting-edge test systems, which are relevant to the changing industry."
Corex UK Ltd
Services: Reservoir core analysis