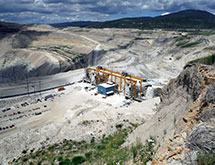 The importance of quality engineering and design cannot be overstated. A well thought-out and executed plan can save mining companies and other industrial plant operators in up-front construction costs and significantly more in operations costs down the line.
CWA Engineers can advise its clients on not only the best way to design or improve their facilities, but can also offer expertise on how to best operate them long after their initial completion. "Our services are from conception to delivery and beyond," says Mark Malecek, vice president of operations for the Vancouver-based firm. "Once things are up and running, they still need to be maintained and optimized. We're always trying to find ways to make industrial plants and other facilities run better."
The company's asset reliability division is dedicated to troubleshooting and efficiency, and employs technologists and engineers who spend time on clients' sites during their regular operation. The division can make recommendations regarding upgrades to existing operations and lead the effort to make those upgrades. "We strive to build long-term relationships with our clients by continually providing innovative and adaptable engineering and project management solutions that meet the needs of an ever-changing global market and landscape," the company says.
Recent Projects
CWA is applying its expertise to a number of projects including civil, structural, mechanical, and electrical design work associated with the relocation of a primary crusher at Teck Resources' Highland Valley Copper Mine in southern British Columbia. The project includes the relocation of a semi-mobile crushing plant, two overland conveyors and installing new power and utility services for the new system.
The company is also in the design phase of a planned new dry bulk coal trans-load facility at the Fraser Surrey Docks marine terminal. The facility will include a bottom-dump railcar unloading station, a marine loading system and all of the associated interconnecting conveyors.
Both projects reflect CWA's core expertise in designing and engineering material-handling systems, including equipment that loads and unloads ships, barges, rail cars and trucks. Materials handled by these systems include coal, lead, zinc, copper, bauxite, aggregate, potash, sulphur, as well as wood products such as chips and pellets. Material-handling systems comprise roughly half of the company's overall workload, Malecek says.
Diverse Sectors
CWA applies its planning, engineering, procurement and construction management expertise to sectors including mining and minerals, ports and marine terminals, infrastructure and wood products. "A lot of engineering firms focus on only one area or industry; we try to be diverse and take technology from one industry and apply it to another," Malecek says.
This diversity is one of the company's greatest strengths. "There are a lot of other companies here that are larger than us, but very cyclical in their hiring and firing," he adds. "We focus on being a medium-sized company that, because of our diversity, doesn't suffer from market conditions and are able keep our most valuable asset – people. When markets turn, we still have our experienced staff when a lot of other companies don't."
The company was founded in 1997 as a spinoff from a design/build construction company that dates back 40 years. Historically, CWA specialized in forest industry-related projects, but entered other markets when that industry slowed down.
CWA's market diversity is reflected in the knowledge level of its staff. "We don't hire people who can only do one thing," Malecek says. "We want people who are versatile and will be here a long time because we will always have work for them."
The company's staff is encouraged to be innovative in their solutions to customer concerns. "We know that our customers can go to any one of a number of engineering companies, so we try to get right to the root of their problems," he adds.
Innovation is promoted throughout the company in a number of ways including an annual innovation contest, during which groups of employees will present projects or innovations in front of their peers, families and a panel of judges, who award the best project.
Internal Investments
CWA continues to make investments in technologies that demonstrate its commitment to innovation. The company recently invested in 3-D modeling software that allows it to model not just structures, but also the flow of materials within a system. "We can model how material flows through equipment and can design equipment to more efficiently handle that flow," Malecek says.
The company is applying computational fluid dynamics principles to model the way air is transmitted through material-handling systems and how that relates to dust. "Dust is a challenge that most of our customers have," he adds. "Conventionally, people extract dust using a collection system. What we've been doing is using modeling technology to create systems that don't produce dust in the first place."
CWA is also developing wireless technology that allows field personnel to communicate directly with the office network. In addition, the company developed its own mobile app that field employees use during inspections. The app provides a built-in inspection format that allows field workers to finish reports while still in the field.
The company also recently added to its capabilities by forming a sister company, CWA Systems Inc., that provides design/build turnkey project delivery services. "This allows us to pool our resources together as a group to deliver a full engineering, design and contracting package to our clients," Malecek says.
Future plans for the company could potentially include opening regional offices in other parts of Canada or the United States. "With the type of work we do, we like to be close to clients, especially with asset-type field work," he adds.