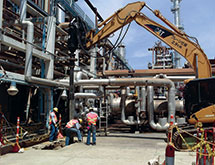 A construction project is only as good as the foundation it is built on – a weak foundation means even the most sophisticated project can crumble like a house of cards at the slightest sign of stress. It's no different in the energy and mining sectors, where projects can involve massive structures of steel and concrete erected in some of the least-forgiving soil conditions in the world. Unlike other types of construction, many energy and mining construction projects don't have the luxury of being able to select an easier site, so for many energy and mining companies, having a partner that can provide them with a solid foundation they can count on is crucial.
That's why Calgary-based Cyntech Construction has cultivated a strong position in some of the world's most active oil, gas and mining regions. From northern Alberta and British Columbia to the U.S. Gulf Coast and the natural gas reserves of Australia, Cyntech has worked with some of the largest producers and pipeline operators in the world, and Business Development Manager Brendan O'Donoghue says the company's use of helical piles is a significant factor in the company's success over the years.
Founded in 1981, Cyntech Construction became part of the Keller (Foundation) Group in 2013. Keller is the leading independent ground engineering specialists in the world. The Keller Canada division is headquartered in Edmonton, Alberta, and provides piling services of all types. The main geographic focus of Keller Canada is on projects in Western Canada, from British Columbia to Ontario. O'Donoghue says the backing and support of a worldwide piling foundation leader gives Cyntech Construction even greater capacity to serve its customers. In addition to helical piles, Cyntech also provides pipeline stabilization products and tank services.
Core Benefits
The core strength of Cyntech's services can be found in its use of helical piles, which O'Donoghue says is relatively unique among companies that provide piling services. In the energy sector, helical piles can provide the foundations for projects such as pipe-racks, skid-mounted equipment, permanent and temporary buildings, transmission towers and electrical substation structures. On the mining side, Cyntech's helical piles are used as foundations for workcamp housing, fabric buildings, light poles and signs.
Although helical piles have been in use in the construction industry for more than 170 years, their use in the energy and mining sectors is not particularly widespread, mainly confined to lighter loads and smaller-diameter piles. Therefore, Cyntech's heavy-duty helical piles provide clear advantages over other types of construction because of the inherent benefits of utilizing high-capacity helical piles in those projects. "The main thing is helical piles are quick and easy to put in, and you're typically using a standard excavator or Bobcat for the installation," O'Donoghue says.
Helical piles are installed similar to a wood screw, which means they can be screwed/rotated into the ground without the need to predrill a hole beforehand. Helical piles are immediately ready to carry a load after installation with no need for concrete or rebar inside the pile. This not only cuts down on installation time drastically – the typical 20-foot helical pile section typically takes between five and 25 minutes – but it can also results in a much less expensive system.
Unique Expertise
The unique nature of helical piles means a certain degree of technical expertise is extremely important, and O'Donoghue says Cyntech Construction has an abundance of that. "The main thing is that we have extremely experienced design, fabrication and installation teams," he says. "We are also flexible in our approach, commonly just designing, manufacturing then supervising a local on-site contractor with the quality control of the install. This saves projects time and money."
The in-house geotechnical and civil engineers design the helical piles and the installation engineers personally supervise helical pile installation on major jobs. O'Donoghue says the fact that Cyntech Construction manufactures its helical piles ensures clients quick turnaround and response time if changes are required due to changing site soil condition or other unforeseen project conditions.
New Strengths
Finding and retaining the highly experienced people is one of the company's biggest challenges today. Many of the energy and mining industry's most experienced engineers and technicians are starting to retire, and there aren't as many younger people coming out of school to replace all of them.
Cyntech has a good mix of highly skilled and dedicated field crews combined with in-house engineers in technical and management roles. .
The other obstacle Cyntech Construction faces on a regular basis is that many potential customers aren't fully aware of the benefits that helical piles can bring to their projects. O'Donoghue says that because helical piles aren't widely used on heavy-duty projects like many of the projects undertaken by the energy and mining industries, potential customers aren't as familiar with them.
Fortunately, O'Donoghue says, the company's recent acquisition by Keller Canada puts it in a better position to deal with most of the challenges it faces. He says the expertise of Cyntech Construction's new sister companies has helped add to its own in-house expertise. Additionally, Cyntech is helping its sister companies gain a better understanding of helical piles for their own projects, which is boosting businwess as well as the industry's overall understanding. In any event, O'Donoghue adds, Cyntech Construction looks to be in good shape to continue serving the energy and mining sectors for years to come.
O'Donoghue says because helical piles are rotated directly into the ground with little to no vibration, they are an ideal option when working in and around existing equipment or structures. The nature of helical piles also makes them the ideal choice for remote buildings, on sites with a high water table problem or on sites that have contaminated soils, since no soil spoils are created.