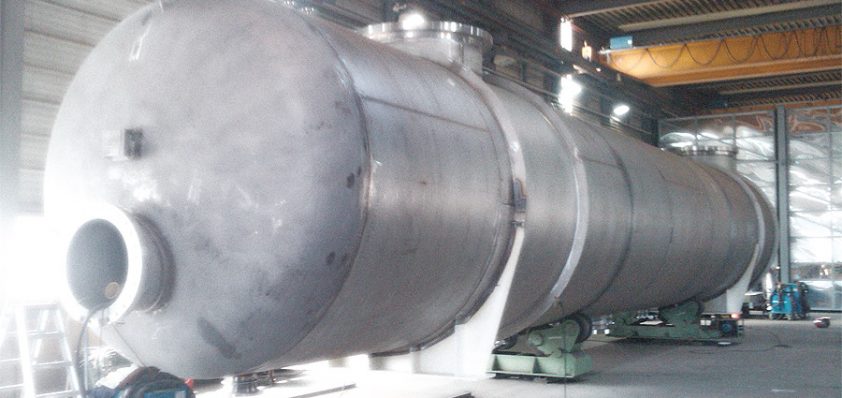 A vessel for growth
Established in 1920, family-run company, De Plaatijzerindustrie specialises in the design and manufacture of vessels, towers, columns and industrial apparatus for refineries and chemical plants.
Its activities are mainly focused on equipment ranging from medium sized to heavy vessels, and industrial apparatus with unit weights ranging up to 200 tonnes, shipping weight in one piece and lengths of up to 60 metres.
In its workshops De Plaatijzerindustrie, which literally translates as 'Sheet Steel Industry', processes all kinds of alloyed and unalloyed steels, fine grain steel and steel grades with a high impact
strength at low temperatures as well as high-strength steel, duplex, clad steel, and HIC-resistant steel. Alongside custom-built equipment for the petrochemical industry, the company has broad experience in the production of pressure vessels for oil and natural gas process systems, both onshore and offshore to withstand design pressures of up to 800 bars.
"Our privately owned company is currently in the hands of the third generation of the van Reekum family," says André Hermsen, commercial technical manager. "We have 100 employees working in three production divisions, the first of which produces pressure vessels, towers and columns in all sizes for the oil and gas industry. The second division, which is of a similar size, fabricates vessels that transport uranium hexafluoride. Vessel Heads is our third division and it produces dished heads, with 80 per cent manufactured for third parties.
"Due to our creativity we have always been able to carry out our work at a low cost, which in the current market is necessary to work on projects for pressure vessels. In the past years we have built up enough financial resources to remain a solid partner to our clients, and now we are looking to divide our activities over more industry sectors."
Alongside its expertise with steel accumulated over the course of its 89-year history, the company has gained valuable experience in overlay welding including submerged arc and electroslag welding with strip, which puts its customers in an excellent position. André outlines the company's typical production process: "Normally projects last between five months and a year, depending on their complexity. Before we begin a project, we speak to all of our departments so everyone is aware of the details of the individual contract. Our engineering department then makes calculations and re-examines all specifications with regards to what kind of technology to use. Once the best choices are made, the engineer sends drawings and welding methods to the customer for approval and then finally the workshop preparations begin."
A removable wall is used in the production process to help avoid cross contamination, which can be a major issue in the open plan factory. To combat this challenge, separate areas and tools are used for different materials, and employees work according to stringent guidelines for entrance into and activities within the 'clean' area, where only authorised personnel are allowed to work. André describes how the removable wall helps: "Having this wall as a separation between stainless steel and carbon steel means the company can be a lot more flexible, and makes for much more efficient use of our 12,000 metres squared covered work area. The wall itself is completely solid, meaning that no dust can travel across the workspace, which would cause contamination.
"We can now carry out more stainless steel and duplex projects in the oil and gas sector. It has also assisted us in manufacturing a number of stainless steel vessels, which we normally would have
had to manufacture in a separate area, which is really too small for these kinds of projects. We are now able to carry out projects where contamination would normally be an issue in the main part of the factory, with a capacity of four 25 tonne cranes."
In terms of the conditions of the oil and gas industry, André describes the future prospects of the market despite the economic downturn and the company's development in these troubled times: "There are opportunities for our business because there are a lot of projects still active. We are keeping our skilled personnel, as we value them highly within the business, and so we can continue at this moment. After this recession we will then be able to operate at full speed once more, undertaking an even higher volume of projects.
"In the next year, we are going to obtain the ISO 14001 environmental certification. Many customers now require this from their suppliers, so we are aware how important it is. It will soon be as important as the ISO 9001 quality certification, which is a basic requirement for most customers these days. We are trying to move into producing bigger vessels and columns, with larger diameters and lengths of columns, as well as very large pressure vessels. Therefore we have to look at the logistics side of the business very carefully and consider finding a new larger location to base the company. In this way, growth and expansion are the main focus of our plans for the future."
De Plaatijzerindustrie
Services: Pressure vessels, towers, columns and industrial apparatus