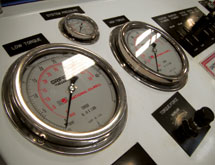 Considering the speed of technological advances in oil drilling, operators must have some modicum of faith in their drilling. Drill Right Technology has rewarded its clients for taking that leap of faith with President and CEO Darrell Husted for the last 14 years by delivering the most efficient and cost-effective drilling solutions in shale plays.
"Technology is pushing envelopes for us to become a lot more efficient," Husted says. "What used to take 60 days to drill now takes 15, and the cost of drilling a well is significantly less than what it was in years past.
"What that really requires is a combination of working not only as a company, but to rely on the operator to be open to doing something different," Husted adds. "We make an application plea to an operator, saying, 'This is what we think we can do, give us the opportunity to try, and here are the pros and cons.' They need to be more willing to try."
Husted founded Drill Right Technology after he was laid off from Halliburton. Today, the company boasts a staff of experienced managers, support personnel, operational coordinators, sales professionals, accounting professionals, computer/electronic technicians and shop personnel to deliver directional drilling services.
The company is headquartered in Oklahoma City and employs or contracts more than 100 people. Besides Oklahoma, Drill Right Technology operates in Kansas, Texas, Florida, New York, Pennsylvania, Ohio, North Dakota, Wyoming and Arkansas.
Education Efforts
Three years ago, Husted approached the University of Oklahoma with an idea to help educate future drilling engineers. The result was called the "Capstone Project." University students and professors attended on-the-job training at the Drill Right facility for course credit. Participants learned how to drill horizontal and directional wells. In addition, the professors asked Drill Right to develop course materials. Students were presented with problems and scenarios and had to develop solutions to receive credit for the training.
So far, the company has accepted 12 students into the program over the last three years. As a result of the success of this program, the University of Oklahoma approached Husted about developing a curriculum for an R&D program at the university itself. He worked with the university one day a week to give assignments for the year, and then helped students conduct their research on their well sites. Husted coauthored a paper with university professors that earned a $500,000 grant to develop new drilling tools.
The company and the university used the $500,000 to develop a new type of measurement-while-drilling tool. This tool works with drilling tools sent downhole in the drill string while the well is being drilled. It receives signals from the depths of the well and allows operators to use higher concentrations of loss control materials.
Safety is Imperative
Safety is a key component of Drill Right Technology's operations, and the industry has rewarded the company for its dedication. In 2012, Drill Right Technology earned acceptance into the Safety and Health Achievement Recognition Program, which is a prestigious OSHA program that recognizes small business employers who operate an exemplary safety program. It was the first such honor awarded to an oilfield company, and only the 31st honor given to a company based in Oklahoma.
When it comes down to Drill Right Technology and any honors it earns, safety or otherwise, Husted is quick to give credit to his staff. "The company has been blessed enough where it has been in growth mode for the last three years," Husted says.