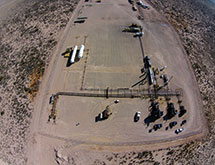 EagleClaw Midstream LLC has quickly set itself apart in the Permian Basin. "We have a lot of experience in the area and a lot of relationships with contractors, customers and vendors," Executive Vice President and COO Curtis Clark says. "[With those], we have been able to move very quickly."
Based in Midland, Texas, EagleClaw specializes in midstream energy services for producers in the Permian Basin. Clark co-founded the company with President and CEO Robert A. Milam in 2012.
"He and I had worked together at Sid Richardson and Southern Union for a number of years," Milam recalls, noting that "when I left to start EagleClaw when Energy Transfer Partners L.P. purchased Southern Union. Curtis was able to leave Caimen Energy right after their sale to Williams as well."
For funding, the two turned to EnCap Flatrock Midstream of San Antonio, Texas. "I had a long relationship with Dennis Jaggi and Bill Waldrip, two of the primary principals," Milam recalls. "They funded us with an initial backing of $100 million."
Clark and Milam then settled on the Permian Basin because of their years of experience and relationships in the region. Additionally, the area is in the heart of the nation's fossil fuel reserves, with the largest remaining percentage of reserves.
"We liked the basin and thought the timing was perfect," Milam recalls. "But we struggled for two years trying to find the right deal, which kind of surprised us." Producers struggled with some of the science and development in several areas took much longer than expected.
Tapped In
In June 2014, EagleClaw acquired a nine-mile gathering system that tapped into El Paso, Texas. That gave the company a timing advantage into the area and the Southern Delaware Basin, a portion of the Permian that "we saw was devoid of existing processing and gathering infrastructure," Milam says.
With this advantage, "We were able to secure a producer, Elevation Resources," he continues. "To date, we have laid 46 miles of gathering systems and residue piping."
EagleClaw also has operates two refrigerated Joule-Thomson (JT) plants that can process 15 million cubic feet of natural gas per day (MMcf/d) each and owns an uninstalled 60 MMcf/d cryogenic processing plant. "Within the next two weeks, we'll have laid a 10-inch tie-over line," he adds.
EagleClaw has enjoyed growth in the past eight months, despite the downturn in oil prices, Milam says. Additionally, EnCap Flatrock doubled its commitment to $200 million this past December.
"We're looking at installing the 60 MMcf/d cryo that we have on location right now and expanding the existing gathering system," he says. "There's a lot of development that we think we can do within our system now with the footprint that we built."
The Right Traits
EagleClaw employs a staff of 17 associates. "Because of our past relationships, we have found it very easy to go back in and attract very talented employees," Milam says.
This includes its experienced field operations staff.
"That's allowed us here in the office to really focus on the technical sides and the growth side that makes deals go forward," he says.
The caliber of EagleClaw's staff, Milam adds, sets it apart from large corporations. "They deal with big teams and varying levels of talent," he says. "When you deal with us, you deal with people who get it done on time and on budget."
When hiring, the company searches for associates who have backgrounds similar to its leaders. "We're really looking for operational expertise and integrity," Milam says. "[They also need] an entrepreneurial spirit and that talent to make decisions in the field that are positive and move operations with producers."
Commonality of vision is also important, Clark says. "There's not a lot of gray area in how we want to accomplish things," he says. "They know how we want to move forward."
Positioned for Success
EagleClaw is in a region with strong growth potential, "but there's still a lot of science that has to be done," Milam admits. "The area where we built this gathering system is brand new."
It also has to overcome challenges. Drilling in the region also has slowed down. "We need a commodity price recovery to some extent to perk this area back up," he says. "You've got to get crude oil back to $68 to get to the activity level we were at eight months ago."
But EagleClaw is confident about its success in the South Delaware Basin. "We think we're positioned to take advantage and be the supplier of choice," he says. "We're going to be able to react quicker and provide what producers are needing."
The company also expects to grow its volumes in the next six months, "just with production that we believe is coming," Clark says. "If we continue to grow our volumes in a down market like this, that's profit."
EagleClaw has no plans at this time to look at any other basins. "We're trying to keep our eye on the ball," he says.
Hanging On
EagleClaw feels good about the future. "We're confident that we're going to get to the installation of the 60 MMcf/d cryo that will establish future business," Clark says. "For a fairly depressed start to a year, we feel good about where we sit right now."
Milam agrees. "We're as active as anyone else out here," he says. "As far as our vision into the future, I do believe the Permian Basin is only in its infancy.
"Prices are going to get back up. I believe within 24 to 36 months, the Permian Basin will dwarf all other basins in activity levels."
The company also is extremely excited about being in the Delaware Basin, Milam says. "We think there's a lot more pockets that you're going to see will develop like that," he says.
"As far as pricing, I don't think it makes any sense to make any big guesses of where that's going," he says. "We're just going to have to manage our business so we can hang on and provide patience to our financial backers as we hope prices recover."