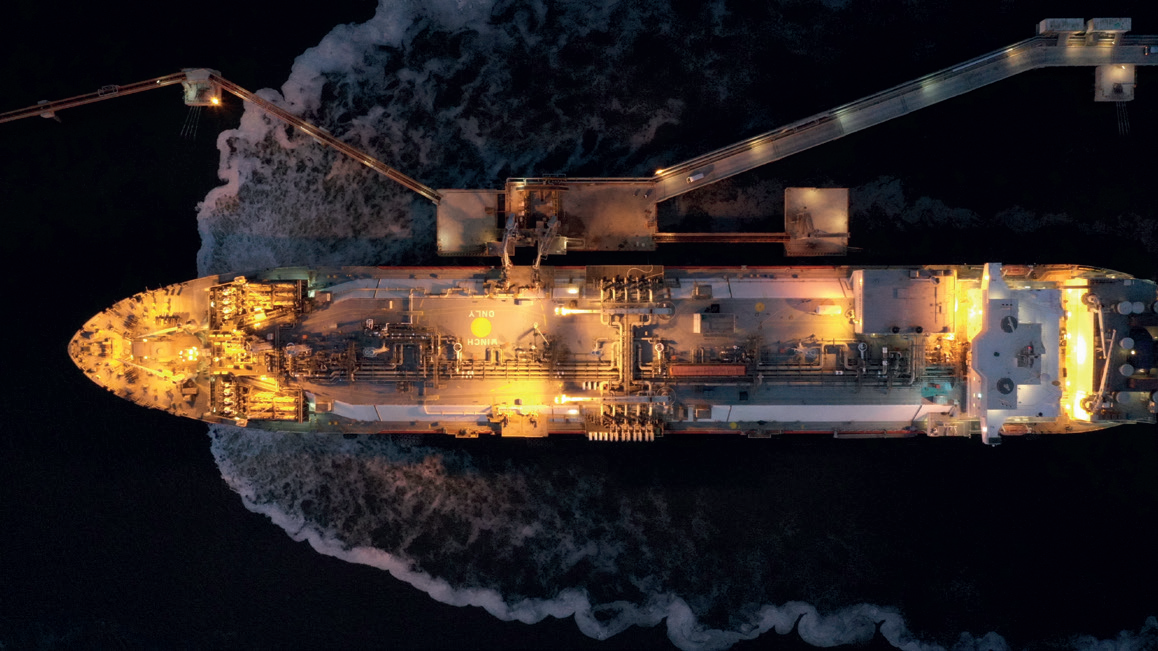 Engro Elengy Terminal and Engro Vopak Terminal
Committed to securing Pakistan's energy future
A joint venture between Netherlands-based Royal Vopak and Pakistan's Engro Corporation Limited, Engro Vopak is engaged in the handling, storage and regasification of liquid and gaseous chemicals, Liquefied Petroleum Gas (LPG), petrochemicals, and biofuels. Its primary asset is the Engro Vopak Terminal, Pakistan's first cryogenic facility, responsible for handling 70 per cent of all liquid chemical imports into Pakistan, which are pumped directly to customer's facilities.
Engro Vopak Terminal, the only integrated liquid bulk chemicals and LPG terminal operator in Pakistan, acts as a key enabler for industrial activities in Pakistan that rely on bulk liquid chemicals as their primary feedstock. An investment of more than $100 million has been made in the facility, which has in turn facilitated $1.3 billion worth of investments in the downstream industry. In 2020 alone, it handed 246 KT of LPG, which helped it to secure more than 50 per cent of Pakistan's LPG marine market share and serve the energy needs of up to 2.5 million households in Pakistan.
Meanwhile, also sitting under the wider Engro corporate umbrella is Pakistan's first Liquefied Natural Gas (LNG) terminal, Engro Elengy Terminal. Driven by Engro's central idea of helping solve some of the most pressing issues faced by Pakistan, these businesses aim to tackle the challenge of a lack of industrialization, and an unprecedented energy crisis that have hampered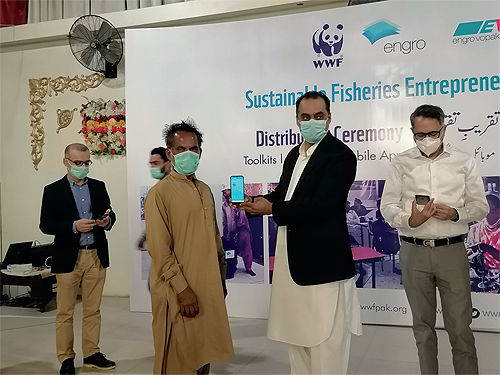 the country's economic growth.
In April 2020, Yusuf Siddiqui was appointed as Chief Executive Officer of both Engro Vopak and Engro Elengy Terminal. Possessing an engineering degree in Petroleum Engineering from the University of Engineering & Technology, Lahore, and an MBA from the Institute of Business Administration, Karachi, Yusuf joined Engro having previously headed Royal Dutch Shell's businesses in Tunisia and Jordan. With almost 25 years of experience leading upstream, downstream and renewable energy ventures, Yusuf brings to the table valuable knowledge of what it is like to work with the world's leading operators and innovators in changing the global energy landscape.
Joining the business as he did in the spring of 2020, Yusuf's first year coincided with the global spread of Covid-19, making an already considerable job that much more challenging. It is heartening then to hear how Engro and its terminals powered through these difficult times. "As an essential service here in Pakistan, it was a huge responsibility for Engro to continue marching on through the pandemic," Yusuf declares. "Thanks to the incredible resilience of our teams, who worked tirelessly throughout 2020, we were able to deliver record production and performance levels to ensure consistent gas supplies from our terminal for the country's energy security."
LNG goals
In order to maintain the safety of supply of its products, and most importantly the health and wellbeing of its people, Engro established what it calls an 'island mode' of operating at its terminals. This saw residential units brought onto the site at short notice, allowing workers to essentially live on-site for a period of 21 days at a time, before having 21 days back at home. During these extended periods, no-one else could enter or exit the premises, creating a secure bubble – or island – upon which essential work continued undeterred.
With a successful model of working through the Covid-19 pandemic established, Engro Vopak and Engro Elengy Terminal can safely continue to focus on playing vital roles in guaranteeing Pakistan's energy security. This remains a huge area of importance for the country, with its government pushing for change away from historical reliance on old gas reserves, and towards cleaner sources of energy such as LNG.
"When it comes to our contribution to Pakistan's LNG goals, our priority is to expand in this area in three distinct ways," Yusuf explains. "The first is through expanding our use of existing solutions, namely the Floating Storage Regasification Unit (FRSU). We have set out a proposal to the government to upgrade our FRSU capabilities by bringing in a larger unit, which will allow us to pump an additional 150 million cubic feet of LNG per day, bringing our total capacity to 780 million cubic feet. Working with our partner Excelerate Energy – the owner of our existing FRSU – this project would see it exchanging the existing unit with the Excelerate Sequoia, a state-of-the-art vessel constructed by Daewoo in South Korea."
What Engro is also advocating through this proposal is a gradual move away from the entirely government regulated supply and distribution model that LNG currently experiences in Pakistan, allowing the private sector to not only bring in LNG, but then sell it to the private sector with zero government involvement. In doing so – and by creating competition within the market – Engro is confident that the results will include an improvement in the quality of service and availability of gas supplies during the most in-demand times.
"The second area of interest for us at present is the proposed building of a large onshore LNG regasification and storage plant," Yusuf continues. "What this would do is provide an extremely critical – and currently non-existent – energy storage solution in Pakistan for LNG. The flexibility of a land-based solution would allow for the construction of multiple large storage tanks, such as those found in China, India and throughout Europe, giving Pakistan a potential asset that would be another first for the country.
"Last, but not least, the third area of technological focus for Engro involves expanding the supply and distribution chain for LNG through the use of LNG-powered trucks running along what we refer to as 'virtual pipelines'. This is something, again, that the likes of China and Germany are doing on a large scale, having transitioned their fleets from diesel and other heavy fuels to LNG. This is helping to create several important benefits, not least of all being a significant reduction in CO2 emissions."
Turning our focus towards Engro Elengy Terminal, this particular facility has already been responsible for setting various new industry records during its five years of safe and reliable operations. This includes being built in a world record time of 330 days, and achieving the fastest 300 ship-to-ship transfer time anywhere in the world. Since its opening, Engro Elengy Terminal has also become recognized for being one the most utilized regasification terminals in the world, with an availability factor of over 98 per cent, ensuring consistent gas supply.
Engro Elengy Terminal is today Pakistan's largest gas field (630 mmscfd), compared to the largest indigenous gas field of Mari (450 mmscfd, adjusted for calorific value). To date, it has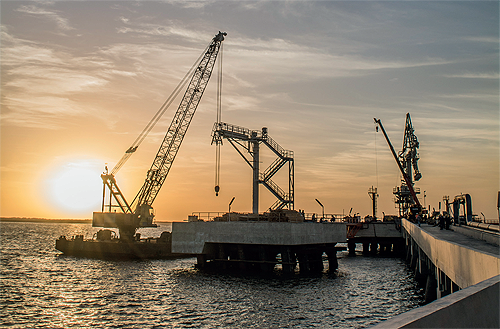 delivered in excess of one trillion cubic feet of gas and currently fulfils as much as 12 per cent of Pakistan's domestic daily natural gas requirements. As a result, since the start of its operations, the terminal has generated more than $3 billion of savings for the national exchequer through import substitution of expensive furnace oil.
Incredible potential
Away from operating the assets themselves, two other areas of important focus for the business include its work on sustainable and environment issues, and in skills development. An initiative that Yusuf is keen to shine a light upon is Engro's mangrove plantation project. "The coast of Pakistan is known for being an ecological fragile area, and it is one where over the years we have seen a major ecosystem driven by mangroves being slowly eaten away," he says. "In partnership with IUCN, we have been working to restore this ecosystem around the Karachi coastline, by replanting over 150 hectares of mangroves, and maintaining surviving plantations in a bid to improve the environment and enrich marine biodiversity. This is something that is a great source of pride for myself personally. Karachi is mine, and my family's home, and it is so important that we replenish our coastlines for the betterment of future generations.
"Meanwhile, from a skills development perspective, we are embarking on a number of important projects at present. These include working with local fishing communities – in partnership with the WWF – to introduce more responsible fishing techniques such as line fishing so as to minimize the amount of inedible or unwanted species that are currently caught via indiscriminate methods.
"At the same time, we also have a major focus on supporting the career progression of women in the country. In working with several organizations here in Pakistan, we are helping to train 100's of women in coding skills, which is a huge market globally. We are especially actively encouraging women from underprivileged areas to partake in online classes to learn coding techniques, obtain relevant qualifications, and hopefully begin careers in this highly in demand field."
Moving forward, Yusuf's overall goal is to further develop Engro Vopak and Engro comElengy Terminal, growing these assets in line with the numerous projects that are gaining traction throughout Pakistan's energy sector. He does, however, also have a medium-to-long-term vision of helping the business to expand internationally. "While there is no question whatsoever that we will continue to play a major part in the energy mix of Pakistan, we also have designs on taking the vast amount of knowledge and experience that we now have in areas such as LNG, outside of the country," he states. "Whether this comes as a result of direct investment from our parent company, or through relationships with strong global partners, I believe that there is incredible potential in our ability to expand Engro Vopak's footprint internationally in the years to come!"
Engro Elengy Terminal and Engro Vopak Terminal
www.engro.com
Products: Bulk liquid terminal and storage facilities, regasification of LNG