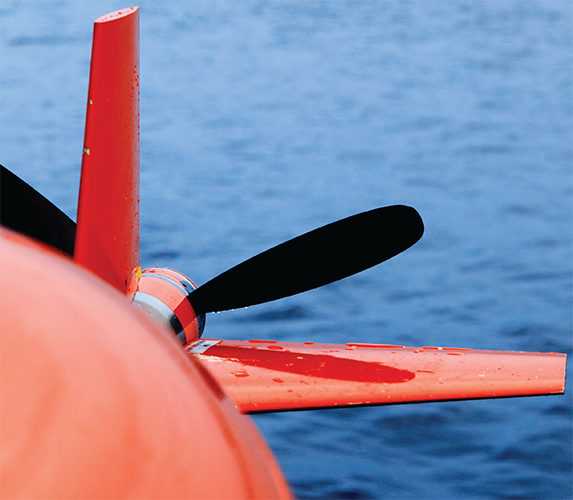 Searching the depths
Fugro Survey Limited carries out offshore subsea survey projects in the North West European Continental Shelf, Mediterranean, and West Africa regions.
It is part of the geotechnical and geophysical services group Fugro and, more specifically, part of its Survey Division. The Aberdeen, UK, based subsidiary sails a fleet of five hydrographic and geophysical survey vessels, and state-of-the-art autonomous underwater vehicles (AUV) that offer precision seabed and sub seabed data collection abilities down to 3000 metres. The pre-eminence of the Fugro name and proven quality of Fugro Survey's solutions has led it to work on some of the biggest offshore survey projects in its operational regions.
One example of this is the prestigious Rosebank development operated by Chevron North Sea and its coventurers Statoil UK, OMV and DONG E&P. Fugro Survey was contracted by Chevron to undertake geophysical, geotechnical, and environmental surveys in blocks 205/1, 213/26, and 213/27 that lay west of the Shetland Islands and for a gas export pipeline route to shore. Fugro used two of its dedicated survey vessels, the Geo Prospector and Fugro Galaxy, to conduct the surveys. The specialist AUV Echo Surveyor 4 was used to collect engineering grade of geophysical data in water depths of over 1200 metres; it was the first time an AUV has been used in a major UK deepwater project. The AUV tile camera has proven an effective method for collecting images suitable for environmental habitat assessments. Having already used the technology in the largest deepwater development projects in West Africa, Brazil, and the Mediterranean, and clocking over 130,000 kilometres activity to date, Fugro's AUV services have been invaluable to Chevron.
Commercial manager Eric Robertson shines a brighter light on Fugro Survey in Aberdeen: "We have two main types of business. The first is geophysical and environmental surveys, such as Rosebank, which are vessel-based. The second is specialist survey positioning and construction support services both within the Fugro group and to third party construction companies or operators. This type of activity is extremely complex and the success of offshore developments depends on the skill of companies like ours. We must offer real accuracy and reliability to succeed, but with Fugro Starfix we can offer high precision differential GPS for deci-metric accuracy and highly specialist acoustic underwater positioning and advanced software solutions.
"Together this means, for example, we might have five of our own vessels working on projects but our personnel and equipment could also be working on more than 40 additional rigs, barges, and ships at the same time.
"In terms of business philosophy, we see investment as being the engine of growth. Investment not just in technology but also in people, training and systems, that leads to performance and growth. As an example of that we would point out to the many vessels in the site surveying sector, which are typically between 25 and 40 years old. Four years ago Fugro supported our vision to be the most advanced service provider of it's type on the international market with a new build program of specially designed survey vessels. Fugro Searcher, commissioned March 2010, was the first new build dedicated site survey vessel in the North Sea in 30 years."
MV Fugro Searcher was the first example of Fugro's global series of dedicated hydrographic and geophysical site survey vessels. FSSV 65 is the design name for a 65-metre double-hull survey vessel designed and built to Fugro Survey specifications by German shipyard Fr. Fassmer GMBH. A 12 month process of computer modelling and tank testing was required to achieve optimum hull form and performance output.
The FSSV 65 design has proved to be a capable and successful survey platform. The efficient diesel electric drive and specially designed hull ensures quiet operational acoustics that significantly improves the quality of data that can be collected. Desiring an advanced fleet, Fugro has installed DP functionality and cutting edge survey equipment, including the latest
Kongsberg multibeam and subbottom profilers and solid digital streamers. It is also a spacious design with ensuite accommodation for 42 people and supplemented by modern crew leisure facilities including a video room, gym, and internet café, which are expected from today's generation of surveyors and engineers.
The ships have already tackled analogue geophysical surveys in shallow and deepwater, multi-channel seismic rig site surveys, environmental and geotechnical investigations, pipeline and cable route investigations, and swathe bathymetry projects.
The second in the series, Fugro Galaxy, was delivered in March 2011 and included a seven ton side and extended 20 ton rear hydraulic A frames for enhanced shallow geotechnical operations. Meanwhile, Fugro's global build programme has now moved to other parts of the world with the production of three new vessels; MV Fugro Equator delivered in July 2012 and being operated from Fugro's Singapore office; MV Brasilis due for delivery at year end to Fugro in Rio de Janeiro; and Fugro Australis for Fugro in Perth, Australia.
Apart from its cutting edge technology, Fugro Survey Limited has also become known for its high personnel standards and innovative approach to HSE. Eric talks in more depth about this: "Investment into personnel training, development and management systems is very important. For example, health and safety has been a continuous focus for the last 15 years and we've just been awarded the Order of Distinction at a gala ceremony in September 2012 by the Royal Society for the Prevention of Accidents (ROSPA). This is the highest merit of continuous HSE performance excellence as it is only awarded after 15 consecutive gold awards are achieved. In addition to the Order of Distinction we have also been presented four President's Award.
"Our HSE is employee-driven so that it is the personnel that have the power to stop unsafe acts from occurring. It is all about employee empowerment. One example is our new campaign iPower, which began in July 2012 and will run until February 2013, and focuses on five key areas where safety can be improved: planning and awareness; transportation and driving; plant and equipment; workplace behaviour; and high-risk activities. We also bring our field staff together annually in a brainstorming forum to produce new ideas such as the simple booklet of key offshore risks that we produced a few years ago. The idea was taken up by the Fugro group and has now been distributed to all 13,500 employees in the Fugro group in multiple languages."
Fugro Survey Limited has been busy since it split from Fugro Subsea Services at the end of 2005. The company's revenue doubled over the six year period and personnel activity has increased correspondingly to cope with the growth. At present it has more than 6000 offshore project personnel days per month offshore. These figures are testament not only to the popularity of Fugro Survey's solutions but also to a niche market that is rapidly gaining importance throughout the world. Oil and gas operators remain essential clients but demand is growing in the renewables sector as well.
Looking forwards, Fugro Survey Limited and the wider Fugro group accept that growth is inevitable and that reliable infrastructure must be established to ensure this happens smoothly. One of its most important assets in this area is the Fugro Academy. The training centre, set up in 2006, provides new recruits with basic training and company familiarisation before taking them through six months of technical courses in their area of expertise. Almost 400 people join Fugro yearly and, rather than poaching them from competitors, the company is keen to bring more people into the industry and the academy is the gateway for many into professional geophysical, surveying or engineering careers.
The development of surveyors, engineers, geophysicists, and data processors continues throughout a person's career and into the upper levels of project supervisory and senior management. At the end of June 2012 the Academy ran its 1000th surveying course, representing approximately 35,000 days of training and more than 7600 people trained. The success of Fugro Academy is essential to Fugro Survey's future. The company continues to grow and its need for highly qualified personnel will remain constant.
Eric concludes with an outlook on Fugro Survey Limited's market and what the company is looking to pursue: "About ten per cent of our business is renewables today but we will see how that develops. Most of our work is on the construction support side and with UK Round 3 projects starting in 2015, there are potentially huge projects we hope to be part of. Within oil and gas there remains a steady flow of prospects and new developments along the Atlantic margin and Norway that we expect will increase. Fields such as Rosebank and Laggan-Tormore are the new frontier for the UK oil and gas industry. Other markets now coming to our attention include the Norwegian Barents Sea and east to Russia, and west to Greenland. Meanwhile, Fugro continues to focus on the deepwater development of West Africa and the Mediterranean as part of its long-term strategy."
Fugro Survey Limited
Services: Subsea Surveys