Island Offshore Management
Champion ships
Island Offshore is a leading provider of services to the offshore industry ranging from platform supply vessels to advanced subsea operations, including increased oil recovery
Its fleet consists of high quality vessels with an average age of less than two years and nine vessels are currently operating in the US, Brazil, Mexico and the North Sea. An ambitious new build programme is also currently underway. When that program is completed, the fleet will consist of ten platform supply vessels (PSV), three anchor handling tug supply vessels (AHTS), three multi-purpose service vessels (MPSV), three riserless well intervention units (RLWI) and a semi-submersible drilling unit.
"Island Offshore is fully certified according to ISO standards 9001 and 14001," explains Island Offshore's chartering manager Hallgeir Reitan. "Our strategy is to exceed the standards expected by our customers and the industry and quality plays an important part in that. Our fleet is young and we are always looking for new solutions. Equally importantly, we maintain close relationships with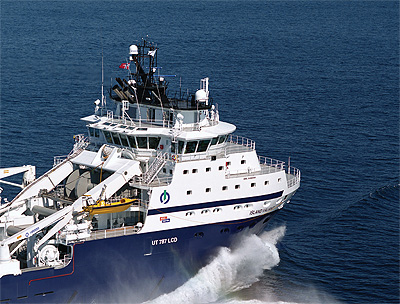 our customers and have our finger on the pulse of the industry."
He continues: "We have a modern fleet of advanced and high quality service vessels. Naturally, we will maintain, manage and operate the fleet in accordance with the best professional standards. One of our major strengths is that we are very dynamic and able to take quick decisions, when required. This enables us to give customers a quality service on time.
"Our employees are our most valuable resource," adds Hallgeir. "All employees are highly qualified and perform according to best practice, which creates a safe and healthy working environment."
Every business, especially in the high-risk offshore industry, has a moral, and often legal, responsibility to protect its workers. Island Offshore believes that the right approach to addressing this requirement isn't about doing the minimum required to comply with industry standards. Rather, the company believes that good health and safety is hugely beneficial to business due to the prevention of illness, accidents and the costs associated with time lost to injury.
Island Offshore's outstanding health and safety practices have not only prevented the above, they have also improved its reputation with customers, the community and its employees: "Health and safety is essential in the offshore sector," says Hallgeir. 'We always want to exceed standards and our excellence in health and safety reflects this. We are an ambitious company and are always focused on doing business ethically and in the correct manner, which includes protecting our employees, the environment and the community in the best way we can – by having superb HSE systems in place.
"The demands of this industry are tough and our HSE policy reflects this. We have a strong HSE department and we remain focused on, as well as dedicated to, continuous improvement." In 2005, Island Offshore was awarded a contract by Statoil for well intervention services on the Norwegian continental shelf. Under the contract Island Offshore is currently using its pioneering light well intervention vessel Island Frontier, which was built by Aker Yards, as front-runner for the contract.
The agreement, which came into force on 1st April 2006, relates to annual campaigns of at least 150 days each over a six-year period. Island Frontier is being used to undertake the work at present, with Island Offshore's new build well intervention vessel, Island Wellserver, due to take over from April 2008. Until then, the Island Frontier will run in parallel with the Island Wellserver.
The new Wellserver vessel is a pioneering Rolls-Royce design (designated UT767CD), and is being built by Aker Yards in a contract worth approximately NKr 650 million (circa $100 million). The UT767CD subsea riserless well intervention vessel will be delivered by Aker Yards' Langsten shipyard, and will be 116m long with a breadth of 25m. It will have diesel electric propulsion based on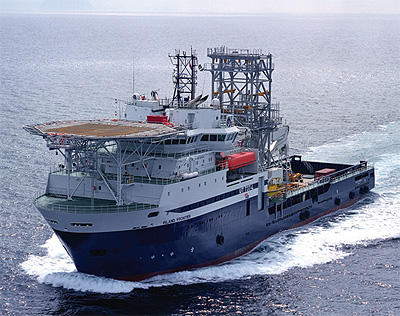 four main generator sets with a single auxiliary generator set, providing a total of approximately 13,000kW.
Fitted with electrically driven azimuthing main propellers each of 3500kW, the new vessel will bear the class notation DNV, Dynpos AUTRO, Comfort (1), Clean Design, and a deadweight of 8200 tons.
Proposed intervention services include production logging, plugging and gauging operations, perforation and re-perforation and downhole mechanical work. Working on live wells means that the ship has to comply with very strict regulations and will be built to the ship-shaped well intervention unit class rules of DNV with dynamic positioning to DYNPOSAUTRO standard. Island Offshore is also specifying clean design class and comfort V(1)C(1) class
Depending on the type of interventions, the vessel has to robust. It must be able to carry them out in up to four metre or six metre significant wave heights, to launch and retrieve ROVs in up to four metre significant wave height, and to stay on location itself in standby mode in environmental conditions corresponding to Beaufort 9 prior to disconnecting from the well. To meet this difficult brief, Rolls-Royce UT-Design has developed a vessel with a large freeboard to give the required stability, low motions and freedom from spray and green water on deck.
The module-handling tower will dominate the deck and a large working deck area has been specified so that containerised tanks and equipment can be carried. A large crane will be installed to give heavy subsea lifting capability and there will be an area of low freeboard aft to facilitate lifting equipment over the stern. Two Oceaneering ROVs will also be carried in hangars, one either side of the vessel.
A dynamic positioning requirement corresponding to IMO DP3 has a major impact on the propulsion system. Electrical power will be generated by four Bergen gensets of two different sizes to give maximum operating flexibility. Two Ulstein Aquamaster Azipull thrusters with pulling propellers will provide the main propulsion and manoeuvring forces, backed up by two super silent tunnel thrusters, and a swing-up azimuth thruster under the bow, which will be powered by its own independent diesel engine.
This is an exciting time for Island Offshore, a company that is set to enjoy further success in the future. There are opportunities for growth in most of its major market segments and recent expansion into the Americas will only be a positive move for this fast thinking, Norwegian based offshore service provider. Island Offshore prides itself on being able to act quickly. Not only that, the company is able to make the right decisions, first time.
Looking to the future Hallgeir concludes: "There are opportunities for expansion in the future. I think if we lead the market then we will surely flourish. For the moment however we have no concrete plans to grow any further than we already have, at this moment. We will maintain our focus on ensuring our new fleet is flexible. We are renowned for our flexibility and this is an essential attribute in the offshore sector, as you have to be able to respond quickly."
Island Offshore Management
Industry: Offshore services