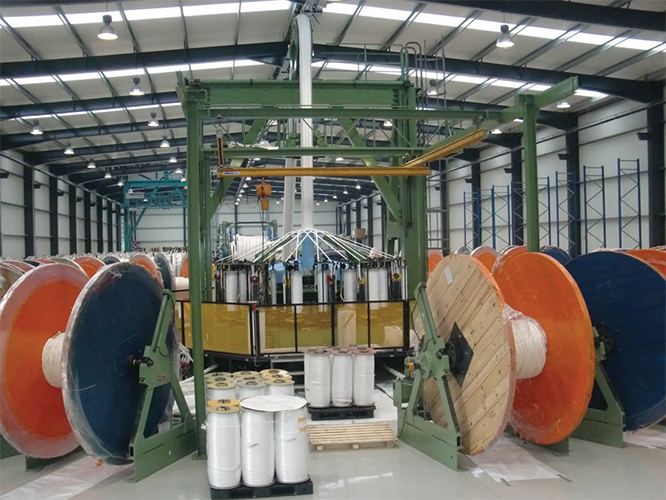 Showing the ropes
Part of Royal Lankhorst Euronete Group, world-leading rope manufacturer Lankhorst Ropes has roots in the rope trade reaching as far back as 1751, when the firm was established as a ropery and sailmaker's loft in Sneek, the Netherlands.
When Nikolaas Jurgen Lankhorst took over the company in 1803, it gained its current name and slowly grew from a local artisan business to a global supplier of rope and ship mooring lines during the 19th and 20th centuries. In July 2012, the group was acquired by specialist steel wire and wire rope producer/seller WireCo WorldGroup, the largest group in the world to manufacture and market both wires and synthetic products. With this acquisition, WireCo WorldGroup's turnover will increase to approximately $1 billion USD, while the global workforce will reach 4500 employees.
Continuously striving for enhanced product performance, innovation and customer satisfaction, Lankhorst Ropes' products include, but are not limited to, a full single point mooring range, MODU lines, permanent deepwater mooring lines, deep sea heavy lift ropes, STS transfer ropes, oceanographic lifting and coring ropes and heavy lift slings.
Due to an increase in demand for the supply of deepwater mooring ropes in reels of heavier weights, some at approximately 120 tonnes, the company decided to move its production of these types from Pavoa de Varzim to a more convenient base. Located in Viana do Castello, Lankhorst Ropes' new factory on the coast has excellent links to the harbour of Oporto and offers increased efficiency in the transfer of large reels of deepwater mooring rope to the quayside for load out. Covering approximately 3600 square metres of production facilities, the factory also benefits from 2400 square metres of storage area. On top of this, the forward-thinking firm recently strengthened its market presence in Rio de Janeiro, Brazil by opening a dedicated factory in the country.
Boasting modern production and testing equipment, the factories have the capabilities to permit activities such as extrusion of rope yarns, full scale prototype testing, break strength testing of up to 1200 tonnes, stranding of rope yarns into strands and simulation of installation to be undertaken in-house. Entering the deepwater tether market in 1998, the company consequently uses state-of-the-art machinery for this challenging and burgeoning sector; this includes the recent addition of a Herzog subrope braiding machine.
Used on four production facilities in the Gulf of Mexico since 2008, Lankhorst Ropes' proven high quality Gama 98 polyester ropes are to be supplied to Anadarko Petroleum Corp's Heidelberg Spa platform for Technip. Designed to produce 80,000 barrels of oil and 2.3 million cubic metres of natural gas per day, the Gulf of Mexico based Heidelberg Spar will be moored in 1620 metres of water and therefore requires 20 deepwater mooring ropes, each approximately 1100 metres in length, with a minimum breaking strength of 1905 Tonnes.
A polyester rope tether manufactured from highly efficient sub-rope cores laid parallel within an outer braided jacket, the Gama 98's sub-ropes are each computer monitored throughout the production process to ensure they all have equal tension and length. The Gama 98 includes up to 18 sub-ropes, each with a long-lay length and braided construction, which thus gives a 100 per cent torque free rope. Awarded a contract with Technip and Anadarko in 2012 to supply of a total of 31,400 metres of Gama 98 polyester ropes at a 4200 kips minimum breaking load to Technip and Anadarko for the Lucius Spar project, this new contract continues the positive relationship between the three firms.
Constantly enhancing its products, Lankhorst Ropes recently manufactured the world's strongest rope for Eni Norge's Goliat platform. The floating production platform will not be held in place with chains or wires, but instead with tailor-made, specially adapted mooring lines that have the capabilities to operate in the harsh conditions faced in the Barents Sea. Varying in length from 900 to 1800 metres, the Goliat platform's 14 mooring line's will have rope at a maximum length of 1250 metres. Using fibre rope provides a range of benefits for Eni Norge, the most important of which is weight; a polyester rope weighs a mere three per cent of a chain's weight, while retaining the same minimum breaking strength of 2579 tonnes.
Looking to achieve further growth in the coming years Lankhorst Ropes has recently strengthened its offshore and deepwater team with the appointment of Neil Schulz as sales director deepwater mooring. Neil, who has considerable experience in the industry, will be responsible for developing the company's presence in the growing deepwater mooring market. He said: "Lankhorst Ropes has a formidable reputation in the offshore mooring industry for its sales and technical prowess. I am delighted to have the opportunity to contribute to its future success and again working alongside Chris Johnson, sales director, Lankhorst Ropes – a friend and former colleague for many years."
Following contracts with major oil and gas firms and world firsts in the rope sector, the forward-thinking Lankhorst Ropes has a positive future ahead as it benefits from its relationship with new owner WireCo WorldGroup. Being part of a huge global group gives the company access to the necessary tools that will thus ensure faster development of its offshore and marine activities over the coming years.
Lankhorst Ropes
Services: Rope manufacturer