Culture of excellence
Four years ago just north of the Cairngorms National Park in Scotland, James Gregg found inspiration to take a step that would change many futures.
With 14 years of intensive industry experience, James established Motive Offshore as a manufacturing and rental company that specialised in high capacity winches, wire rope spooling and inspection, umbilical deployment equipment including tower drive systems and tensioners, and specialised subsea equipment such as subsea baskets, subsea winches and test weights. Today the company's services encompass in-house design engineer,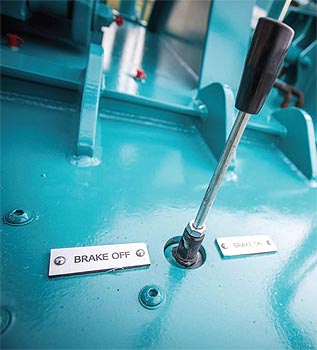 fabrication, machining, assembly, testing and highly competent personnel for offshore operations.
Over the past two years the business has significantly grown and today employs 81 people. James is supported at Motive Offshore by two other directors, Dave Acton and Bob Smit, who also have previous experience within the industry.
"Our products and services are focused around marine solutions, in particular, winches and associated equipment, and are available for rental and for sales. We also have a service division with all our staff available to work both offshore and onshore, servicing, operating and installing equipment," says James. The core aspect of the business is the design and manufacturing of equipment in accordance with its sales catalogue of standard equipment, he explains: "We offer products that have been tailored around what the industry demands, taking into consideration modern health and safety and other legal requirements. As a result, we only supply up-to-date, modern and new equipment.
"Much of the equipment in the oil industry is crude and old fashioned, and although it is fit for purpose, as time goes on the industry looks for more efficient and safer ways for completing tasks. Our research and development department consisting of engineers and draughtsmen takes a lot of existing technology and seeks to develop and improve it." Motive Offshore is committed to serve its customers, meeting their needs and expectations, but also striving to exceed them. Having adopted the principles and requirements, it gained ISO 9001: 2008 accreditation, signifying a major milestone in the company's history. The comprehensive, co-ordinated quality management system has been implemented across the whole company and embraces all of the activities that impact upon its customers.
The design, development and provision of equipment is an asset to the industry, but it is the people that really make the difference. "One of our major unique selling points is our focus on staff. The core value for us is being serious about our people, and this is client driven. We have completed various studies and feedback has been, from a sales and technical point of view, that clients want to be dealing with people that know what they are talking about," explains James.
Consistency throughout projects with minimal staff changes is an attribute that has supported the success of the company and James remains committed on this path: "We are very focused on maintaining our high level of staff retention, making sure the right people are suitably qualified and competent for the position they are in, and generally we are creating a positive culture within our organisation. That is driven from the very top, and it is our core belief that if we focus on our people the other aspects of our business will function considerably smoother.
"All our staff undertake legislative training and are competent to do the work, but we also concentrate on social and cultural coaching and training, which we feel sets us apart from the competition and provides us with a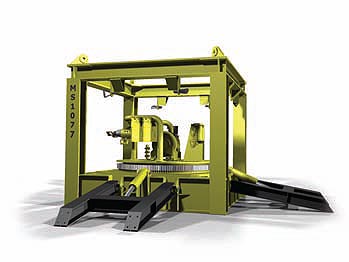 competitive advantage." In support of this, the business has established an organisation called Team Motive, explains James: "The purpose of Team Motive is to reinforce our corporate and social responsibility, encouraging staff and other stakeholders to engage in team building exercises. As a community the business focuses on raising money for charity through a variety of challenges, and our staff feel stimulated and rewarded."
Commenting on the marketing focus for the business, marketing and PR specialist Vivien Rae explains: "We initially grew organically and utilised a number of James' contacts within the industry, but we quickly reached a point where we needed to concentrate on marketing ourselves further in the oil and gas industry. One of our focuses is looking towards promoting our business at exhibitions, and this year hope to be attending ONS in Norway. Exposure is the main importance of such events, supporting brand awareness of our products and services, and to establish more business. It is also an opportunity to be face-to-face with our clients."
James adds: "In October 2013 we established an organisation in Norway, trading as Motive Offshore AS. Our role in Norway is still in its infancy, but it is growing. Over the last 18 months, the market has been extremely buoyant, and generally the industry is booming. We see that this growth is due to a number of factors, namely the drive in the industry to operate in deeper waters, coupled with the tendency to go for subsea production and processing rather than traditional topside investigation. Any equipment that goes subsea needs winches and such products so the market is growing."
In November 2013 the business opened up a sales office in Aberdeen, enhancing its position in the UK domestic market where, combined with Norway interests remain high. However, with the motivation to keep on progressing James is already looking ahead: "Our next strategic move will be into Brazil, having already established a business partner there, and further ahead we will branch into the Middle East." The energy and oil and gas industry worldwide is growing with an increased focus on health and safety particularly after the oil spill in the Gulf of Mexico. The world-leading safety regimes in the North Sea are being implemented across the globe, which has led to the increased demand as old equipment is scrapped and replaced with new. "There are a limited number of companies offering our services, and we are filling a gap in the market. Our work is mainly with Tier 2 marine contractors but also other emerging marine contractors worldwide," he adds.
Following the two-year period of aggressive growth, the business looks set to increase turnover and appoint additional personnel. "Our main focus is becoming more established in the UK and Norway over the next 12 months. Long term we are targeting the growth of the business with an international footprint, whilst extending our portfolio of services. We are very innovative, continually developing new products, and it is a trend that we will move forward with, developing off-shoots of our products utilising the same skill sets and manufacturing facilities that have led to our success so far," concludes James.
Motive Offshore
Services: Provider of high quality marine equipment and associated services