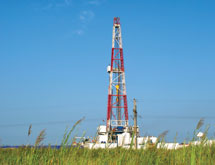 New technology developments have increased the efficiency and productivity of directional oil and gas drilling operations in the past 10 years. Texas-based MS Energy Services, formed through a series of mergers, acquisitions, and management buyout in 2004, is among the top-three independent companies specializing in directional horizontal drilling in North America, according to Vice President and COO Paul Culbreth.
There are many benefits to directional drilling and horizontal drilling: access to areas that were previously not accessible by vertical drilling; increased productivity of the wells, especially when combined with hydraulic fracturing; and reduction of the drilling footprint. "We can recover gas and oil from a greater area than possible from a single wellbore," Culbreth explains.
The company's investment in technology developments and strategically placed areas of operation has resulted in significant revenue gains. "When we started the company in 2004, we were generating about $30 million a year in revenue," Culbreth says. "This year, we will generate more than $200 million."
Advanced Technology
MS Energy Services' place among the top independent companies in its field is thanks in part to its aggressive growth strategy, but also to its advanced technology. "One of our greatest successes is our positive displacement motors [PDM]," Culbreth explains. "We have the largest fleet and the largest configuration of different sizes of PDMs among the independents in the directional drilling business. Our fleet is approximately 1,200 single units with a very rugged, robust design capable of withstanding the harsh environment and high temperatures typical of these applications."
This technology has enabled MS Energy Services to set several drilling records. In 2011, the company set the Charco Sand drilling record. The well, located in Webb County, Texas, included a 1,250-foot curve and 4,160-foot lateral and averaged more than 944 feet per day from spud to total depth.
A second record with the same customer was set that same year in Harrison County, Texas. MS Energy Services set the Cotton Valley bottom hole assembly (BHA) drilling footage record. The company used its proprietary Mpact® Downhole Motor configured with a 4 3/4-inch slow-speed performance power section and premium stator elastomer to drill a total of 3,522 feet in 178 hours, with an average rate of penetration of 20.6 feet per hour.
MS Energy Services manufactures its Mpact® motors at its Conroe, Texas, headquarters. It follows proprietary field-proven designs, adheres to strict quality standards and uses only premium materials. The 75,000-square-foot facility has 50,000 square feet dedicated exclusively to manufacturing and warehouse space for the motors, including repair and maintenance support.
The company maintains that the technology used in developing these motors ensures superior performance in a variety of drilling scenarios and difficult drilling applications, easing some of the challenges of directional and horizontal drilling. "Our challenges are basically overcoming the downhole environment, the different temperatures, forces, and formations," Culbreth explains. However, he notes, the right motors, paired with compatible conditions, can significantly reduce drilling costs, increase ROP, control deviation and reduce casing and drill pipe wear.
MS Energy Service is also investing in the development of proprietary electromagnetic measurement-while-drilling services, or EM MWD. This technology transmits information to the surface via radio waves, instead of pulses used with the traditional MWD systems.
The use of EM MWD improves the reliability of the data because it eliminates the interference of mud and wire transmission of the traditional methods.
"This technology will speed up the process of drilling the well," Culbreth adds. "We'll have more real-time information than with standard pulse-technology MWD systems."
MS Energy Services' goal is to serve a wider client base with this new technology. "There are very few companies out there that have fine-tuned this technology and made it truly reliable," he says.
Smart Support
MS Energy Services is so confident about the impact the cutting-edge technology will have that it is expanding its geographic reach. "Our biggest expanse in the next 10 months will be the Permian basin, the Eagle Ford shale and the Bakken shale," Culbreth notes.
To support this expansion in its operations, the company is building upgraded support infrastructure for the Bakken shale in Montana. "We are building a new 35,000-square-foot facility in Glendive, Mont., to support our projects in the Bakken shale area," Culbreth says. "We chose that location because it has the support services infrastructure in place to supply our repair and maintenance needs, and also because Williston, N.D., is at or near capacity. Glendive is a little less busy, but still close to the Bakken area."
The new location will house the company's operations group and support its work in Wyoming, Montana and North Dakota. "It will be a fully self-sustained, self-supported facility," Culbreth says. "It will have a motor shop complete with breakout machines and lathes, so [the local crews] can maintain our equipment in-house." The location in Glendive will benefit MS Energy Services' clients, too, from a logistics perspective, reducing the time and money otherwise required to ship parts and machinery back to the company's corporate headquarters in Conroe for maintenance, which can take 20 hours of travel time each way.
A 35,000-square-foot facility in Washington, Pa., supports the Marcellus and Utica basins and is fully self-supported and self-sustained. A facility of the same size in Oklahoma City supports the company's operations in Oklahoma, Kansas, Arkansas and part of the Texas Panhandle. MS Energy has also recently opened another 35,000-square-foot full service facility in Midland, Texas, to serve the growing west Texas plays.
Supporting the new facilities is easily accomplished by having a fluid workforce. "We will transfer our operations manager and our motor shop manager from Conroe to get these new facilities started," Culbreth says. "Since our motors are a proprietary design, we need somebody who is familiar with the design to maintain and preserve the integrity of our product."
International Ventures
With its presence in the U.S market firmly established, MS Energy Service is branching out internationally. "We've done small projects in various countries," Culbreth explains. "We have worked in Guatemala, Israel, Trinidad and Tobago, Mexico, and we have done some projects in Canada."
The company plans to target two specific areas for long-term projects. "The expansions that we pursuing are in Canada and Colombia and they are the largest projects that we've undertaken thus far," Culbreth says.
The move to Canada is a strategic one for MS Energy services. Canadian operators are planning on investing $139 billion dollars in new projects across the country over the next 10 years, according to Facts & Figures 2011 from the Mining Association of Canada. The report indicates that the industry will require improved infrastructure and technology to reach its goals, which is where MS Energy Services' expertise and cutting-edge technology will be a valuable asset.
Doubling in Size
In addition to positioning itself geographically and technologically to best serve its clients, MS Energy Services also has developed an influential voice within the drilling industry.
Sales Manager Zachary Bray started a chapter of the American Association of Drilling Engineers (AADE) in the Marcellus Basin area five years ago. Another MS Energy Services manager, Bill Moore, served as director-at-large for AADE for a number of years.
Culbreth predicts the company's strategic position will foster its continued growth.
"With our technological improvement, expansion and addition to our facilities in the Williston and Permian basins, strategic acquisitions, and the expansion to international markets in Canada and Colombia, we will double the size of the company within the next three to four years," Culbreth forecasts. EMI