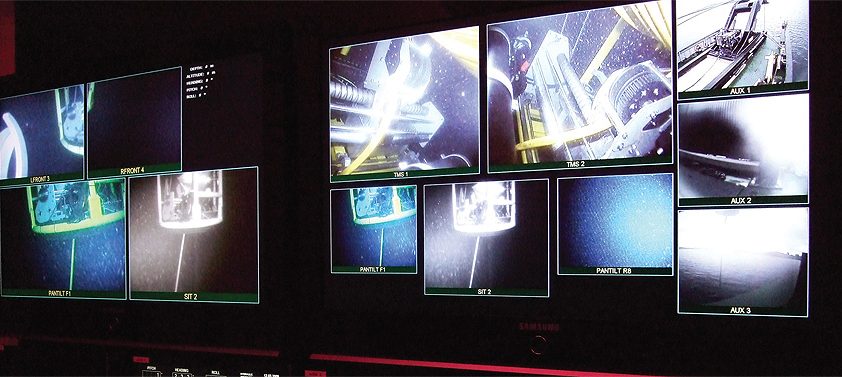 Stream of innovation
With the aim of providing safe operations, Neptun Subsea supplies ROVs and personnel for permanent and project-based operations worldwide. Established in 2004 as Energy Subsea, the company has since become part of multi-discipline sub-supplier IKM Group and started work in its current incarnation in 2007.
Neptun, which has about 25 staff and is based in Bryne, Norway, operates according to its philosophy of keeping its equipment as simple as possible in order to provide customers with reliability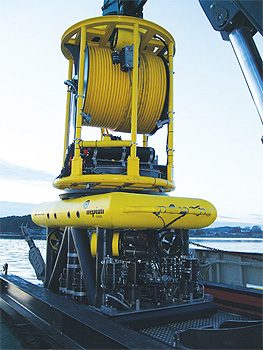 and high performance.
European Oil and Gas Magazine spoke to Neptun's CEO, Anders Dirdal, to find out about the Norwegian company's current activities and how it has changed in recent years: "We manufacture work-class ROVs and dual function observation and light work-class ROVs, and rent out ROVs with personnel. In other words we undertake operations and also rent out a trencher with personnel. Our main customers are companies interested in renting ROV services, and we have a worldwide clientele, such as the Shanghai Salvage Bureau. We're promoting ourselves quite heavily towards the North Sea at present.
"As a part of IKM Group, the members of IKM's senior management are on our board so the Group follows our business closely. There are benefits to the takeover, particularly regarding access to the network within IKM in so far as customer relations are concerned – it helps us to promote our products. We also utilise IKM's support internationally to provide us with facilities and people who know the local markets, which is a serious advantage. Generally speaking, we're able to draw on IKM's support."
Anders believes there are several aspects of Neptun that successfully set it apart in the marketplace, as he elaborates: "Our organisation that we're building up to support the customer differentiates us and is a key focus area for us. Having new technology also helps us to achieve recognition in a competitive market and we have developed electrical work-class ROVs based on technology that has been proven on a trencher. Unlike traditional ROVs that use a hydraulic system, the propulsion in our ROV is electrically driven, which makes the system more reliable, robust and eco-friendly.
"We have eliminated most of the hydraulic oil in the system, which is an unpleasant substance if it gets into the environment, and there is an increasing focus among many key players in the industry to reduce the amount of risk for pollution in the environment, so this is a good move. Electrical ROVs have existed previously but they were mainly smaller types, such as inspection ROVs, and to my knowledge there aren't many commercially available work-class ROVs with electrical propulsion – we are somewhat pioneering."
Anders says that Neptun has more plans to explore the use of electricity to power subsea equipment and the company is continuously looking at how it can increase the extent of the electrical equipment on its ROV. "We are looking into using tools with an electrical interface," he explains. "There are two parts that are power driven – propulsion, or moving the vehicle into position, and tools, for which we're still using hydraulic fluids. We have an interface for hydraulic tools, which is necessary as most are currently hydraulic, but we deliver our ROV with a separate electrical interface so it's possible to connect electrically operated tools as well. This is our first step towards having more electrical tools and the ultimate goal is to eliminate the need for hydraulics on the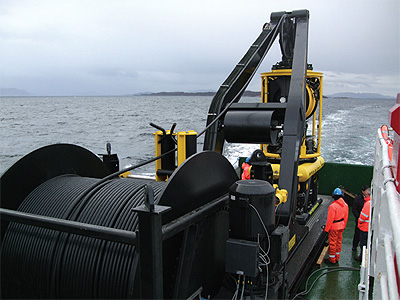 subsea parts of the system."
Importantly, Neptun has engineered its ROV to have a significant advantage; most ROVs have a buoyancy element on the top enabling the vehicle to float, with the metal structure laying underneath. Neptun has approached the design differently, as Anders states: "Our ROV's whole frame is built using a buoyancy material and is coated with fibreglass, which is unique. Our method makes our ROVs less prone to being dragged away by the current, and as the frame is more open, they are easier to gain access to for maintenance purposes."
Unsurprisingly there is demand for the company's products and Neptun, which is currently building two more ROVs for the rental market, is looking at co-operation with other companies. "There is one system related to the ROV called TMS (Tether Management System) and we're currently entering into co-operation with Malm Orstad for developing an electrical TMS," Anders reports. "Following our practice, we'll be trying to eliminate the hydraulic system and move towards electrical solutions, and this is one of our main developments at present."
When asked how the company is handling the global recession, Anders admits the market is different now but remains optimistic about Neptun's future: "We believe the slump in the market is relatively short-term for our type of business; every indication shows that there'll be a need for our equipment, so we're preparing ourselves to be ready for the market. We want to be able to take on jobs on short notice, so our strategy is to have systems available in strategic locations in order to be available for support when customers need it."
Alongside this preparation, the business is concentrating on two important aspects with regards to its future development, as Anders concludes: "First, we'll continue developing our technology and push for its acceptance in the market, which tends to appreciate well tested solutions, so we need to promote the new technology over the existing solution. We want to have a totally electrical system subsea due to its reliability and environmental credentials. Second, we see ourselves developing a strong support organisation for our clients, and being able to be there when they need us. We aim to develop a global footprint with our own company as well as with operations with our partners."
Neptun Subsea
Services: Supplying ROVs and personnel