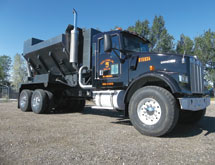 In mid 2009, Chance Innis and Tobi Wold realized they had a lot to offer companies working in the Bakken Shale. Combined, they have more than 20 years of knowledge and experience in all aspects of casing running services, and at that time, there were only about 30 rigs working in the Bakken. They wanted to create a company that focused on its employees, always providing them with a safe work environment and new, highly maintained equipment, which would provide customers with economically efficient service. So, with one laydown machine, one casing truck, a borrowed set of tongs and a crew of four, the two partners founded Noble Casing Inc. in August 2009 in Williston, N.D.
Three years later, Noble Casing has more than 100 employees and a large fleet of equipment. Noble Casing's dedication to safety and its employees ensures customers receive the best possible service.
"Right after we started, we hired a safety coordinator to establish a safety program and since then we've strengthened that with quality management programs," Innis explains. "Our people go through extensive classroom and shop training before they even hit the field. Supervisors provide ongoing evaluations and we have a mentoring program where a seasoned employee can track a new worker's progress. This is a major focus for us, and to demonstrate that, we do all of these programs in-house."
Going Green
Innis is proud of Noble Casing's fast growth, but he stresses that to do "the best and safest job we can, every time," the company only takes on as much work as it can handle in a quality manner.
"We started in Williston and opened another location in Dickinson, N.D., a year ago," Innis says. "We have a fabrication shop in Cheyenne, Wyo., which allows us to get our equipment to where we need it instead of waiting on someone else to do it for us. We modify our equipment to help eliminate safety issues and enhance it for our operators."
Noble Casing's fourth location is in Fort Collins, Colo. Noble's CFO introduced Innis to the Rocky Mountain Innosphere Incubator program, which is a project of Colorado State University and the city of Fort Collins. Now Noble is working with the program to help researchers understand how new regulations will affect the oil and gas industry, and determine how to incorporate new best practices into field operations to better serve its clients.
"The program is working to support the oil and gas industry with technology that is green-focused," Innis says. "It is important that we stay aware of our impact on the environment and continue to look for ways to become more efficient. We are working with them to develop new water-recycling technologies and other systems that could be used in our operations. It gives our company exposure on different levels of the industry."
'This is All We Know'
Noble continues to add new services and technology to its operation. "Quite a few customers are going to torque monitoring of their casings because it provides data readings at every connection," Innis says. "Casing running tool [CRT] services reduce the amount of men needed on a rig floor, which is safer. We are offering that new this month."
With these developments, Innis believes the oil and gas industry's culture is "changing for the good" and safety and quality operations are becoming a much larger focus overall. This fits well with Noble's business objectives, and by operating in this manner for years, the company is that much ahead.
Noble launched its rathole division earlier this year and has completed hundreds of holes with success. "We have one of the newest and largest fleets of rathole drilling equipment in the Bakken, with four new Spiradrill auger rigs," Innis says. "We also have portable cement units and vacuum trucks so we can reduce down time and costs to customers. We recently added our completions division, which provides CTE float equipment, liner hangers, swell packers and frac sleeves, as well as production packers and composite plugs."
He says Noble's goal is to be at the forefront of its field with all of its services. The company will continue to add services as it is appropriate, he notes, and it's willing and able to go wherever its customers need its brand of quality and safety expertise.
"This work is all we know, and we have no intention of doing anything else," Innis says. "We are locally owned and operated, which is a big plus in the Bakken and it attracts new business. Our goal is to use our expertise to progress the industry and be the best service company in the industry." EMI