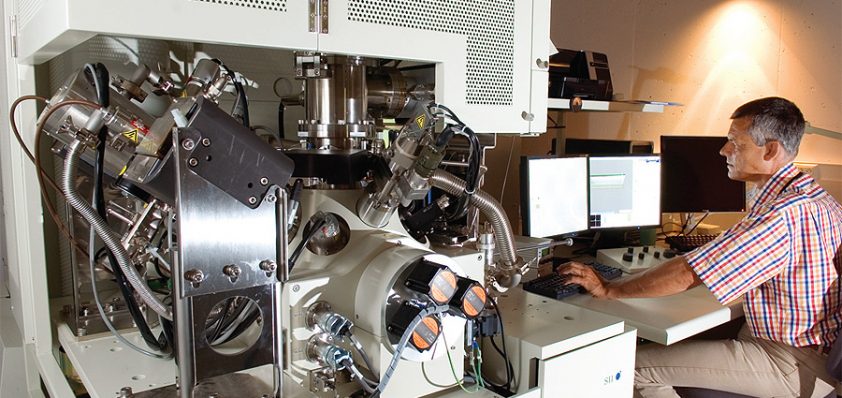 A steel core
OCAS began life in 1991 focused particularly on steel applications within the automotive industry, before moving on in 2004 to serve a much wider industrial scope. As a renowned research and development centre, OCAS has established itself as a key innovator and essential partner to clients in a range of industries from energy, oil and gas, power generation, transport and ship building to heavy machinery, construction equipment and consumer goods. By carefully tracking market trends and society's needs the organisation is currently most active in overcoming the energy challenges in terms of cost, durability and environmental impact.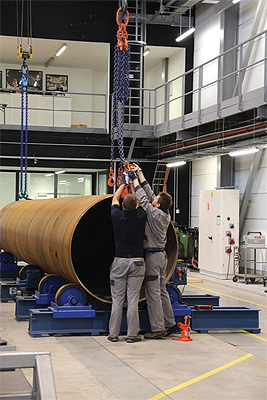 Throughout its 25-year history the capabilities of OCAS have expanded significantly to include expertise on metallurgy and alloy development, surface functionality and corrosion, joining and assembly and in-use behaviour through both simulated and real-life testing procedures. Alongside this, in 2008 it helped set up the Metal Processing Centre (MPC), a joint venture with CRM Group, which is fully equipped to develop, produce, process and characterise tailor-made alloys in small batches. Then, in 2009, it followed this with the Metal Structures Centre (MSC) in a consortium with Soete's Lab of Ghent University and the Belgian Welding Institute to combine the competencies of design, use and evaluation of the behaviour of steel structures for international operators.
Within the field of oil and gas OCAS currently plays a major role in the development of new capabilities through the deployment of cutting edge study programmes. "Being a research lab with a track record in the development of new steels, we know about the challenges arising with regards to energy solutions," begins Business Development Manager, Marc Vanderschueren. "For instance, we have successfully developed a number of high strength steels with improved fracture toughness at low temperature for gas transport, improved weldability for offshore applications and improved sour corrosion resistance for oil and gas wells. Every proposed metallurgical solution is tailored to the customer's requirements and we further support them by providing guidelines for in-use behaviour."
Despite this, the industry continues to demand more and more from its operational capabilities and as such OCAS plays a critical role in providing unique innovations. With extensive expertise across a broad range of disciplines and supported by a highly skilled and experienced team, the organisation continues to build a strong reputation and is on its way to becoming a major solutions provider to the energy market.
Being able to provide safe and environmentally friendly solutions is of particular interest for OCAS at present. When it comes to safety Marc highlights the importance of ensuring the safe performance of welded pipelines over the course of their lifetime. "Our ultra-low cycle fatigue pipe bending test set-up is providing us with valuable information for fine-tuning our numerical modelling," he says. "This is crucial for predicting and ensuring the safe and reliable operation of our customers' pipelines, both onshore and offshore. Another example is our development of new patentable and industrially feasible technology for UV-curable coating in energy pipe applications."
In terms of its green credentials OCAS has developed and now implements environmentally friendly steel substrates and surface functionalities. "We have, for example, successfully developed effective alternatives for toxic hexavalent chromium passivation systems and hard chrome coating processes," Marc adds. "We do not view these environmental responsibilities merely as obligations but as strong drivers for materials development and innovation."
Furthermore, as offshore operators continue to push the boundaries of exploration, endeavouring to venture deeper into existing and new wells, OCAS is at the forefront of ensuring the materials used are capable of withstanding the inevitably more extreme conditions. For instance, it has been working to overcome the challenges of pipe reeling by trying to understand the behaviours of materials exposed to its associated stresses.
Marc explains: "Whilst in certain cases reeled piping is cheaper and quicker than welding and installing pipe sections offshore, in the process of winding these pipes become strained and get slightly more oval. If they are not round enough when they meet the high-pressure conditions of deep water they have the potential to collapse. The problem is that at every stage of this process the materials' characteristics are altering, so our study is to establish how the material is going to behave, allowing the operators to accurately predict and work within the pipes' tolerances."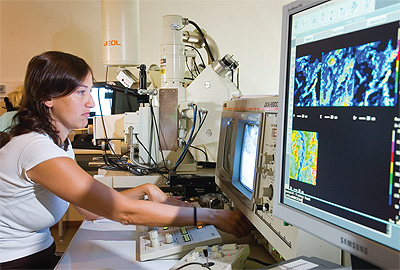 To facilitate the ever changing and ever demanding market conditions, OCAS undergoes a constant programme of investment with the view to expanding its capabilities and ingraining itself deeper in the industry as an essential innovation and testing partner. "We constantly invest in new equipment or in revamping existing equipment to pro-actively meet our customers' needs," Marc continues. "Over the past few months alone we have revamped our heavy gauge rolling stand to extend our offering for tailor-made samples; we have doubled our capacity with regard to sour corrosion testing in our dedicated HIC lab; we have also revamped a resonant bending fatigue set-up, designed and built an abrasive wear tester and installed various other pieces of complementary equipment."
One other major investment is in the construction of a new Severe Operating Conditions testing facility, which is currently underway and will be critical to delivering the accelerated and combinatorial testing of materials and components under extreme conditions in light of new market trends.
Despite the current state of the offshore oil industry, Marc points out that many operators are using this time to prepare for the next stage of market growth with new and innovative developments, and therefore feels confident about the long-term future. OCAS is also playing a key role in the renewables market at present looking at driving down high CAPEX levels, particularly in offshore wind applications. "Over the course of 2016 we will be focusing on reducing some of the perceived conservatism of the fatigue performance of the welded joints in these applications," he says. "This has captured quite some attention from the offshore wind developers, their supply chain and the certification authorities. The Joint Industry Project we are setting up will directly provide a ten per cent reduction in the CAPEX of offshore wind jacket sub-structures."
Other focal points over the coming months and years will be on its Engineering Critical Assessment programme, a study to test and determine maximum allowable flaw sizes in, for example, welds in metal structures. With this becoming a major topic for pipelines and structures both on and offshore in view of sustainable cost reduction and life extension, OCAS will be holding a seminar in May 2016 to address this.
Otherwise, continuing to pursue the sustainable development of total solutions designed to drive cost, energy and reliability efficiencies into its various industries will define the organisation's strategy. Further investment into its own capabilities, and strengthening of customer relationships will no doubt be key as OCAS continues to grow as such a central part of global industrial development.
OCAS
Services: Leading research centre for the application and development of steel