Oliver Family of Companies
Creating positive change
The Oliver Family of Companies, comprising Oliver Valves Ltd, Oliver Valvetek Ltd and Oliver Twinsafe Ltd, has evolved over four decades to become a world leader in the manufacture of instrumentation, subsea and pipeline valves.
With the business last being featured in Energy, Oil & Gas in 2009, today's market is a very different environment, and The Oliver Family of Companies (Olivers) has had to demonstrate an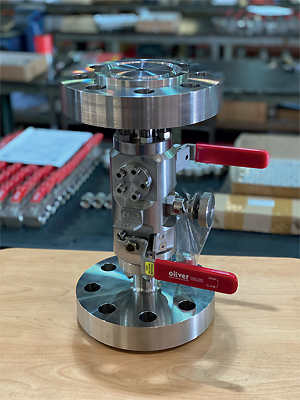 admirable level of flexibility and forward-thinking in order to move forward and not just survive, but thrive. EOG spoke to Colm Kane, Managing Director, to find out more details about how the company has adapted operations to address difficult conditions and restore its growth trajectory.
"The oil sector suffered a major collapse in 2014 when the price of oil per barrel reduced from a significant height, to an extraordinary low in early 2016. Businesses involved in the oil industry had to reassess their position, realign their cost base and ride the storm as new investment in oil extraction collapsed. Our business had a healthy turnover in the financial year of 2013/2014, which then dropped by below half at the end of 2016. It was a difficult time as we made our own adjustments to our business, restructuring until the growth came back.
"Although the recovery in the oil price has been slow, which made investment in the industry hesitant, the price increased steadily from late 2017 to today. As renewed comconfidence in the oil market grew, our recovery started and in 2017/2018 we saw an increase in turnover of 20 per cent."
During the market downturn, Olivers concentrated heavily on developing its product range, spending time on value engineering processes, evaluating efficiencies and reducing cost. As a result of this approach, the three divisions were well placed for an upturn in the market, allowing them to be at the front of the field when the market increased. "Without this forward-looking philosophy we would not have been ready for what is turning out to be a very buoyant market where demands for lower prices and shorter lead times are growing," Colm agreed.
Facility expansion
The team at Olivers had positioned the company where it needed to be, and as oil operators all around the world began reigniting previously dormant projects, Olivers was ready to deliver. "Late 2018 and into 2019 our turnover grew again by around 30 per cent," Colm continued. "This resulted in a revised strategy involving the development of a very ambitious five-year plan, a strengthening of our management team and recruitment of over 70 additional employees. The plan included development of geographical targets, bringing new products to market faster than ever before and ensuring our capacity could meet with renewed demands for our products."
Part of the above plan includes buying/incorporating three new factory units on the Parkgate Industrial Estate in Knutsford, Cheshire in the UK. Olivers already operates from eight factory units on this site and the addition of the new space will help the business meet the increased demand it is forecasting for the future. "As the company regrows, our ability to keep pace with the need for space, equipment and people continues to be reviewed," expanded Colm. "As part of our long-term plans we looked ahead into this new decade, and we foresaw that our factory space needed to be increased."
Quality and reliability
The three new factory buildings, which represent approximately 20,000 sq. ft of space, will be purpose-built for Olivers and are planned to be completed by September 2020. With the company able to plan the new factory from the ground up, it has been able to design an eco-friendly manufacturing facility, with an ideal layout to allow continued increases comin productivity and resulting in further employment opportunities.
It has also enhanced this with investments in new test equipment and machinery, which further supports the new state-of-the-art Research and Development (R&D) facilities that were opened in a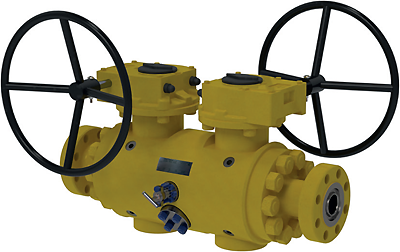 new building in May 2019. "We are renowned worldwide for our product quality and reliability. The R&D facility ensures all new valve designs are put through their paces before sales/production can release them to the market. Tests are taken to extreme levels, way beyond what the valves will see in service, to ensure valves are fully proven," explained Colm, as he highlighted the importance the organisation places on both quality and reliability. He also highlighted an important piece of equipment: "The new R&D facilities have in their array of specialised equipment an automated test rig, which allows the remote control of the rig 24/7 for testing valves and includes gathering the test data, which is continually being recorded."
Having established a reputation for creating not just an innovative range of valves for demanding applications, but for valves that are known for 'being the best in the world' Olivers has to work hard to continuously reinforce this position. Therefore, it maintains a steady stream of highly innovative new product launches, which are not released until they have been tested sufficiently to prove their suitability and ability to perform. "New valves are now being developed at the R&D facility for low and high temperatures beyond our previous offering and we are undertaking cryogenic tests for extreme deployment depths," noted Colm. "Recently, for example, the Rotary Gate Valve was released, and this underwent many months of testing to prove its capability and robustness, and places it as the market leader in terms of excellence and application."
Major contract win
However, it's not only new valves upon which Olivers is working, as the business also offers a servicing option, which one Far Eastern client recently utilised. "An Oliver Twinsafe Valve 10" Bore X 600 class Trunnion DBB valve in Duplex material was returned to us with a query regarding whether it was a viable option to be refurbished," explained Colm. "The valve went into service in the summer of 2009 and had been exposed to the elements for over ten years. When the valve was tested, it was fully functional and when stripped the general condition was excellent. This was a great testament to the design and quality of our products."
With the last two years proving pivotal to the history of Olivers, 2020 is already shaping up to also be a significant contributor to the company's success, with a noteworthy contract win occurring within comthe first two months. The team at Olivers are understandably delighted with this outcome, representing as it does both the culmination of months of hard work from all departments and one of the biggest orders ever placed with the company. The new deal saw a major international EPC company based in the Middle East place an order valued in excess of £10m for the supply of more than of 1200 Double Block & Bleed valves to the Arabian Gulf. The project will run for approximately one year with deliveries being progressively sent up until completion in February 2021.
Colm was quick to credit the team at Olivers as one of the main reasons for its success. "Our employees are a significant part of our business, and our motto of 'it can be done' runs true within every department in the organisation," he said. "We have over 100 employees who have each given the company over ten years' valuable service, and this year alone we have three employees reaching 35 years with the business, which is absolutely amazing!"
Key strengths
This longevity and staff loyalty could in some part be attributed to Olivers' team ethos, which encourages trust and respect for each other's role, and recognises that everyone is there to help each other. "The hierarchal levels are very flat, which allows senior management to be heavily involved, hands-on and approachable to discuss ideas, improvements and concepts at a moment's notice," added Colm.
Furthermore, Olivers has sales offices and employees strategically placed globally, commeaning that it has the ability to meet with customers face to face quickly and efficiently in all regions/continents. "This gives us a greater footprint on the oil and gas sector worldwide and remains a focus point going forward," Colm explained, before sharing details of some of Olivers' additional strengths: "Strong cash management remains key to success and one that served the company well during the worldwide financial crisis in 2008. Having very little debt certainly helped us through at a critical time.
"The process of reinvesting profit back into the business bodes well for the foreseeable future, with the new R&D centre that we discussed earlier being a perfect example. This is a facility that makes us proud and one that has received a lot of positive press from our customers, so we certainly view that as money well spent."
Equally, the quality of the products is also key, as Olivers has built its reputation for valve superiority and reliability over 40 years and it has to maintain and improve on these standards in order to continue to hold its market leading position. Colm concluded by summing up a few of the plans Olivers has created in order to sustain the momentum it has gained over the past year. "Our focus will be on getting new products to market quickly, significantly growing globally with specific geographical targets, developing the relationships we have with our major customers and continuing to increase the intellectual capability of the company.
"This year is already well placed to achieve a further 40 per cent increase in turnover, which is phenomenal growth for the company. The excitement that this is generating within the business is plain to see and we aim to offer such high-performance levels to our customers that its makes them come back time and time again."
Oliver Family of Companies
Products: One of the world's leading designers and developers of valve solutions