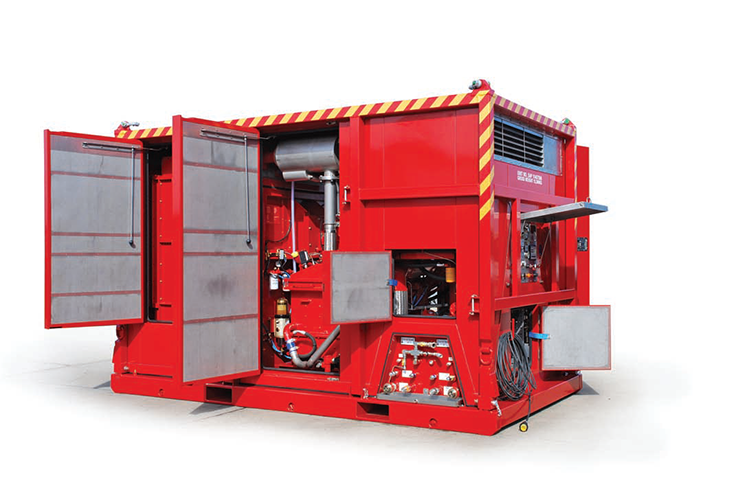 Supplying excellence
Established in 1980, Great Yarmouth based Prior Diesel has more than 30 years' experience serving the oil, gas, marine, power and construction industries.
With a global customer base, the company has developed a name that is synonymous with excellent performance and high standards of quality, as joint managing directors Gordon MacLean and Chris Conroy discuss: "We are distributors for many leading engine, transmission, pump and equipment manufacturers. Using the aforementioned, we have developed a multidiscipline design and build capability, which enables us to manufacture diesel driven packaged power generation, hydraulic power packs, process and well service equipment. Prior Diesel operates from its purpose-built premises where we employ 95 members of staff with a multi-million pound turnover. We have a wide range of customers, from small local businesses to global Blue Chip companies."
As a family-run business, the company is able to make instant decisions in an informal environment where all employees have the same common goal of successfully meeting the demands of its clients. "Without doubt one of the key reasons behind our continued success is the quality of our customer care," says Gordon. "We have an excellent reputation for delivering high quality services and products in a fast response time; furthermore, our technical knowledge, history of innovation and multidiscipline design and build capability give us a strong competitive edge in the market."
Elaborating further on Prior Diesel's capability, Gordon continues: "We interpret the client's requirements and take this information to produce a technical specification, which then becomes a turnkey engineering project where we source the required components to build, manufacture and finally test on site the completed piece of diesel driven equipment."
The company began in 1980 and has since seen a significant rise in its exports. Today Prior Diesel exports to more than 60 different countries and offers its services on a 24/7 basis. "We have continued to manufacture the highest quality bespoke Zone II rated nitrogen units to meet the needs our customers ever changing requirements. By giving our customers exactly what they need; simplified operation, low maintenance and easy access to serviceable items that are vital in the field, we ensure our equipment delivers results in the most challenging conditions," highlights Chris.
With dedicated departments covering well service, engine and parts sales, service and ship repair, the company strives to deliver an unrivalled level of service within its market sectors. Key to its reputation for excellence is the company's effective project management abilities, which minimise client costs and downtime while maximising productivity. Once a project is completed, Prior Diesel views after-sales support as an integral part of its services. "Many projects we have been involved in show the versatility and expertise that we have here at Prior Diesel; for example in early 2013 we were asked by an existing customer to build a coiled tubing power pack and operators cabin. Despite having never undertaken a project such as this before, the project is now nearing completion," says Gordon.
Holding an impressive history for supplying the oil and gas market, Prior Diesel's well service equipment department has developed a multi-discipline design and build capability to offer bespoke units in a wide variety of configurations such as open skid, trailer mounted and split skid arrangements as well as various acoustic configurations that suit each customer's individual bespoke requirements. As demand for oil and gas services continued to grow, the company made the strategic decision to expand its facilities, as Chris comments: "We have tripled the size of the original site over the last ten years with the purchase of additional adjoining land and two more workshops, one of which is exclusively for our well service department." As the leading designer and manufacturer of specialised equipment for both onshore and offshore oil and gas wells, the company's equipment is developed for safe operations within Atex zone II hazardous areas as well as safe area environments.
Proud of the level of quality it offers clients, the company ensures quality control inspections are held for every segment of the manufacturing process, thus giving their customers confidence in the safe and efficient performance of their equipment.
Specialising in the complete overhaul of engines, generating sets, transmissions and pump sets; the company uses its mechanical, structural, electrical and repair expertise to provide a global repair and maintenance service to the engine manufacturers that it represents. Working in its custom-built workshops, Prior Diesel's factory trained engineers have the expertise to swiftly find solutions to customer issues. Facilities at the workshop include overhead cranes, electronic diagnostic equipment, cleaning facilities as well as a new engine load testing facility capable of taking up to 2000 BHP dynamometer.
Meanwhile, using its well established dealer status to supply a diverse portfolio of products to offshore, industrial and marine applications around the world, Prior Diesel's engine sales department is capable of supplying new and refurbished diesel or gas engines that are suitable for a number of applications within the oil and gas, industrial and marine markets. The company offers engines ranging from 20 to 3000 BHP to fulfil the customers' needs while also complying with necessary classification and legislative authorities.
Utilising the same dealer status the company has seen significant growth in parts sales with last year being the most successful to date being the UK's number one dealer with several of the engine manufacturers that it represents. At the same time the company has also experienced record growth in the servicing, repair and overhaul of engines, power generation and diesel driven equipment, particularly on offshore installations worldwide. Viewing health, safety and compliance as a priority in all areas of the business, the staff at the firm adhere to such policies and procedures at all times.
Versatile and renowned for quality, Prior Diesel's success lies in its ability to listen to market demand and adapt with the ever changing needs of its customers. "During the last 12 months we have developed a new product due to client demand," says Gordon. "It is an innovative diesel driven zone II compliant Wireline unit, which benefits from being compact, lightweight, super silent, easy to maintain, with an enclosed control cabin and an internal lifting mechanism to facilitate smooth changing of drums whilst working in the well service production fields." This success is certain to continue as Prior Diesel looks to further expand departments that are witnessing increased demand and maintain its steady growth strategy by expanding business with existing customers whilst increasing customer visits in more countries and continuing to increase the range of products on offer.
Prior Diesel Limited
Services: Supplier of products for the offshore industry