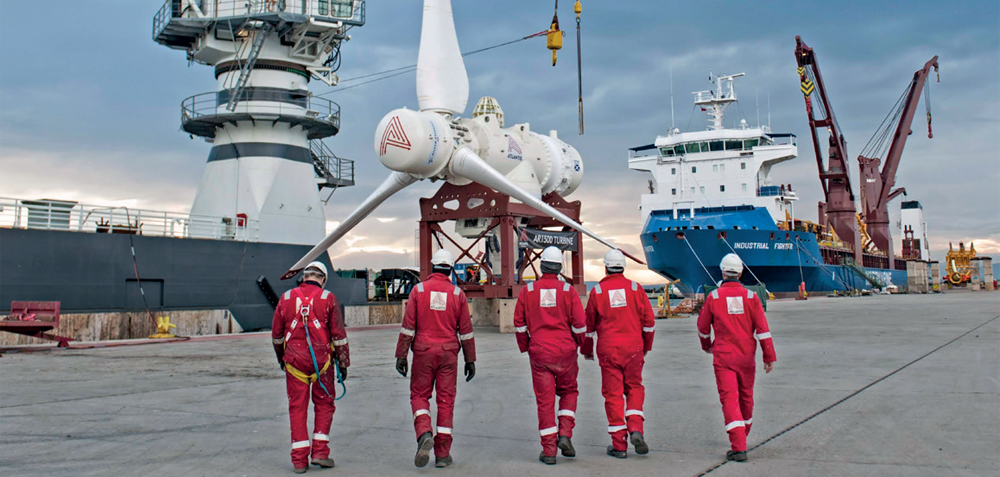 SIMEC Atlantis Energy Limited
Uncharted waters
A company with a long and storied heritage in tidal power generation, SIMEC Atlantis Energy has, over the years, established a reputation as a leading developer of sustainable energy projects across the globe. With more than 1000 megawatts of power projects currently in various stages of development – including MeyGen, the world's largest flagship free-stream tidal power scheme – Atlantis is now looking to harness the potential of waste-to-energy, through the exciting conversion of Uskmouth Power Station.
Built in 1959, Uskmouth Power Station was designed as a 3-unit coal-fired power generation plant with a gross capacity of 393 megawatts. Atlantis acquired the site in 2017 as part of a diversification effort, and after discarding an early plan to transform the plant into a biomass station, the company turned to its roots as a marine-based tidal operation in an attempt to find a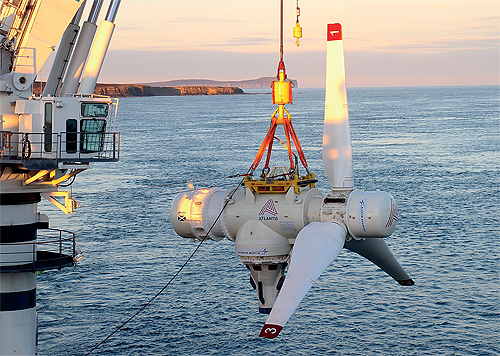 solution.
"At Atlantis, we have a real understanding of the challenge the marine world is facing with the impact of cheap plastic waste," explains Sean Parsons, the company's Director of External Affairs. "One of the things we looked at, and are now developing with European-based company N+P, is a fuel that takes end of life plastic waste, blends it with biogenic material and creates fuel pellets. Those fuel pellets can then be used to produce electricity.
"You get the benefit of stopping landfill waste or incineration because this is plastic you can't recycle, and they are removing that from landfill and using it to produce electricity. Additionally, because it is blended with biogenic materials, you are reducing your carbon contents as well. From our side, it is about half the carbon emissions, so it was a great opportunity for us. However, it has never been done before on a large scale. They have done it on test sites, but it has not been used for a full conversion. That," Sean says, "is where Uskmouth Power Station comes in."
Benefits and opportunities
Since settling on the waste-to-energy conversion project for the plant, the team at Atlantis has spent three years taking Uskmouth Power Station through all the necessary planning, testing, and permit application processes. Despite the challenges of Covid-19, Atlantis has also been working with Mitsubishi Hitachi on the remote testing of fuel pellets in Japan and has received positive feedback regarding their energy output.
Working closely with Uskmouth residents, local authorities and governing bodies, Atlantis has helped to explain and establish the benefits and opportunities that the conversion of the power plant will offer. Further from home, the firm has recently announced an agreement with South Korea's Hana Financial Group for the funding of Phase One of the project.
"It is brilliant to have such a big name on board and to have that milestone reached," Sean declares. "It highlights the global interest in this project – and that is where things get really exciting. If you get one project in South Wales converted, the opportunity suddenly arises in Asia too. Global markets are looking at Uskmouth and saying wow, this could actually benefit us too, both in terms of decarbonization and waste.
"With thermal generation, you get more dispatchable and base loaded power because comyou don't have the intermittency," Sean continues. "One of the challenges that a lot of countries face as they decarbonize is around what a technology can actually deliver. Wind and solar are brilliant technologies, but they have their challenges. What we are doing at Uskmouth will better enable a transition worldwide."
Tidal potential
Atlantis' partnership with Hana is a key landmark for the company's Uskmouth project, but it doesn't mean that the firm will be abandoning the tidal side of its business. Committed to providing an energy mix that will ease the decarbonization process, Atlantis believes that tidal energy can offer a predictability and optimization of output that more intermittent technologies like wind and solar power cannot guarantee. Now, in 2020, the company is ready to engage in Phase Two of its flagship MeyGen tidal project, which will increase output from six megawatts to 86 megawatts. Though the scheme is the largest in the world, Sean claims that, as the scale of the project rises, the cost continues to fall.
"We are always looking to reduce cost and one way we are doing this is by partnering with data centers," he reports. "We have seen a huge rise in demand for data storage and data centers and that is only increasing with Covid-19 and the need for more data connectivity. The challenge for these data centers is that they are power-hungry beasts, with a real dependency on continuous base load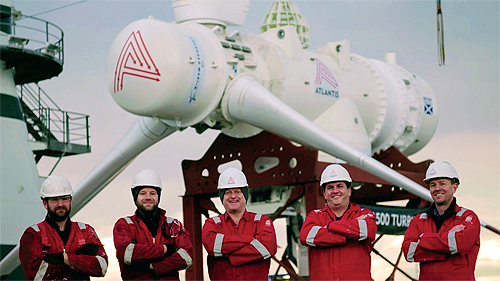 power. We think tidal has a huge role to play in that area moving forward and the data center partnerships provide us with the kind of level offtaking that can bring our costs down dramatically.
"Along with the cost reduction and the war on plastics and carbon, we have recently brought the Green Highlands Renewables Team on board. They are a really well-regarded hydro development team that is contracted to look after, operate, develop and maintain projects across Scotland and the UK. It means that we now have a top team of hydro engineers at a time when Atlantis is on the cusp of delivering some truly pioneering projects."
As Sean suggests, Atlantis' key objective now is the successful and timely delivery of both the MeyGen and Uskmouth projects. By the end of 2020, the firm expects to have received planning and permit decisions, meaning that construction for the conversion process could begin as early as 2021. For MeyGen, the next step is to find routes for the uptake of energy produced, whether it be with data centers or through discussions with the government about the future of the marine energy sector.
"It's all about finding a way for the energy market to allow these projects to be delivered and create the substantial jobs, investment and supply chain that we know they can," Sean states. "When you look at money flow for these schemes, it is phenomenal. In offshore wind, for every pound, you are looking at around 35 pence. Whereas for tidal energy, for every pound, you are looking at 80 pence. That is 80 per cent local spend in the UK, in some really key areas. It's an amazing stat and explains why we have such strong support on a local level."
Transformative power
Talking to Sean, the excitement he exudes for Atlantis' work is palpable. This is, of course, understandable for someone so close to the action, but more importantly, it is an indication to the wider world of the sheer potential and transformative power that the company's new projects possess. According to Sean, the world won't have to wait very long.
"By 2023, we should have Uskmouth coming online and MeyGen in Phase Two," he predicts. "In around four or five years' time, I want to see Uskmouth Power Station delivering power to the grid, reducing landfill and addressing our waste issues. To have both those projects operating at full scale in 2025 would be phenomenal. Once that happens, we will very much be gearing towards taking these technologies global. That's where they should be. We want Atlantis to be delivering these amazing projects around the world."
Energy pioneers
Like any trailblazer performing the first groundbreaking work of its kind, Atlantis operates in rarified air. With no direct competitors to speak of – Atlantis currently produces 50 per cent of the entire world's tidal energy – and with so much room for opportunity in the market, there is a sense of unity between Atlantis and its fellow energy pioneers as they share knowledge and work individually, but collectively, towards finding better, cleaner, more efficient and more sustainable ways to power our lives.
"I have worked in many different energy companies, including thermal, renewable and customer networks, and the more we can share the learnings from these, the better our projects and technologies can become," Sean insists. "We have already learnt a huge amount from offshore wind, and as more turbines go into the water, that shared knowledge increases and helps to bring down costs, makes technologies more efficient and more reliable, and that is good for our projects and good for others' projects as well.
"In the years ahead, I believe that the UK is well placed to be a leader in renewables because of its shared experience and legacy in energy generation," Sean contends in closing. "One of the problems with the tidal and marine sector is that it has always been seen as a technology of tomorrow, but Atlantis is about being in the technology of tomorrow, today comIt's not just about converting Uskmouth, it's about taking that and replicating it in all coal-fired power stations. MeyGen is not just about delivering a six-megawatt tidal project, it is about delivering a one-gigawatt scheme. This is what Atlantis is all about."
SIMEC Atlantis Energy Limited
www.simecatlantis.com
Services: Sustainable energy project development