The best protection
With a history dating back over more than four decades, Surface Engineers (Manchester) Ltd, was founded at its current site in Dukinfield on the outskirts of Manchester, where it quickly established itself as a leading specialist in thermally sprayed coatings. The business was originally incorporated as a service provider to heavy industry, offering solutions including thermally sprayed coatings in applications such as anti-corrosion and the reclamation of worn parts in steel mills. This process involved large rolls, measuring up to 48" in diameter that would be turned down in large capacity lathes. The resultant substrate would be built up with materials such as copper, chrome nickel, tin and stainless steel using gas or arc sprayed wires and powders, which provided a cost-effective and a rapid alternative to scrapping recoverable assets.


Over the years the needs of the market began to change and evolve and as such, Surface Engineers has diversified and adapted its portfolio to incorporate a broad base of industry sectors. "With the demise of the steel mills and heavy industry in the UK, Surface Engineers turned its expertise primarily to the application of anti-corrosive coatings for the nuclear and oil and gas sectors and now offers an extensive portfolio of various coating applications," explains, Director Gary McKeown. "Surface Engineers has seen many improvements over recent years and has just undergone a new and exciting expansion programme. This has been made possible by Peter and Andrew Wild joining the company as new shareholders bringing with them industry and business experience which will ensure the further success of the business."
The company's large facility and site, located east of Manchester has recently undergone a huge expansion programme that has more than doubled its already impressive capacity. This has enabled Surface Engineers to be involved in much larger contracts with 65,000sq ft of floorspace and total area including quality storage land of 120,000sq ft with handling capacity of up to 32 tonnes. Its continued development in its facilities and several years of industry experience has allowed Surface Engineers to develop a reputation as a leading supplier to the technically demanding oil and gas market, as well as in several other applications. "Surface Engineers is widely known for surface preparation and application of high-end coating systems that not only serve the oil and gas industry but many other sectors that require long term protection from environmental or chemical attack of their valuable assets," Gary elaborates. "With our very experienced and technically knowledgeable team we are able to conform to many stringent specifications providing not only a quality coating solution but backed up by concise and accurate record keeping which satisfies the ISO 9001 requirements and the main inspection authorities visiting our works to ensure compliance such as Lloyds Register. We have a strong inspection team led by Quality Manager, Nick Allen who will be completing his NACE level III qualification in November adding a second NACE level III expert to the team of six inspection staff."
This level of expertise has helped Surface Engineers to tender, win and complete many high-profile projects destined for sites and oilfields around the world for end users such as BP, Total, Technip, Petrobras and Exxon Mobil to name a few. Furthermore the company has further developed its presence to become a serious presence within the nuclear sector and it is presently engaged in de-commissioning activities at Sellafield. "An example of a current high profile contract we currently working on is for the end user BP," Gary reveals. "This involves coating a subsea pipeline for the Shah Deniz Project in Azerbaijan with a high grade epoxy phenolic system with very stringent application parameters. This project is being carried out at our new high capacity facility on our site in Dukinfield. The six-metre lengths of thick walled pipe are treated in an environmentally controlled atmosphere whilst the coating is being applied, in addition a temperature of 20˚C is maintained for a week after the coating is applied to ensure 'full cure' before further insulation is applied. Once BP had visited our new facility they were keen to approve us for this project and have been happy with our performance within the supply chain."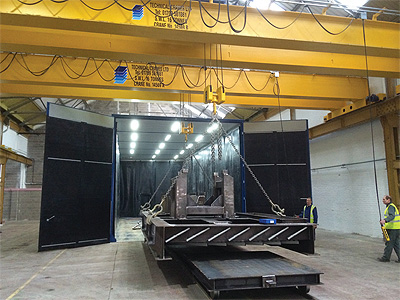 While the impact of the low oil price continues to be felt, many companies are scaling back their operations in an attempt to navigate the resulting turbulent trading conditions. Surface Engineers on the other hand has taken a longer view and readily embraced the opportunity to invest in to the business in anticipation of a future market recovery. "There were a few raised eyebrows when the decision was made to expand the business as at this point the oil price had started to go into free-fall and there was and still is a general feel of uncertainty in the market. Our viewpoint however is from a different perspective, in that while the market is not as buoyant as it was a couple of years ago, it is accepted that oil and gas is a cyclical sector and the over the medium to long term the situation will improve," Gary says. "We are taking this opportunity to strengthen the business not only with new facilities but also management and staff training. We have recently become an ICATS registered company and are expanding our ICATS trained workforce to improve our staff's understanding of the process and technically challenging environment they work in. Along with making sure our applicators are NORSOK compliant we believe we are better placed in the market when the turnaround comes."
Indeed as Surface Engineers enters into the final months of 2015, it will concentrate the investment that has been made by its directors in recent months, while preparing new product solutions for new sectors. "The considerable investment into the company by Peter and Andrew Wild has greatly improved what we are able to offer in terms of capacity. As well as large structures we have installed an efficient facility for coating small items such as valves, actuators, strainers etc. thus enabling us to handle large batch work projects in a separate facility to the main works. This area has been of great interest to old and new customers alike as this was previously an area of business that we found difficult to compete in," Gary concludes.
"We see the next 12 months in the oil sector remaining challenging although we have not really felt the downturn as some might expect maybe because the company is not totally reliant on the oil sector and we have cast our net a little further into other areas such as infrastructure. It is difficult to predict what the next five years will bring although Surface Engineers is doing everything it can to maintain and improve its profile in the sector whilst focusing on customer satisfaction levels. We shall also be looking into the development of new systems to enable us to offer a wider range of coating systems to an ever growing range of industries."
Surface Engineers Ltd
Services: Specialised surface treatment