Turning the tide
Founded in 1955, Tidewater is credited by many as being responsible for the creation of the 'work boat' industry and is recognised as being the pioneer behind the Offshore Service Vessel (OSV) market. The latter commendation comes as a result of its successful development of the world's first purpose-built supply vessel, designed to support the offshore oil and gas industry, the Ebb Tide.
Shortly after its founding, the company commenced international operations, and ever since it has grown organically and substantially through M&A globally, with its fleet working in more than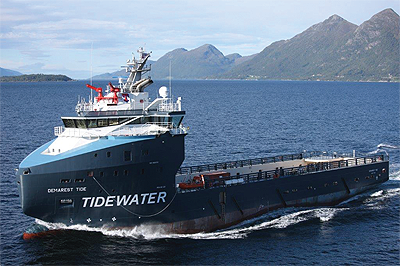 60 countries. In these, it provides supply and rig positioning vessel services in support of production and drilling operations for National Oil Companies (NOCs), Independent and International Oil Companies (IOCs). "Today, we operate in every major oil and gas region in the world, leveraging the reputation we have earned among our customers as one of the most trusted service providers when it comes to supporting offshore oil and gas exploration and production in emerging markets, as well as remote locations with limited infrastructure," begins John Rynd, CEO of Tidewater.
Tidewater's fleet of Platform Supply Vessels (PSVs) are designed to carry a wide variety of cargo. These vessels can transport substantial amounts of fuel, water, drilling fluids, cement or mud in below-deck tanks, while their large, open decks can carry significant quantities of material, such as casing, drill pipe, tubing and deck cargo. Its other class of vessels – Anchor Handling Towing Supply (AHTS) vessels – are capable of positioning and mooring drilling rigs in virtually any location and water depth. With a range of power, sizes and capacities, these vessels are also well-suited for general offshore support services, drilling rig support functions and cargo transport assignments. "At present, we have around 165 active vessels, with the rest of our fleet stacked," John states. "As the market continues to improve, we will reactivate the highest specification, recent vintage tonnage from the stacked fleet, giving us the opportunity to grow organically using existing assets."
In July 2017, and in the wake of a well-publicised industry downturn, Tidewater would emerge from restructuring with an even stronger balance sheet and substantial cash position, which allowed it to seek out additional opportunities for growth. Then, in November 2018, the company successfully completed a merger with one of its most respected peers, GulfMark Offshore, which itself had recently completed a restructuring process that left its balance sheet in excellence shape.
"The merger with GulfMark positioned Tidewater as the largest OSV owner, and the most geographically diverse operator, in the world," John details. "The all-equity combination has significantly scaled up our presence in key strategic markets, including the North Sea and the Gulf of Mexico, and we remain well-positioned to capitalise on growth opportunities as the rest of the OSV sector recovers.
"Another key benefit of the merger was the opportunity for both companies to realise operational and cost synergies associated with running a larger fleet of vessels utilising an existing, broad geographical footprint. Within only a few short months of being a combined company, we have made swift and significant progress towards our targets, including reducing our duplicate shore
base around the world. To date, five facilities have been consolidated, including our corporate headquarters in Houston, and looking forward, a larger global footprint, high-specification OSV fleet and a healthy balance sheet places us in a strong position to grow through asset acquisitions and additional corporate M&A."
While 2018 was another challenging year overall for the OSV sector, Tidewater did see improvements in activity across several regions. In the case of the North Sea, there was a notable improvement in activity, while the Middle East remained an active area for the company, albeit one that also continued to face constant rate pressure. Meanwhile, its fleet in Mexico was very well-utilised, and West Africa – which remains the largest part of its business – showed continued signs of growth, with Tidewater's local vessel fleet expanding as a result.
"We entered 2019 on a strong financial and operational footing, with considerable opportunities for additional value creation as a result of exceeding our cost targets, incremental improvements in fleet utilisation, organic growth through vessel re-activations, and potential additional M&A," John says. "Much like our peers in the drilling contractor sector, we have a constructive view of the offshore market as we progress through 2019. We may not have seen the last of the market volatility we have been experiencing for five or six years now, but we are hopeful that we will see it reduce, and we are confident that we have the stamina to withstand it where many of our peers have not.
"While the market does develop, we will continue to create value through our merger-related synergies and maintaining safe, high-quality operations for our clients globally. With all of the aforementioned benefits in place, Tidewater is clearly positioned to act swiftly to meet customer needs anywhere in the world, anytime in the cycle!"
Tidewater Inc.
Services: The world's largest fleet of Offshore Support Vessels